iOS 9 Update Personalizes Key Feature
The iOS 9 update allows users to better use Siri in a number of ways, and now you can personalize the Hey Siri feature on the iPhone. With this new option only your voice activates the Hey Siri function that lets you use the voice assistant while the iPhone is plugged in.
Hey Siri is available on iPhones that support Siri, and on the iPhone 6 and older it only works when the iPhone is plugged in.
iOS 9 will not change that, but with the new Hey Siri voice training option available in the iOS 9 update you can teach Siri your voice. Once you walk through this very short training and turn on Hey Siri, the iPhone will not respond when someone else says Hey Siri near you. This is great if you work in an office of iPhone owners or live with another iPhone user.
To get to this new Hey Siri training feature users need to go to Settings -> General -> Siri -> Hey Siri – > On and then follow the prompts to train Siri. The iPhone will walk you through several Hey Siri voice tasks so that it can get a feel for your voice.
Once this is set up you can see the effectiveness as Hey Siri in alternate voices will not turn activate the function.
While this iOS 9 feature adds personalization to your current iPhone it will also likely play a large role for the iPhone 6s. Apple adds better support for Hey Siri on the iPhone 6s and iPhone 6s Plus.
On the new iPhone 6s and iPhone 6s Plus the phone is able to always listen for the Hey Siri command, even if you are not plugged in. This is due to upgrades to the iPhone processor and co-processor, which make it possible without draining the battery life.
The iPhone 6s and iPhone 6s Plus arrive on September 25th and iPhone 6s pre-orders start on September 12th.
[contextly_sidebar id="qO0Y2d3Y3i1XFjFUM8ukr6Ca8GZNtTJx"]
This is a built-in part of iOS 9 and it is available in the iOS 9 GM that users can install today for free. The iOS 9 release date is set for September 16th, which is when anyone can start the iOS 9 download and install the new update that enables this feature and many others.
iOS 9 vs iOS 8: What's New in iOS 9
iOS 9 vs iOS 8 Walkthrough - Home Screen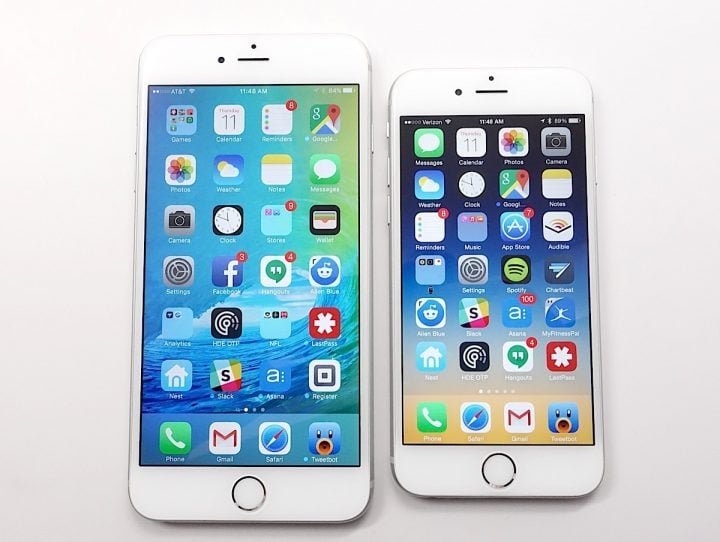 The image above shows that the iOS 9 home screen looks very much like the one on iOS 8. This is not surprising, but you will notice one major change to this screen.
The new iOS 9 font on the home page carries over through settings and apps. It's surprising how much the look of the system can change with a small tweak to a new font.
From the home screen you can now swipe left to a new search screen, and you can still swipe down to Spotlight from any of the home screen pages.
When you upgrade you will also see options to add iCloud Drive to your home screen.
Apple adds two new default iOS 9 apps that you cannot delete. Find iPhone and Find Friends apps now come with the iPhone by default. You can hide them in a folder, but you cannot delete the apps. The Find My iPhone app is a very good addition, while Find My Friends is still not as widely used.

This article may contain affiliate links. Click here for more details.