iOS 9 Release Date, Features & Compatibility
iOS 9 is the new software for iPhone, iPad and iPod touch. Apple announced iOS 9 in June 2015, and users can test it as part of a public beta during summer 2015. iOS 9 includes new features and upgrades that add to the connectivity and design that iOS 7 and iOS 8 delivered over the last two years.
Many of the iOS 9 features deliver a smarter iPhone using Siri and other technology to help deliver what users want without requiring the user to tap on the item or remember to open an app.
The new Proactive features are powered by Siri and also play into the new search screen that allows users to quickly see important information based on where they are and what they typically do.
Apple upgrades Notes in iOS 9 to deliver a more feature rich experience that comes closer to Evernote, an upgraded Apple Maps app with transit directions in major cities and a News app that promises to deliver news articles in a beautiful layout.
The iOS 9 iPad update also includes new split screen features that allow users to multitask with two apps on screen at once.
While the overall look of iOS 9 isn't much different than iOS 8, Apple delivers a new font and other small changes to the look of the the operating system.
iOS 9 Video
iOS 9 Release Date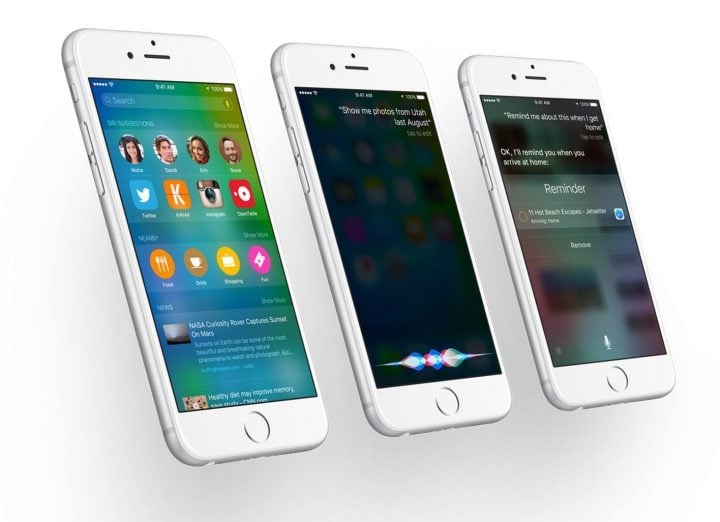 Apple announced an iOS 9 release date for fall 2015. There is no specific date yet, but Apple normally announced the new version of iOS two days before the new iPhone. We expect an iPhone 6s release date on September 18th.
With this in mind it makes sense to see the iOS 9 release date on September 16th. These dates are based on possible iPhone 6s release dates from tradition.
iOS 9 Compatibility
"Which devices can run iOS 9?" is a common question and this year Apple surprises us with more support than expected. Normally Apple drops support for the oldest device from the new version of iOS, but that isn't the case in 2015.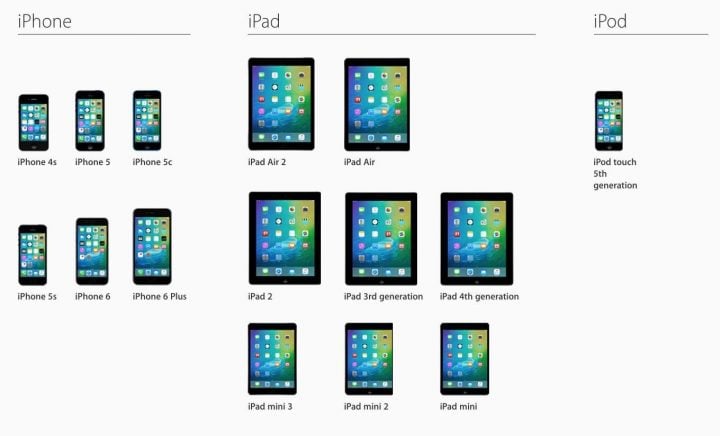 Every device capable of running iOS 8 will also run iOS 9. One thing that users will want to pay attention to is the performance of iOS 9 on older device, but it is still good to see Apple delivering another update for the iPhone 4s.
iPhone 4S
iPhone 5
iPhone 5c
iPhone 5s
iPhone 6
iPhone 6 Plus
iPad Air 2
iPad Air
iPad 4
iPad 3
iPad 2
iPad mini 3
iPad mini 2
iPad mini
iPod touch 5th generation
New iPod touch
All of the devices listed above will allow users to upgrade to iOS 9 this fall.
iOS 9 Installation Size
Apple plans to make it easier to upgrade to iOS 9 with less free storage space needed on the device. We don't know the exact size of the upgrade, but Apple shows one stat that users only need 1.36GB of free space to install iOS 9, compared to 4.58GB with iOS 8.
Another new feature will allow users to let the iPhone or iPad automatically delete some apps, install an iOS 9 update and then re-install those apps. This combination should allow for easier upgrades this year.
iOS 9 Features
Apple does not announce all the new iOS 9 features during the summer. We expect to see at least a few iPhone 6s and iPhone 6s Plus exclusive features and some unannounced features demonstrated closer to the iOS 9 release date.
The video above highlights the new iOS 9 features for iPad and the slides below walk through 15 new iOS 9 features compared to iOS 8 so that you can see some of what's new in iOS 9.
iOS 9 vs iOS 8: What's New in iOS 9
iOS 9 vs iOS 8 Walkthrough - Home Screen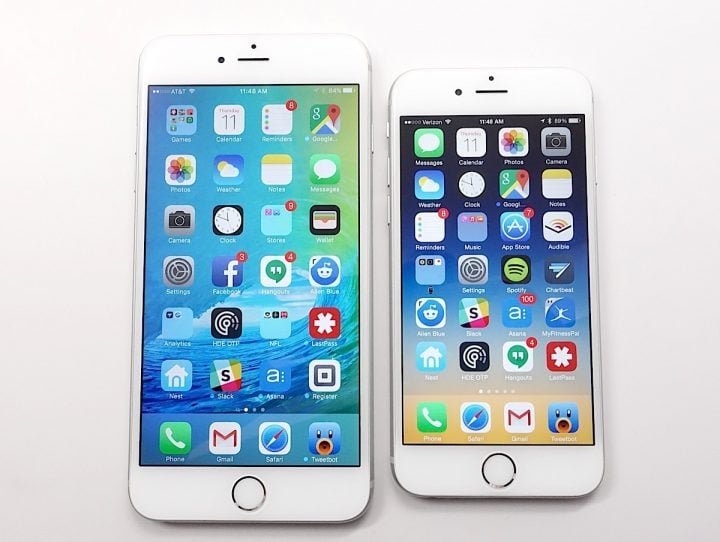 The image above shows that the iOS 9 home screen looks very much like the one on iOS 8. This is not surprising, but you will notice one major change to this screen.
The new iOS 9 font on the home page carries over through settings and apps. It's surprising how much the look of the system can change with a small tweak to a new font.
From the home screen you can now swipe left to a new search screen, and you can still swipe down to Spotlight from any of the home screen pages.
When you upgrade you will also see options to add iCloud Drive to your home screen.
Apple adds two new default iOS 9 apps that you cannot delete. Find iPhone and Find Friends apps now come with the iPhone by default. You can hide them in a folder, but you cannot delete the apps. The Find My iPhone app is a very good addition, while Find My Friends is still not as widely used.

As an Amazon Associate I earn from qualifying purchases.