The iOS 8.2 update is still waiting for many iPad 3 users to install as they weigh the pros and cons of installing yet another iOS 8 update on the aging iPad. Despite the age of this tablet, the iPad 3 iOS 8.2 performance is quite good.
The big news in this update is the addition of an Apple Watch app to the iPhone, but there is more to this upgrade than Apple Watch support, Check out what's new in iOS 8.2 for a full list of fixes, upgrades and stability features that iPad users need to know about.
After two weeks with the iPad 3 iOS 8.2 update it is easy to tell you how well this device performs with the latest Apple software that comes almost six months after the iOS 8 release last year. For users on iOS 7 it is still a big decision to upgrade, but hopefully you'll find the information you need in our iOS 8.2 review on the iPad 3.
The iPad 3 is not my main device. I share this iPad with my wife who is the primary user of the iPad 3, but I use it often enough to know how it performs for specific tasks and how popular apps run on the device. Over the last two weeks I've worked this into my daily use more than normal, to see if there are any problems or issues.
Here is what you need to know about the iPad 3 iOS 8.2 performance before you install.
iPad 3 iOS 8.2 Review
The most important thing you can take away from this iPad 3 iOS 8.2 review is that not every device behaves the same. We see varied performance across the iPad 2, iPad 3 and newer devices like the iPad Air and iPad Air 2.
We even see the performance change from one iPad 3 to another iPad 3 based on apps and other usage characteristics. This means that while this iPad 3 performs good there is always a chance your experience will differ. If you use specialized apps on the iPad or any kind of special tasks you should make sure that you read reviews specific to those activities.
Apps
The iPad 3 is primarily an entertainment device in our house. It is a gateway to Facebook and Pinterest and a place to watch movies on Netflix. All of these apps work fine on iOS 8.2 and so do other important apps like Safari, Gmail and a Bible app.
This is not a device that we use for heavy gaming, but the overall app performance is the same as on iOS 8.1.2 and iOS 8.1.3, so if your apps are running great on those versions you should be good to go.
If you run into any app problems you need to make sure that your apps are up to date and if all else fails, uninstall and re-install the app that is causing problems.
iOS 8.2 Battery Life
The iOS 8.2 battery life on the iPad 3 is great. Even though this iPad is old, the battery still  lasts close to 10 hours of use and standby time is excellent. If you do experience issues, like a fast battery drain, you can follow these steps to fix bad iOS 8.2 battery life.
WiFi, Cellular Data & Bluetooth
The iPad 3 we use is not a cellular model so we cannot test that feature in our house, but the rest of the connectivity is good. The iPad 3 connects to a Bluetooth keyboard without any problems and WiFi connectivity is stable throughout our house. This iPad 3 can also connect to personal hotspots without any problem when there is no home WiFi nearby.
Bugs & Issues
There are some iOS 8.2 problems, but none that are impacting our iPad 3. This older iPad still runs like a champ despite the age and long list of iOS upgrades that it has seen. Check out this list of fixes for common iOS 8.2 problems to find solutions to frequently reported issues and bugs.
Speed
The iPad 3 isn't as fast as the iPad Air 2, but it is still very usable. I did not notice any major change in speed from the iPad 3 on iOS 8.1 to iOS 8.2. It's been a long time since this iPad 3 ran iOS 7, so it is tough to make a direct comparison, but it is definitely fast enough to use without getting annoyed or losing patience with the device. Follow these steps to speed up your iPad 3 on iOS 8.2.
Is iOS 8.2 Worth Installing
If you are already running iOS 8 on your iPad 3 and you are experiencing any problems the iOS 8.2 update is worth installing. There are a lot of bug fixes and no stand out issues that come with this upgrade. If you don't like the update you can still downgrade from iOS 8.2 to iOS 8.1.3. Keep in mind that there is no iOS 8.2 jailbreak yet, but we could see one later this month.
For users on iOS 7 it is still a big decision. There are a lot of handy features in iOS 8 and iOS 8.2, but you cannot go back to iOS 7. If you love your current experience and don't want to upgrade there is no pressing reason now to tell you to give up what you know. Check out the iOS 8 features below to see what is new.
What's New in iOS 8
iOS 8 vs iOS 7 Walkthrough - Home Screen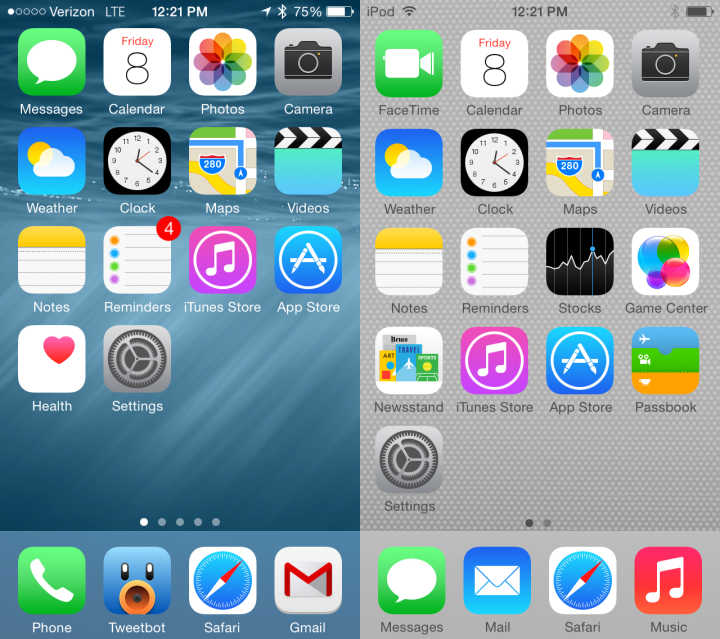 We start our iOS 8 vs iOS 7 walkthrough with the iPhone home screen, which is where you'll start your iOS 8 experience after an update this fall.
These screens are incredibly important as you see them anytime you turn on the iPhone or need to choose an app to launch. There is no way around using them, so Apple needs to make sure they work just right.
As you can see in the iOS 8 vs iOS 7 comparison above, there is no change between the home screen in the new iPhone software. Apple changed the status bar and some other small visual changes in iOS 7, but there are no updates for iOS 8.
We could see Apple change the home screen slightly for iOS 8 for the iPhone 6. The new iPhone will feature a larger 4.7-inch display with a higher resolution. This is something Apple may use to add more icons to the screen. Or they could stick with the current layout, it's tough to tell.