iPhone 5 iOS 9 Update: 5 Things to Know Right Now
On Monday, Apple confirmed an iOS 9 update for iPhone 5, Apple's former flagship that turns three years old later on this year. With an iPhone 5 iOS 9 update now confirmed, we want to take a look at a few things iPhone 5 users need to know right now about the device's upgrade.
Earlier this week, Apple kicked off its WWDC 2015 week with a huge keynote that featured a number of Apple executives and a number of major announcements. While the company failed to confirm an iPhone 6s or Apple TV 2015, it did talk about some new products that will be heading to iPhones and Mac devices in the near future.
One of those products is iOS 9, a brand new operating system that the company will use as a replacement for iOS 8 and it's upcoming iOS 8.4 update for iPhone, iPad and iPod touch.
Like its predecessors, iOS 9 is a big upgrade as it features a number of enhancements and several new features including a new battery saver mode, improved Siri, new built-in apps including News, improved Notes, and more. It's substantial and it's an update that's captured the attention of iPhone 5 users across the globe.
The iPhone 5 currently sits on iOS 8.3 though it will soon shift to iOS 8.4. And after that, it's likely iOS 9 that's next in line. With an iPhone 5 iOS 9 update on the way, we want to take an early look at what we think owners need to know about their next big software update. Here's what you need to know about the iOS 9 update for iPhone 5.
iPhone 5 iOS 9 Release Date
If you're at all interested in the iPhone 5 iOS 9 update then you probably want to know when the update is going to be out. Unfortunately, we don't have a specific date just yet though we do have a specific window that was given to us by Apple at WWDC 2015.
The iOS 9 release date is confirmed for the fall and rumors point to an arrival alongside two new iPhone models, an iPhone 6s and iPhone 6s Plus. With the fall starting in late September, there's now a very good chance that Apple will follow standard protocol with its iOS 9 release and iPhone release.
As of right now, smart money is on an iPhone 5 iOS 9 release in September after a lengthy stint in beta. iOS 9 is nowhere close to being ready. It still needs a lot of work before it can be released to iPhone 5 users all over the world.
Apple typically releases its products in the third week of September after a launch earlier in the month. So, there's a good chance that iOS 9 will arrive for the iPhone 5 in the vicinity of September 23rd. September 23rd is the first day of fall.
You Can Try iOS 9 Now
If you're an iPhone 5 user, you're a developer, and you want to get your hands on the iOS 9 update right now, you can.
iOS 9 beta 1 is currently available for paid developers and the beta allows them to try out the iOS 9 update's new features and enhancements ahead of the public release.
Those of you that aren't paid developers will be able to access the iOS 9 update through Apple's Beta Software Program. The program is open to anyone with an Apple ID. Apple hasn't confirmed a specific release date for the public iOS 9 beta release though we do know that it's coming in July.
Before you download and install the iOS 9 beta on the iPhone 5 you must remember that this is beta software and that means that it has the potential to cause problems on your device. App crashes, reboots, annoying bugs, and battery drain are all common issues with beta updates. Here are a few reasons to skip the iOS 9 beta.
iOS 9 on iPhone 5
The iOS 9 beta 1 has only been out for a few days and we're already seeing iPhone 5 owners post feedback for the world to see. The video below shows off the iOS 9 update next to iOS 8.3.
This iOS 9 iPhone 5 video focuses on performance of the UI and apps. It's not going to be a good representation of the public iOS 9 release but it is useful if you're thinking about downloading the beta. If you're looking for more about iOS 9's features, we recommend taking a look at our rundown.
Look for more iOS 9 beta testers to post videos online ahead of the public release in the fall.
Probably Not the Last Major Update
It used to be that Apple would offer three major iOS updates before cutting the cord. This year, that's changed.
The iPhone 4s is set to get the iOS 9 update, its fourth major update. Apple says that it has made changes to iOS' infrastructure to allow it to deliver updates to older devices and prolong their life.
This is huge for iPhone 4s users and it's also big for owners of the iPhone 5 because it leaves the door open for an iOS 10 update next year.
iOS 9 Jailbreak
If you are using a jailbreak on your iPhone 5 or you've been thinking about jailbreaking your device, you don't want to install the iOS 9 beta. At least not yet. While an iOS 9 jailbreak is said to be in the works, it may not arrive until the public iOS 9 release this fall.
We should see a jailbreak arrive before then though. An iOS 8.3 jailbreak is confirmed though it's not clear if it will be released for iOS 8.3 or iOS 8.4 if it even gets released at all.
iOS 9 vs iOS 8: What's New in iOS 9
iOS 9 vs iOS 8 Walkthrough - Home Screen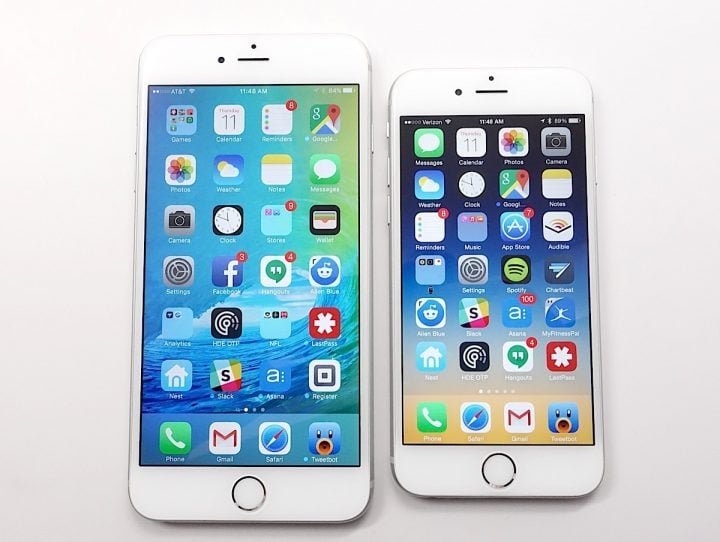 The image above shows that the iOS 9 home screen looks very much like the one on iOS 8. This is not surprising, but you will notice one major change to this screen.
The new iOS 9 font on the home page carries over through settings and apps. It's surprising how much the look of the system can change with a small tweak to a new font.
From the home screen you can now swipe left to a new search screen, and you can still swipe down to Spotlight from any of the home screen pages.
When you upgrade you will also see options to add iCloud Drive to your home screen.
Apple adds two new default iOS 9 apps that you cannot delete. Find iPhone and Find Friends apps now come with the iPhone by default. You can hide them in a folder, but you cannot delete the apps. The Find My iPhone app is a very good addition, while Find My Friends is still not as widely used.