iPhone 6 Battery Life Upgrade: 3 Things to Know
If your iPhone 6 battery life is bad and you find yourself in need of an iPhone 6 battery case just to get through the day, you'll appreciate a major iPhone 6 battery life upgrade coming with the new version of iOS later this year. Apple isn't including this in iOS 8.4, but with iOS 9 we'll see big changes in iPhone battery life.
Originally announced at WWDC 2015 in early June, the iOS 9 update is coming to every device that runs iOS 8 now, and it packs in a collection of exciting new iOS 9 features in addition to this battery life upgrade.
Read: How to Fix Bad iPhone 6 Battery Life
iPhone battery life is continually one of the biggest complaints from users. At the iOS 9 announcement Apple addressed this by telling us about how this new software update will fix iPhone 6 battery life specifically, but that's not the only device that will see better battery life thanks to iOS 9.
Here are the key details about the new iPhone 6 battery life upgrade Apple will deliver this year.
1 Hour Battery Life Boost
After you install the iOS 9 update this fall you should see an immediate boost in iPhone 6 battery life of around one hour. Apple specifically mentioned the iPhone 6 battery life fix in the keynote, but this will come to other devices.
Apple was clear that this is an additional hour of battery life while using the iPhone 6 for general use. That means the actual upgrade will vary from user to user based on activity and apps, but it's more than just an upgrade standby time when you aren't using your iPhone.
We expect to see upgraded iPhone battery life on the iPhone 4s, iPhone 5c, iPhone 5s and iPhone 6 Plus as well, but we don't know the estimated amount yet. Don't read too much into the iOS 9 battery life reviews from beta users. We typically see shorter battery life on the iOS betas.
New Super Battery Life Boost
If one hour isn't enough of an iPhone 6 battery life upgrade you can count on up to 3 hours of additional use with a new Low Power mode in iOS 9.
Apple made a big deal about this mode because it replaces the need to go in and flip a bunch of switches and options on your own when you need more battery life. It even flips switches you didn't know existed according to the announcement on stage. For iPhone 6 owners the new Low Power Mode can deliver up to three added hours of use.
With the Low Power Mode on mail fetch, background app refresh, automatic downloads and some visual effects are reduced or disabled according to the description in Apple's iOS 9 beta.
We also know that this changes the performance of the iPhone, slowing down the processor to save energy. The new iPhone Low Power Mode may not be the best way to get longer battery life while playing games, but for users who need to listen to music, send messages and make calls, this should be just fine.
When is the iPhone 6 Battery Upgrade Coming?
The iPhone 6 battery life upgrade is part of the iOS 9 update. This is a free upgrade for iPhone and iPad users that will arrive later this year. Apple confirmed the iOS 9 release date is in Fall 2015, but the company did not announce a specific release date for the upgrade.
You can count on seeing the iOS 9 release a few days before the iPhone 6s release date. Apple typically delivers the new iOS updates in September, when the company often announces and releases a new iPhone.
For more on what you get with this update, check out what's new in iOS 9 in the slides below.
iOS 9 vs iOS 8: What's New in iOS 9
iOS 9 vs iOS 8 Walkthrough - Home Screen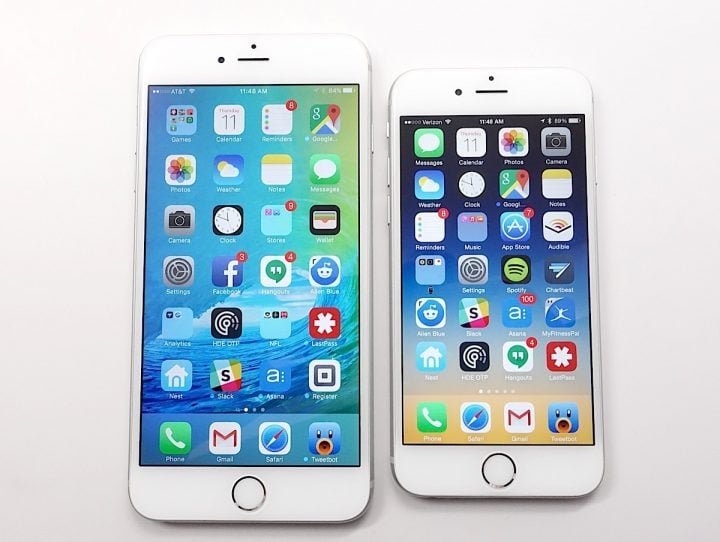 The image above shows that the iOS 9 home screen looks very much like the one on iOS 8. This is not surprising, but you will notice one major change to this screen.
The new iOS 9 font on the home page carries over through settings and apps. It's surprising how much the look of the system can change with a small tweak to a new font.
From the home screen you can now swipe left to a new search screen, and you can still swipe down to Spotlight from any of the home screen pages.
When you upgrade you will also see options to add iCloud Drive to your home screen.
Apple adds two new default iOS 9 apps that you cannot delete. Find iPhone and Find Friends apps now come with the iPhone by default. You can hide them in a folder, but you cannot delete the apps. The Find My iPhone app is a very good addition, while Find My Friends is still not as widely used.

As an Amazon Associate I earn from qualifying purchases.