iPhone 6 Plus vs HTC One M8: What Buyers Need to Know
We'll walk through the major differences between the iPhone 6 Plus vs HTC One M8, two large screen smartphones with metal bodies. Although the iPhone 6 Plus features a larger display, buyer will notice many similarities between these two devices.
Picking the best smartphone is complicated, especially if you only look for a new phone every two years. Our goal is to help you choose between two of the top smartphones available so you can walk in to a store with confidence, try out the devices side-by-side and make your final decision.
The HTC One M8 arrived earlier this year and the iPhone 6 Plus in mid-September, but don't pick your next smartphone solely on the release date. There are key strengths for each of these devices that you can key in on as you make your decision.
Apple's iPhone 6 Plus is $299 on a two-year contract and it is available on all major US carriers. The HTC One M8 is $199 at carriers and is as cheap as free on contract with Amazon. This device is also available on all major U.S. carriers.
Here's a closer look at the most important things buyers need to know about the iPhone 6 Plus vs HTC One M8 comparison.
iPhone 6 Plus vs HTC One M8 Size
When you pick a new smartphone it is important to find one that fits your hand, your pockets and your needs. Size is a very important part of this decision and even though the iPhone 6 Plus features a half-inch larger display there isn't as big if a difference as you might expect.
As you can see the iPhone 6 Plus is taller and wider, but it is thinner than the HTC One M8. The thicker HTC One M8 features a curved back, which is part of why it is thicker. Even though it is over 2mm thicker, the curve helps it fit in your hand easily.
iPhone 6 Plus – 158.1 x 77.8 x 7.1mm – 172 grams
HTC One M8 – 146.4 x 70.6 x 9.4mm – 160 grams
One reason people definitely want to compare these two phones is the metal design. Apple isn't new to metal designs, but some users aren't a big fan of the lines on the back. Both phones make use of the a similar antenna design, so you'll need to come to terms with that.
The iPhone 6 Plus is pretty slippery, so most users will want a case of some kind. The HTC One M8 is also tough for some users to hold on to, but it's not as slippery as the new iPhone.
iPhone 6 Plus vs HTC One M8 Display
The iPhone 6 Plus display looks better than the HTC One M8 display based on a week of use and extended time staring at the screens. That doesn't mean there's anything wrong with the HTC One M8 display, but Apple simply did a stunning job with the 5.5-inch iPhone 6 Plus display.
Apple includes a 5.5-inch display and HTC a 5-inch display, but both use the same 1080P HD display. That's the same as the HDTV hanging on your wall.
iPhone 6 Plus – 5.5-inch 1,920 x 1080  – 401 pixels per inch
HTC One M8  – 5-inch 1,920 x 1080  – 441 pixels per inch
With more pixels per inch you should see more detail on the HTC One M8 display, but the iPhone 6 Plus display is simply stunning.
iPhone 6 Plus vs HTC One M8 Features
No matter which of these phones you choose you get a collection of handy features, but the iPhone 6 Plus camera is the better options here. The HTC One M8 is capable of delivering some things Apple chose to leave out of the new iPhone.
Mobile Payments – Apple Pay turns the iPhone 6 Plus into a mobile wallet starting in October. The HTC One M8 works with Google Wallet and Soft Card to deliver the same functionality, without a fingerprint reader.
Security – The iPhone 6 Plus includes Touch ID, a fingerprint sensing home button that lets you unlock, make purchases and in iOS 8 it now unlocks some third-party apps. There is no fingerprint sensor on the HTC One M8.
HTC Advantage – Users who break the HTC One M8 screen in the first six months get a free replacement, but not if there is damage to the body. This also includes support, at least 25GB of cloud backup and a promise of faster updates. Here's our HTC Advantage review.
Speakers – The HTC One M8 delivers louder, better sound than the iPhone 6 Plus thanks to two front-facing speakers. Apple upgraded the volume a little on the new iPhones, but it's not as good as the HTC One M8.
Remote Control – There is an IR blaster on the top of the HTC One M8 that can control your HDTV and other gadgets. Some apps will control a DVR from the iPhone, but there is no IR, so it is less optimal.
Micro SD – The HTC One M8 includes a Micro SD card slot that lets users add more storage. There is no option for this on the iPhone 6 Plus.
iPhone 6 Plus vs HTC One M8 Cameras
Apple and HTC both focus on using larger pixels to take better looking photos, but after using both Apple delivers a better camera. The HTC One M8 features a 4 MP Ultrapixel camera and a second Duo camera to help take photos at varying focus points so you can blur a background for a beautiful looking shot. This is great, but overall the day-to-day performance of the main camera mode doesn't measure up to what we've experienced with the iPhone 6 Plus.
Apple chose an 8MP camera with new large pixels and a new focus method that is incredibly fast. Toss in optical image stabilization to help accommodate camera shake and the results are crisp and great to look at.
The HTC One M8 camera app includes several cool options like a dual-camera mode and the very fun HTC Zoe creation tool, but overall the photos on the iPhone 6 Plus are better.
iPhone 6 Plus vs HTC One M8 Specs
If you like to compare specs before buying a new phone here's what you need to know to make that comparison. As you can tell by now, there are a lot of features unlocked by these specs.
iPhone 6 Plus Specs
Apple A8 64-bit Processor
iOS 8
5.5-inch Retina HD display
16GB / 64GB / 128GB storage options
1.2MP front-facing camera
8MP rear-facing camera with Optical Image Stabilization
2,915 mAh battery
4G LTE
802.11ac WiFi
Touch ID Fingerprint Sensor
NFC
HTC One M8 Specs
5-inch 1920 x 1080p HD display
2.3 GHz Quad-core Snapdragon 801 with 2GB RAM
32GB internal storage (Micro-SD expansion support)
4 Ultrapixel camera (new second Duo Camera) and 5MP front, dual flash
Android 4.4.4 KitKat with Sense 6
Front facing speakers, infrared port for remote
Brushed aluminum design
2,600 mAh battery
iPhone 6 Plus vs HTC One M8 Software
The software that runs on the HTC One M8 and the iPhone 6 Plus is quite different, but there is no longer this huge gap between design and quality that existed two or three years ago.
The HTC One M8 runs Android 4.4 with special HTC touches like BlinkFeed and a special look that also lets users pick a theme to change the overall color scheme of the phone.
Read: HTC One M8 Tips & Tricks
HTC BlinkFeed is a long scrollable feed of your news, social channels and other important information that sits to the left of the home screen. You'll love BlinkFeed or hate it, and either way you can customize it and disable it if you need to.
The video above walks through the HTC One M8 software features, tips and tricks to show everything users can do with the HTC One M8. This includes the handy gesture controls.
Apple's iPhone 6 Plus runs iOS 8. This is almost identical to the free iOS 8 update that arrived on older iPhones recently, but the iPhone 6 Plus includes a special landscape mode that shows more information in some apps, similar to the iPad view.
The video above shows many of the iOS 8 features you'll experience on the iPhone 6 Plus. You can also check out the slides below to see more of these features, including the ability to answer calls to your iPhone using your Mac or iPad.
What's New in iOS 8
iOS 8 vs iOS 7 Walkthrough - Home Screen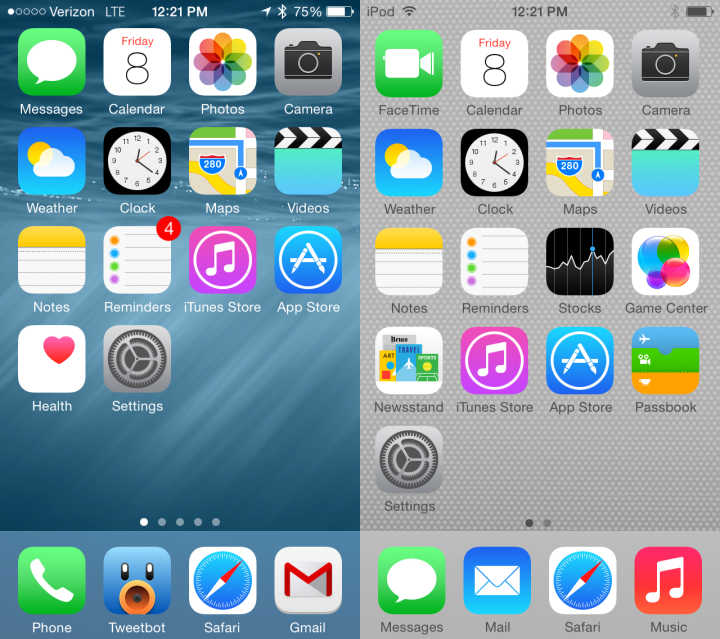 We start our iOS 8 vs iOS 7 walkthrough with the iPhone home screen, which is where you'll start your iOS 8 experience after an update this fall.
These screens are incredibly important as you see them anytime you turn on the iPhone or need to choose an app to launch. There is no way around using them, so Apple needs to make sure they work just right.
As you can see in the iOS 8 vs iOS 7 comparison above, there is no change between the home screen in the new iPhone software. Apple changed the status bar and some other small visual changes in iOS 7, but there are no updates for iOS 8.
We could see Apple change the home screen slightly for iOS 8 for the iPhone 6. The new iPhone will feature a larger 4.7-inch display with a higher resolution. This is something Apple may use to add more icons to the screen. Or they could stick with the current layout, it's tough to tell.

This article may contain affiliate links. Click here for more details.