iPhone 6s Battery Bug Leaves Users Longing for iOS 9.3
An iPhone 6s battery life problem is leaving some users stranded without power despite the iPhone showing plenty of power left. Currently the iPhone 6s battery bug is limited to iOS 9.2 and the iPhone 6s and iPhone 6s Plus. This is what you need to know about the problem, how to fix it temporarily and when Apple might deliver a fix.
While traveling around Las Vegas for CES 2016 our iPhone 6s showed an astounding 83% battery life as the clock ticked over to 5:30. This is an impressive feat, but a few minutes later the iPhone turned off, flashing a signal to recharge the battery.
Although not widespread, it is an issue that many iPhone 6s and iPhone 6s Plus users are seeing in 2016.
The iPhone 6s and iPhone 6s Plus battery life problem only impacts these two devices, and it appears to be linked to iOS 9.2. There is no specific battery percentage that the iPhone 6s battery life indicator sticks at, but it will stick.
Users will most often see this iOS 9.2 battery bug while traveling, but if you move the clock ahead to cheat time in Candy Crush Saga or Fallout Shelter  you may also see this issue that can leave you stranded without power. It is one of many iOS 9 problems.
Apple offers the following description of the problem, acknowledging the issue without letting users know when a fix is coming.
"If you change the time on your iPhone 6s or iPhone 6s Plus manually or change time zones when traveling, you might notice that the battery percentage doesn't update."
If this happens to you, you should restart your iPhone. To do this, hold the power button until the iPhone shows an option to slide to power off. Slide to turn the iPhone off and then after about 20 seconds hold the power button to turn the iPhone back on.
From here, go to Settings -> General -> Date & Time -> Set Automatically -> On. This simple change should get your iPhone back to showing the correct time. The stuck battery percentage could appear days after you change the iPhone time zone manually, so if you do this often you may want to keep these steps in mind.
We could see Apple deliver a fix to this annoying iPhone 6s battery bug with one of the two upcoming iOS 9 updates. Apple is currently working on iOS 9.2.1 as a small bug fix update and on a larger iOS 9.3 update that will deliver new features and bug fixes.
There is no firm iOS 9.2.1 release date, and Apple rarely confirms when smaller updates like this will arrive. Odds are good that this update will land in the next several weeks, possibly even before the end of January for all devices running iOS 9.
The iOS 9.3 release date is not known yet, but it is likely coming in March around the time of a rumored Apple event where we could see the company announce the iPhone 6c with a 4-inch display and a metal body and a new Apple Watch 2.
You can see what else is new in the iOS 9.3 update in the slides below, including the new Night Shift mode that changes the warmth of colors on the screen to help you fall asleep better after using the iPhone late at night.
What's New in iOS 9.3 & iOS 9.3.5
Night Shift for iPhone Promises Better Sleep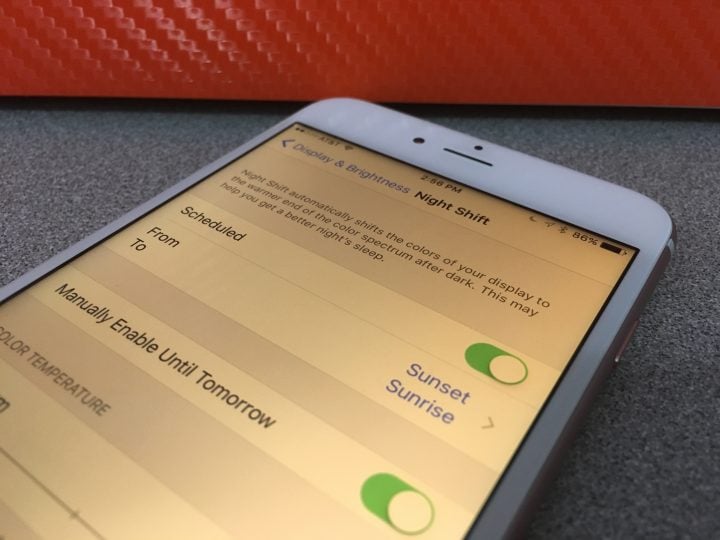 The free iOS 9.3 update adds Night Shift. With Night Shift the iPhone uses your iPhone's clock and your location to automatically shift the colors to a warmer, less blue, mode so that it is easier on your eyes. In the morning the display automatically returns to normal.
iOS 9.2 does not include any features to adjust the warmth of the display to make it easier to fall asleep after using your iPhone.
One of the biggest reasons to jailbreak the iPhone for the past several years has been for access to f.lux. This tweak adjusts your iPhone or iPad display to deliver a warmer light at night so that it is easier to fall asleep after using your iPhone or iPad.
Here's how to use Night Shift in iOS 9.3 to get a better night of sleep.
This is important because using bright blue light at night can interrupt your circadian rhythms, making it hard to fall asleep. This is part of why you may lay down exhausted but are unable to sleep after wasting 20 minutes on your iPhone or iPad in bed.