iPhone 6s iOS 9 Rumors Point to Exciting New Feature
The iPhone 6s release date is likely less than a month away and a Fall 2015 Apple Event is likely in under two weeks. In addition to these important events the iOS 9 release date is quickly approaching and one developer believes that he's discovered a clue about a major iPhone 6s feature hidden in the iOS 9 code.
Apple announced iOS 9 at WWDC in June, so it is not a surprise, but in addition to testing a version of iOS 9 for the iPhone 4s up to the iPhone 6 Plus, Apple is working on iOS 9 for the iPhone 6s.
We normally see Apple deliver new software features on the new iPhone each year as part of an iOS upgrade. All signs point to exclusive iPhone 6s features that combine hardware and software, and this leak is our first look at a feature that will combine new iPhone 6s hardware with a new iOS 9 feature.
The new iPhone 6s feature revealed in iOS 9 code is Force Touch. This is not the first time we've heard about this option, and it is actually one of the most rumored iPhone 6s features. Now we have a look at code that suggests Apple is ready to deliver an iPhone 6s with Force Touch and iOS 9 in the very near future.
Hamza Sood, an iOS developer known for finding references in Apple's beta code, discovered a reference to Force Touch on an iPhone 6s. The code Sood discovered shows Apple is likely testing Force Touch on the iOS 9 keyboard for iPhone 6s. Sood states that this likely references keyboard trackpad gestures that activate with Force Touch.
Force Touch is a confirmed Apple feature on the MacBook, newer MacBook Pro models and the Apple Watch.
On Apple notebooks Force Touch is built-in to the TouchPad where it allows users to Force click by clicking and then pushing with more pressure. On the touchpad you can Force click to look up text, see a Maps preview of an address, track a package in Safari, and much more.
On the Apple Watch, the screen supports a Force Touch for added controls. This is an easy way to add faster access to controls, options and features. One common use is to Force touch to clear all notifications. Inside other apps, users can Force tap to use secondary menu options. It is likely that Apple will allow users to tap with Force Touch for similar options in iOS 9.
The iPhone 6s and iPhone 6s Plus are the names rumored for the new 2015 iPhone models. There are also rumors of an iPhone 6c coming this year. An Apple Event is likely on September 9th where we will see the new iPhones and maybe an Apple TV.
Apple's iPhone 6s release date is likely coming on September 18th after pre-orders start on September 11th. The iOS 9 release date will likely stick to tradition and arrive two days before the iPhone 6s release date.
With the iOS 9 update users will gain new iPhone and iPad features, but Force Touch will require new hardware that is only likely on the iPhone 6s and iPhone 6s Plus. This may make the new iPhone slightly thicker, but a source tells Gotta Be Mobile that existing iPhone 6 cases will likely still fit.
The iOS 9 update arrives for the iPhone 4s and newer, iPad mini and newer, iPad 2 and newer, iPod touch 5th generation and newer. The slides below show you what is new in iOS 9.
iOS 9 vs iOS 8: What's New in iOS 9
iOS 9 vs iOS 8 Walkthrough - Home Screen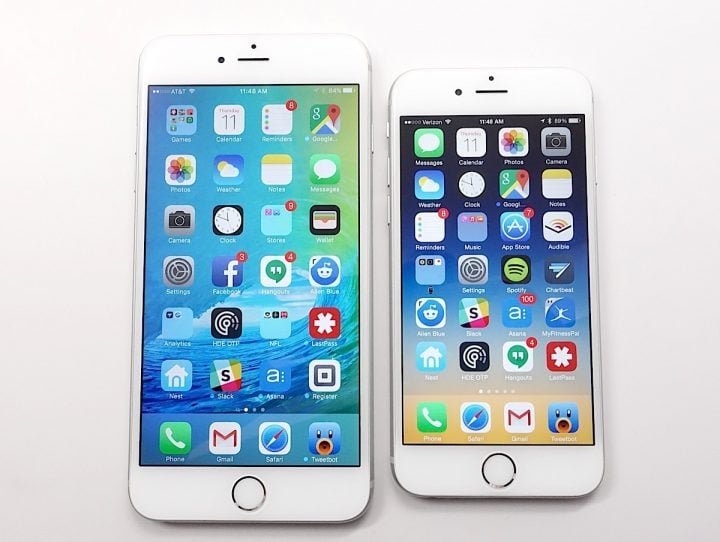 The image above shows that the iOS 9 home screen looks very much like the one on iOS 8. This is not surprising, but you will notice one major change to this screen.
The new iOS 9 font on the home page carries over through settings and apps. It's surprising how much the look of the system can change with a small tweak to a new font.
From the home screen you can now swipe left to a new search screen, and you can still swipe down to Spotlight from any of the home screen pages.
When you upgrade you will also see options to add iCloud Drive to your home screen.
Apple adds two new default iOS 9 apps that you cannot delete. Find iPhone and Find Friends apps now come with the iPhone by default. You can hide them in a folder, but you cannot delete the apps. The Find My iPhone app is a very good addition, while Find My Friends is still not as widely used.

This article may contain affiliate links. Click here for more details.