iPhone 7 vs. Galaxy S8: 5 Things to Know Before You Buy
If you're trying to decide between the iPhone 7 or Samsung Galaxy S8, here are a few things to consider before you buy.
The iPhone 7, iPhone 7 Plus, Samsung Galaxy S8, and Galaxy S8+ are four of the best smartphones money can buy.
From their excellent cameras, to their speed, to their beautiful displays, these devices have it all. Close to it anyway.
These days though it can be hard to tell the iPhone and Galaxy S apart, particularly for those that aren't plugged into the world of smartphones.
While the hardware lines are blurred, there are some key differences that you must consider before you commit to one or the other.
Today we want to walk you through some basics to keep in the back of your mind as you try and make up your mind.
These tips aren't aimed at hardcore Android or iOS users. These are focused on those of you that don't possess any brand loyalty and are simply in the market for the best device, for the right price, to suit your needs.
Software Support
Software support is one of the key differences between the iPhone 7 and iPhone 7 Plus vs. Galaxy S8+ and Galaxy S8: Software support. If you've owned, or currently own, an iPhone or Galaxy S you probably know where we're going with this.
Let's start with Apple and the iPhone.
Apple is in complete control of the iOS software that powers the iPhone 7 and iPhone 7 Plus. Carriers have some input but ultimately it decides what to put on its software updates. It also decides how and when to roll software updates out to its mobile devices. So what does this mean for the end user (you)?
It means the iPhone doesn't have any carrier bloatware. It means you can test beta software ahead of time. It means you get rapid fire iOS updates with bug fixes and security patches. It means your device is constantly updated with new features and tweaks.
It also makes predicting when you'll get your next big software release easy. Apple is predictable in that it announces new software in the summer, releases a beta, and then releases the new iOS update in the fall alongside a new iPhone. All iPhone users get the new iOS software at the same time.
You also know that Apple will keep your device supported for a long stretch of time. The iPhone 7 and iPhone 7 Plus are new and should be supported for at least three to four more years before they're kicked to the curb.
Compare this to Samsung.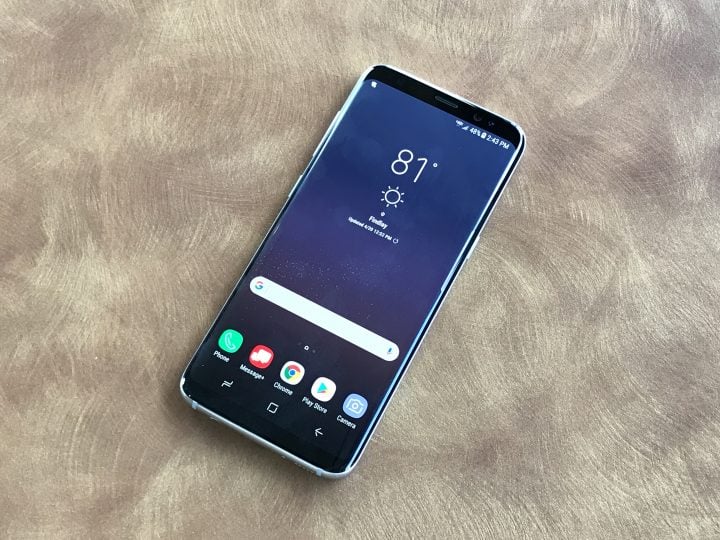 While things have improved over the year, Samsung's software support still isn't on par with Apple's. And this is something to consider if you hate bugs, love getting new software features, and/or plan to keep your device for a long time.
Samsung, in some ways, is still at the mercy of Google and its carrier partners. What does this mean for you?
It means the Galaxy S8 comes with annoying carrier bloatware. Some can be removed, others can't and will just sit there taking up space on your screen/internal storage.
It means big Android releases for the Galaxy S8 will be unpredictable. Google is planning to announce more Android O details at Google I/O in May ahead of a probable release this fall but it won't talk about Samsung's plans for the new operating system.
It'll probably be awhile before you hear anything concrete about the Galaxy S8 Android O update. Samsung's typically months behind Google's roll out.
Case in point: The Galaxy S7 and Android 7.0 Nougat. Android 7.0 Nougat rolled out to Nexus devices in August. The first Samsung Galaxy S7 Nougat update landed in January.
It's also worth noting that the Galaxy S7 isn't running Android 7.1.1 (released in late 2016) or Android 7.1.2 Nougat (released by Google in April).
It means Galaxy S8 bug fix updates will be sporadic and unpredictable. You could go long stretches without seeing receiving key bug fixers from Samsung and your carrier.
Samsung and its partners will roll out monthly security updates but these patches typically don't come with bug fixes.
And then there's the longevity of Galaxy S devices. With Apple, again, you typically get four years of software support before your device gets cut off. With Samsung, its typically two, three if you're really lucky.
Take the Galaxy S5, Samsung's most popular device in the United States. It was released in 2014 (same year as the iPhone 6) and it probably won't get Nougat.
And while its still getting bug fix updates and security patches, we expect support to slow as Samsung and carriers focus on more pressing matters (Galaxy S8, Galaxy S7, newer devices).
Storage
With the iPhone 7 and iPhone 7 Plus, Apple changed up how it handles storage.
They still don't feature expandable storage but there's more internal space for photos, videos, and applications.
The 64GB iPhone is no more. Instead, Apple and its partners offer 32GB (cheapest), 128GB (same price as 64GB in years past), and 256GB of internal storage.
Of course, you don't actually get 32GB, 128GB or 256GB of storage. Apple's software requires some space to operate.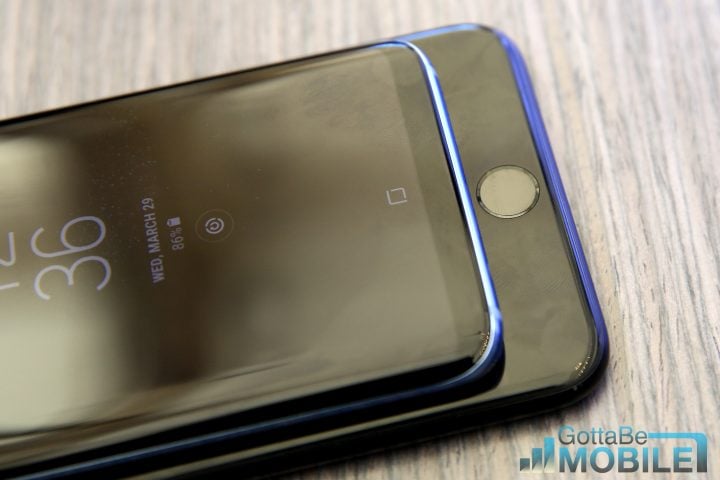 For instance, on a 32GB iPhone 7, you'll probably only get 25GB of space with which to work. That won't be a problem for some people but you'd be surprised how quickly that space can fill up.
You'll also get 5GB of free iCloud storage before you have to start shelling out real cash to Apple for additional space on the cloud. 5GB isn't much either.
Samsung also offers a cloud solution, Samsung Cloud, but it's not as vital as iCloud. This is because the Galaxy S8 features expandable storage.
The Samsung Galaxy S8 and Galaxy S8+ come with 64GB of internal storage. There are not other storage options. This might seem like a problem but it's not when you consider that you can buy a cheap microSD cards to expand your storage up to 256GB. That's a mind-boggling amount of space for $20.
So this is something to keep in mind as you decide which to buy. If you typically find yourself scrounging for free space on your device, you might take a closer look at the Galaxy S8 and the peace of mind it could deliver.
Price
The Samsung Galaxy S8 and Galaxy S8 are the new guys in town but that doesn't mean they're more expensive than the seven month old iPhone 7/iPhone 7 Plus. Samsung's flagship devices cost about the same at America's most popular carriers, AT&T and Verizon.
AT&T
iPhone 7 32GB
Monthly: $21.67/mo
Full Price: $649.99
iPhone 7 Plus 32GB
Monthly: $25.67/mo
Full Price: $769.99
Samsung Galaxy S8
Monthly: $25/mo
Full Price: $749.99
Samsung Galaxy S8+
Monthly: $28.34/mo
Full Price: $849.99
Verizon
iPhone 7 32GB
Monthly: $27.08/mo
Full Price: $649.99
iPhone 7 Plus 32GB
Monthly: $32.08/mo
Full Price: $769.99
Samsung Galaxy S8
Monthly: $30/mo
Full Price: $720
Samsung Galaxy S8+
Monthly: $35/mo
Full Price: $840
So what should you take away from these numbers?
Both of these phones are expensive. You have to pay up if you want the latest and greatest features.
If these prices are too much for your blood, consider the Galaxy S7/Galaxy S7 Edge or the iPhone 6s/iPhone 6s Plus. They're a year old but they're still excellent devices.
The Galaxy S8 and Galaxy S8+ are actually a little cheaper at Verizon even though the monthly payments are larger.
iPhone vs. Android
The Galaxy S8 and Galaxy S8+ run Google's Android 7.0 Nougat with the Samsung Experience (formerly known as TouchWiz) on top.
The iPhone 7 and iPhone 7 Plus run Apple's iOS 10 operating system. More specifically, they run iOS 10.3.1.
If you trying to decide between the iPhone 7 or Galaxy S8 you'll want to get acclimated to both of these operating systems before you buy.
All of these phones come with powerful hardware so it'll be the software, and your comfort level with that software, that helps to separate one device from the rest of the pack.
There are also some key differences between iPhone and Android you'll want to be aware of. For instance, Android doesn't have a unified messaging experience like Apple's iMessage service.
Read about the differences between iPhone vs. Android but make sure to go hands-on with the software before you make a final decision.
Moving from one device/operating system is easier than ever.
If you own an Android device you might be thinking about how hard it will be to transfer all of your data over to the iPhone 7 or iPhone. Same goes for you iPhone users. This might seem daunting but don't let it influence your decision. It's actually very easy to make the switch.
Both Apple and Samsung make it simple to switch from Android to iPhone and vice versa. Samsung offers its Samsung Smart Switch service and Apple has its Move to iOS app that takes you step-by-step through the process.
Galaxy S8 Fingerprint Sensor
We remember the days when you used to have to enter a PIN or a password to unlock an iPhone or a Galaxy S. These days, smartphones are smart enough to unlock with a fingerprint.
The fingerprint sensors on the iPhone 7 (known as Touch ID) and Galaxy S8 are important for security but they also make opening the device and paying for items through Samsung Pay and Apple Pay much more convenient.
The iPhone 7's Touch ID fingerprint sensor isn't perfect but it's not considered to be a detriment like the Galaxy S8's fingerprint sensor.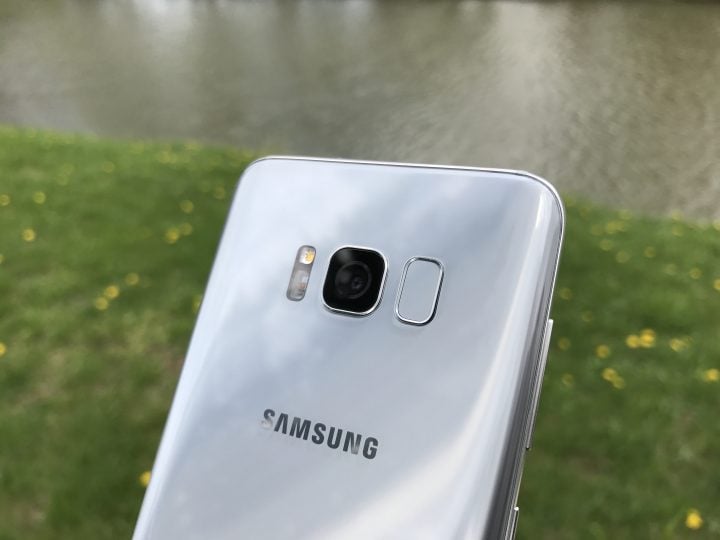 The Samsung Galaxy S8's sensor is located on the back of the device and its has been widely panned in reviews from around the web. Even Android-centric sites hate it.
In our brief experience, its awkward placement can make it hard to unlock with your index finger leading to longer unlock times. Your finger also might gravitate to the camera sensor which is placed right next to the sensor.
This isn't a feature you'll use once or twice a day. This is a feature you could use 100+ times a day. It's important.
Unfortunately, this isn't something Samsung can fix with a software update and it's a change you'll really want to see for yourself before you commit to one device or the other.
3 Reasons Not to Install Galaxy S7 Nougat & 8 Reasons You Should
Install Nougat If You Want Better Security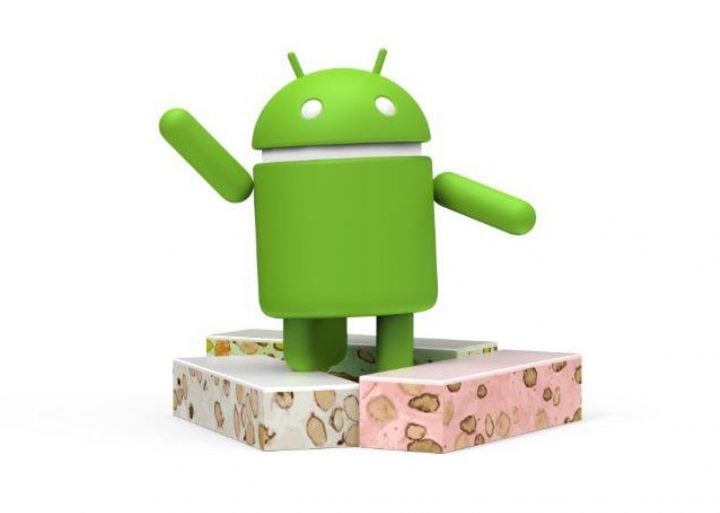 Let's start with some basics.
If you value your security, and most of you probably do, you'll want to think about installing an Galaxy S7 Nougat update soon after it arrives for your device.
Every month, Google and Samsung release important security patches for Android devices. Your Galaxy S7 and Galaxy S7 Android Nougat update should bring the latest security patches to your device.
Samsung's initial batch of Galaxy S7 Nougat updates delivered the company's January security update but the latest updates deliver newer security patches. You can read more about them over on Samsung's website.
If you failed to download or receive an older security update (May, June, etc), you'll also get those patches when you install Android 7.0 Nougat for the first time.
On top of the patches, Samsung's Galaxy S7 Nougat update brings Samsung Pass, a way to secure your identity using biometric data rather than entering your password or ID.
Samsung Pass is like a master key for your various logins and it relies on Galaxy S7's fingerprint scanner. The biometric data is encrypted and stored safely by Samsung Knox.

As an Amazon Associate I earn from qualifying purchases.