Love Balls App: 5 Things to Know
The Love Balls app is a kid friendly game that joins the Ballz app as one of the worst names for a family friendly game, but it's a fun time waster.
This short iPhone and Android game is free to play, with a decent amount of levels. That said, a common complaint from Love Balls reviews is that the game is too short.
Here's what you need to know about Love Balls and if Love Balls is safe for kids to play. Looking for more games, here are the best iPhone apps and the best Android apps.
What is the Love Balls App?
Love Balls is an iPhone and Android game where you need to draw on the screen to make two different balls move towards each other and eventually touch.
The early levels are very easy to play and the game does a good job of walking you through how it works, but eventually the game becomes more challenging.
Players will see ads as they play the game and can watch an ad to get more coins for beating a level.
You can download Love Balls on iPhone or for Android for free.
How to Play Love Balls
Each level in Love Balls is different, but the goal is always to get the two balls to touch, since they are in love.
In some levels the balls will move as soon as you finish drawing the first addition to the level, but in others you will need to draw a shape that starts a ball moving.
In most cases you will need to draw one or two lines that bring the balls together, but you can draw many more if you have issues.
There is a restart option that you will need to use a few times as you play through the game.
Is Love Balls Safe For Kids?
The Love Balls app is completely safe for kids. The name may make you wonder, but it is a wholesome game and it is not mature in any way.
Love Balls is rated 4+ on iPhone and E for Everyone on Google Play. There are no specific indicators of things parents need to know about the game content.
The app is ad supported, but so far the ads are suitable for that age range, with mostly other games showing up in the ads.
Love Balls In App Purchases
There are no Love Balls in app purchases to convince players to spend money. You can use the in game currency to buy new pens, balls and backgrounds, but that is all earned through play.
This is nice, so you don't need to worry about kids spending cash in the game, but there are two in app purchases we would love to see.
First off, it would be nice to see a Love Balls in app purchase to remove ads. Next it would be great to see an in app purchase to unlock more levels as the game is one that many players can beat pretty quickly.
Love Balls Tips and Tricks
If you want to beat the levels with 3 stars you will need to pay attention to how you solve a level. Here are the Love Balls tips and tricks you need to know to beat the game.
Watch Your Ink Level – There is an ink level at the top of the screen and to get 3 stars you will need to complete the level with minimal ink.
Try, Try Again – You can restart without any impact on your score, so feel free to try new approaches if you think they will pay off.
Plan For Your Lines – You'll need to draw lines so they bounce or drop correctly on parts of each level. Experiment and learn how this works early on.
Think Outside the Box – Try using a lot of ink to keep the balls safe on tough levels and then make them meet with smaller lines.
With these Love Balls tips you can beat more levels and advance faster in the game. This can also help you three star more levels and earn more coins.
20 Best Apps to Make Money in 2020
Google Opinion Rewards - Make Money By Answering Questions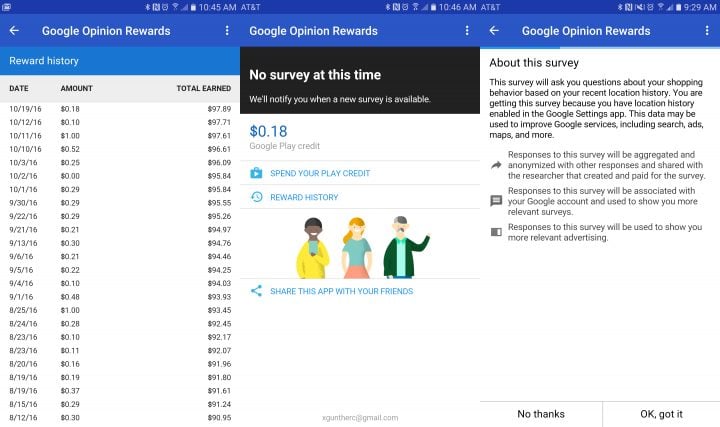 You can make money answering survey questions on your smartphone with Google Opinion Rewards. Also known as Google Surveys by many users, this free app rewards you for sharing your opinion. This works on iPhone and Android, but the best way to make money is on iPhone.
A member of the Gotta Be Mobile team earned over $100 with Google Opinion Rewards. All you need to do is answer questions and you'll earn anywhere from a 10 cents to a dollar. You can also answer Google Opinion Rewards surveys in stores to really earn more money.
The money that you make works for Google Play Credits on Android that you can use to buy apps, movies, books, and even spend on in app purchases for games like Clash of Clans without spending your cash.
iPhone users get the credit sent to PayPal when they have a balance of $2, which can happen every two or three weeks depending on how many surveys you qualify for. It's easy to earn when you start, but surveys may become less frequent as you go.
Download Google Opinion Rewards for Android and Google Opinion Rewards for iPhone.