13 Best Nintendo Switch Battery Packs & Chargers in 2019
The best Nintendo Switch battery packs and chargers will let you race, battle and explore longer on Nintendo's new video game console. In fact, they are the only way your Nintendo Switch will last a long flight or a full day away from its dock, as the console's battery life varies.
Here are the best Nintendo Switch battery packs and chargers. You don't need to worry whether any of them won't work correctly with your new console. Every battery pack was tested with a Switch console or made specifically for it.
12 Best Nintendo Switch Battery Packs & Chargers
Anker PowerCore+26800
Mophie PowerStation XXL
RAVPower 45W USB C PD charger
Nyko Power Pak for Nintendo Switch
Nyko Boost Pak for Nintendo Switch
Bionik Power Plate Duo for Nintendo Switch
UNU Superpak
REXIAO Nintendo Switch Battery Case
Nintendo Switch Joy-Con Charging Grip
Nintendo Switch Joy-Con Battery Pack
Nintendo Switch AC Adapter
Hori Nintendo Switch High-Speed Car Adapter
B&A Nintendo Switch Joy-Con Charging Dock
AC Power Cord for Nintendo Switch
You can play a small title, like RiME, for 5 hours or more. Playing the console's most exciting games brings that battery life estimate down by half. Nintendo Switch lasts for 3 hours when you play more demanding games like Legend of Zelda: Breath of the Wild or Super Mario Odyssey. Play Mario Kart 8, Splatoon 2, Arms or Fortnite Battle Royale online and you can expect less battery life than that.
Check out the best Nintendo Switch cases and the best Switch screen protectors to complete your portable gaming station.
Anker PowerCore+26800 PD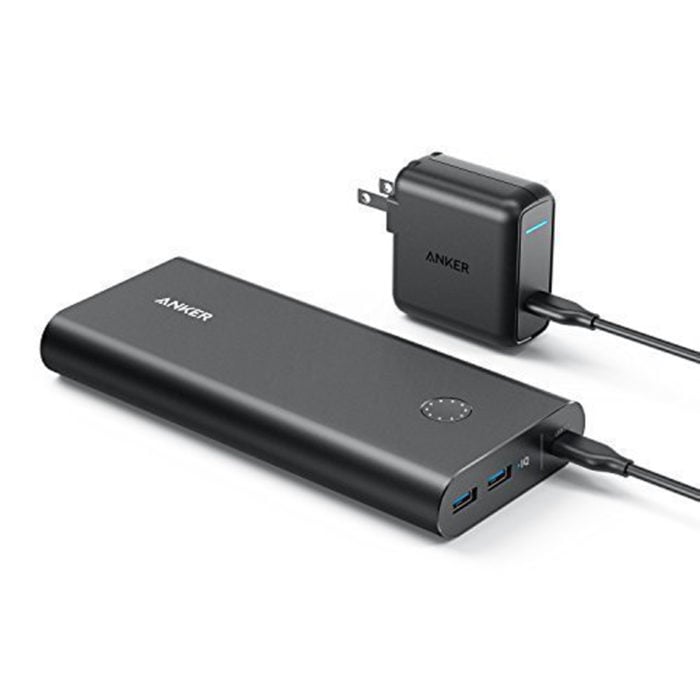 The Anker PowerCore+26800 PD is a smartphone charger that outputs enough power to charge your Nintendo Switch.
This updated Anker PowerCore+ has higher voltage limits than the model it replaces and a 26800 mAh battery inside. Two full-size USB ports let you charge a smartphone or tablet quickly. It's the built-in USB Type-C port that has the voltage the Nintendo Switch requires for charging and gaming. The battery charges the console in just 4 hours.
There is just one downside to using the Anker PowerCore+26800 PD to keep your Nintendo Switch charged. You must keep the 1-pound battery in your lap as you game. Aside from that, it's definitely worth the $99.99 it costs from Amazon.