Public iOS 9 Beta: 5 Things to Know Before You Sign Up
Apple announced a new opportunity to sign up for the iOS 9 beta, which will allow regular users to test the new iOS 9 update free of charge through an official Apple beta program.
The iOS 9 beta starts in July, and is open to regular users without the need to pay $99 to be an Apple Developer or to pay $8 to register their device with a third-party service as a developer device.
Apple announced iOS 9 on stage at WWDC 2015 in early June, highlighting a number of exciting new features that make your iPhone smarter, add multitasking to the iPad and deliver better iPhone battery life.
With the official iOS 9 beta program users can try out several pre-release versions of iOS 9 before the official iOS 9 release date this fall. Apple did not announce a specific date for the iOS 9 update's arrival.
Here's what you need to know about the public iOS 9 beta program if you want to try this new software out.
Sign Up Now for the Public iOS 9 Beta
The iOS 9 beta works with every device that runs iOS 8, so there are a lot of users capable of running the iOS 9 beta on their iPhone or iPad.
Although the public iOS 9 beta does not arrive until July, you should sign up today if you want to take part in this trial. The last time Apple offered a public iOS beta slots filled up quickly.
You'll need to go to the Apple Beta Software Program website and sign in with your Apple ID. Part of this program requires users sign an agreement about how they can use the software and what they can do with it.
After you sign in, join the iOS 9 beta program by filling out any required information and you will get an email with instructions when the public iOS 9 beta release arrives.
You Can Downgrade to iOS 8
If you are using the iOS 9 beta on your iPhone and you end up not liking the experience that beta software brings, you can downgrade to iOS 8 again. This process will take you to the current shipping version of iOS 8. By the time the iOS 9 beta starts you can expect an option to downgrade to iOS 8.4 with the new Apple Music service.
Reasons To Try the Public iOS 9 Beta
If you want to help make iOS 9 better by providing feedback to Apple about the performance of the iPhone, and how you use it specifically, this is a good opportunity to do so.
As part of the iOS 9 beta program you can tell Apple what is working and what isn't working so that the company can fix things before the public release.
You also get to try the new iOS 9 features before the public release, which is a definite plus for many users.
Reasons to Skip the iOS 9 Beta
There are also many reasons to skip the iOS 9 beta. Even though the public iOS 9 beta program comes after several developer betas and will likely be more stable it is still beta software.
This means that some apps and features may not work as you expect them to. You may also experience crashes, bugs and other problems — even on a new iPhone 6 or iPhone 6 Plus.
If you only have one iPhone, it is not a good idea to install the iOS 9 beta on it — and this goes double if you are using that iPhone for work. Check out other reasons to skip the iOS 9 beta.
New iOS 9 Features
While you wait for the public iOS 9 beta program to start you should familiarize yourself with the new iOS 9 features. We shared 35 iOS 9 features that you'll love which is a good place to start.
You can also watch the video above that highlights the iPad only iOS 9 features like multitasking and a better keyboard experience.
For a closer look, check out the iOS 9 vs iOS 8 comparison below that shows you 18 of the biggest changes in iOS 9.
iOS 9 vs iOS 8: What's New in iOS 9
iOS 9 vs iOS 8 Walkthrough - Home Screen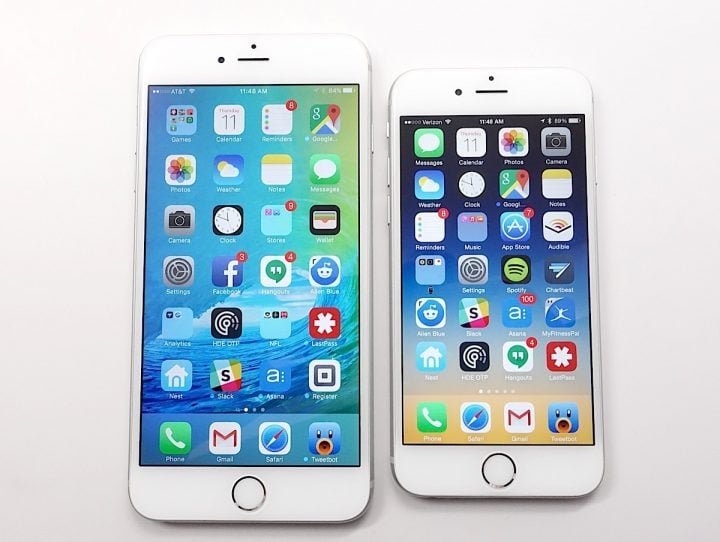 The image above shows that the iOS 9 home screen looks very much like the one on iOS 8. This is not surprising, but you will notice one major change to this screen.
The new iOS 9 font on the home page carries over through settings and apps. It's surprising how much the look of the system can change with a small tweak to a new font.
From the home screen you can now swipe left to a new search screen, and you can still swipe down to Spotlight from any of the home screen pages.
When you upgrade you will also see options to add iCloud Drive to your home screen.
Apple adds two new default iOS 9 apps that you cannot delete. Find iPhone and Find Friends apps now come with the iPhone by default. You can hide them in a folder, but you cannot delete the apps. The Find My iPhone app is a very good addition, while Find My Friends is still not as widely used.

As an Amazon Associate I earn from qualifying purchases.