Rocket League for Nintendo Switch Release Date, Pre-Orders & Features
There are some very exciting 2017 Nintendo Switch games on the way, and Psyonix's Rocket League for Nintendo Switch is the most surprising of them all. It's definitely on some gamers' must-have video games. That's despite its missing release date.
Rocket League is a sports video game. As with soccer, the point of the title is to score on the other team by getting a ball into their goal. It's also unlike any sports game that came before it. You aren't a person on the field, and you don't kick the ball into the goal. Instead, you use in-game currency to build yourself a super car and ram that ball into the goal with your custom ride.
Read: 11 Rocket League Tips & Tricks
Rocket League is already on the PS4, Xbox One and Windows PCs. Many assumed that Psyonix would stop there. Instead, the company revealed Rocket League for Nintendo Switch. This new version of the game allows anyone to play anywhere. Gamers can also expect some new cars and customization options inspired by their favorite Nintendo characters, like Mario.
The Rocket League for Nintendo Switch release date is set for 2017. Here is everything else that we know about the game.
Rocket League for Nintendo Switch Release Date
We don't know the Rocket League for Nintendo Switch release date, unfortunately. Developer Psyonix likes to keep gamers in the dark about launches until executives are sure a title will arrive on time.
That being said, we do know the Rocket League for Nintendo Switch release window. Expect the game to launch sometime this holiday season. Traditionally, developers use "holiday" as shorthand for a November or early December release.
Read: Nintendo Switch Review: Fun & Flawed
Rocket League for Nintendo Switch Pre-Orders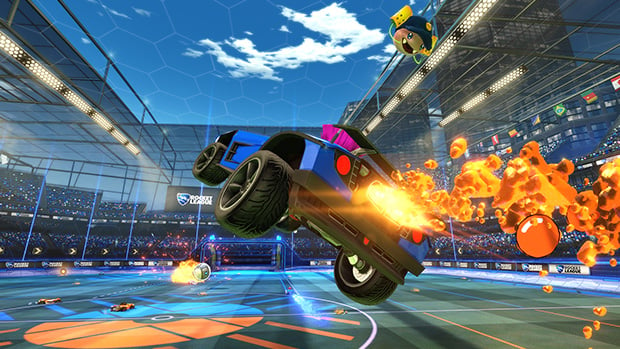 Rocket League for Nintendo Switch pre-orders are available at some stores.
Amazon has a Rocket League for Nintendo Switch store page today. For now, this page only lets you sign up for alerts about the game and its release.
It's because of Best Buy's Rocket League for Nintendo Switch store page that we know the game will cost $59.99. You can pre-order the game there.
Other retailers that normally offer game pre-orders don't have Rocket League for Nintendo Switch listed on their sites. GameStop, which usually offers games for pre-order earlier than any retailer, isn't selling copies. Target isn't selling the game either, and the game is missing from Walmart's online store.
Nintendo will sell the title on its website and through the Nintendo eShop, but it's not available there yet. The game's store page does confirm the title's Holiday 2017 release window.
Rocket League for Nintendo Switch Features
A Rocket League for Nintendo Switch release didn't seem likely because the game made its debut on living room gaming consoles. Once it was announced, many worried that it would not have all the features other versions do. The Nintendo Switch isn't as powerful as the Xbox One and PS4.
Read: 6 Best Nintendo Switch Battery Packs & Chargers
So far, most of the features gamers love about the title are intact for the Nintendo Switch release. The game has an offline season mode, multiplayer game types and competitive play. The mutators that let gamers change rules whenever they want are also intact. Gamers can customize their racer as much as they want.
Besides allowing for mobile play, Rocket League for Nintendo Switch doesn't have any features built specifically for Nintendo's console. At least, there aren't any listed on Nintendo's website. Psyonix is making up for a lack of local multiplayer with cross network support. Nintendo Switch gamers can play with Xbox One and PC gamers online.
Rocket League for Nintendo Switch Exclusive Content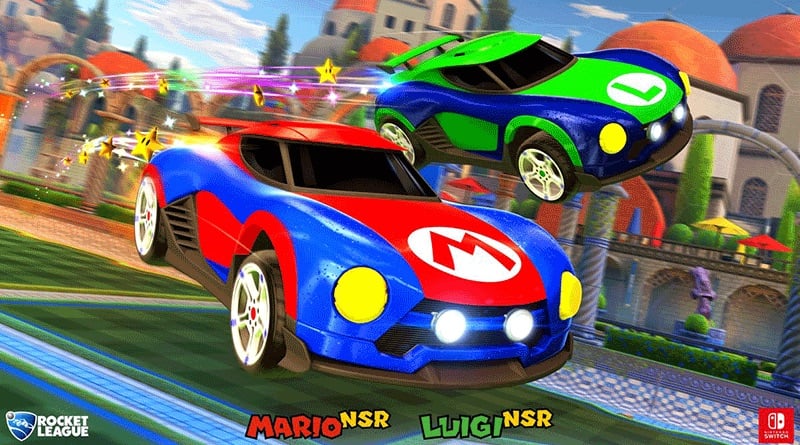 Rocket League for Nintendo Switch buyers get three cars with their physical or digital copy of the game, and all three vehicles are inspired by Nintendo characters. The Samus Gunship car borrows its looks from the main character in the Metroid series. The Mario and Luigi NSR hot rods have paint jobs that match Mario and Luigi's uniforms.
Read: How to Find the Nintendo Switch in Stock
When We'll Learn More About Rocket League for Nintendo Switch
Expect more news about Rocket League for Nintendo Switch to arrive in late September or October. Psyonix and Nintendo will want to hype the title's release again as gamers and parents plan their holiday shopping.
10 Best 2017 Nintendo Switch Games Coming
Sonic Forces
Featuring three protagonists, Sonic Forces will offer platforming and an all-new story when it arrives on video game consoles – including the Nintendo Switch – in 2017.
We know that Sonic Forces lets gamers create their own characters. Players must base this character on one of seven different classes that come with their own advantages and abilities. Sonic Team calls these custom characters "Avatars," and there are hundreds of cosmetic items for Sonic Forces players to add some style to their creation.
You can skip the custom character mode and enjoy two generations of Sonic game play: 2.5D and 3D. The 2.5D mode offers the classic side-scrolling Sonic experience from your childhood. 3D Mode plays more like Sonic Unleashed. All game worlds and characters are three-dimensional, just like they would be in a modern game.

As an Amazon Associate I earn from qualifying purchases.