T-Mobile vs Verizon: All the Things That Matter
Your digital life depends on your smartphone, and your smartphone depends on your network. T-Mobile and Verizon are two massive carriers in the United States, and deciding between them is difficult.
In terms of subscribers, Verizon is the largest carrier in the United States. Its network stretches from coast to coast and is reliable in places that some other networks aren't. The company is also massive, and it uses its size to get subscribers discounts on internet and cable TV. Compared to some other wireless networks, Verizon is usually more expensive.
T-Mobile's Uncarrier initiatives have turned it into a decent Verizon and AT&T alternative. Its latest perk gives some T-Mobile subscribers free Netflix streaming. Its network is faster than some rivals, according to Ookla. That being said, T-Mobile's network isn't always reliable.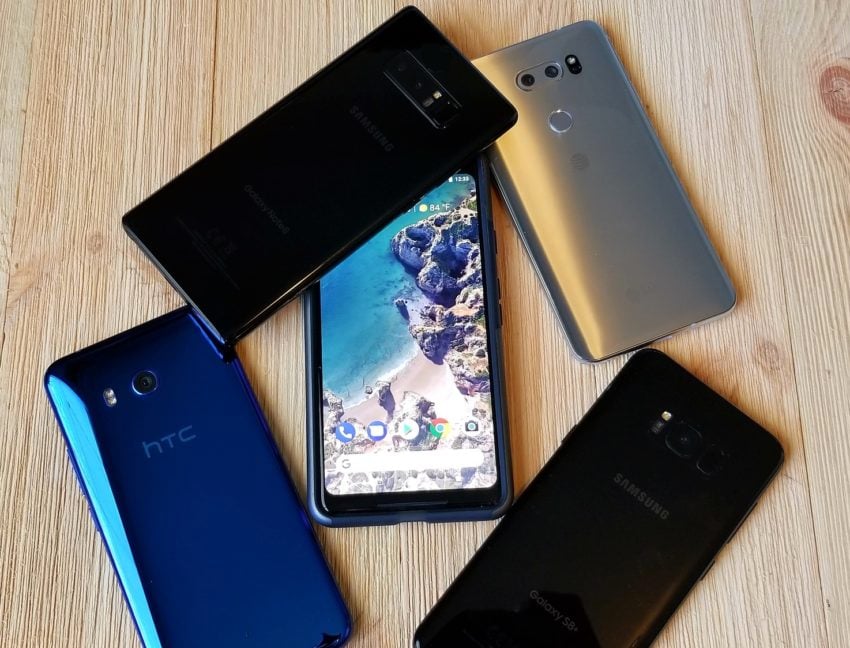 Read: AT&T vs T-Mobile: All the Things That Matter
Use this breakdown to compare Verizon and T-Mobile before you decide which to use with your new smartphone.
T-Mobile vs Verizon: All the Things That Matter
T-Mobile vs Verizon: Plans and Pricing
T-Mobile vs Verizon: Phones
T-Mobile vs Verizon: Coverage & What You Need to Know
T-Mobile vs Verizon: Which Should You Buy?
T-Mobile vs Verizon: Plans and Pricing
Don't choose a phone, then explore a carrier's plans. Start with a plan first. Plans determine how much you pay and whether you have all the features you need. Every carrier's wireless plans are just a bit different.
Verizon Plans
Verizon's plans fit into two categories. You can get a single line or sign up for a family plan for savings on multiple lines. Sign-up for auto-pay online and Verizon discounts all its plans by $5. The prices below include that discount.
Activation fee is $30 per line.
Early Termination Fee is $175 or $350 if you purchased a smartphone.
Save $5 with auto-pay.
Single Smartphone Plan
$40 gets you 5GB of data, unlimited talk & text with the Verizon Single Smartphone Plan. Your unused data rolls over to the next month, but you pay $15 for every gigabyte of data that you go over.
Verizon has two more plans for you to choose from: Go Unlimited and Beyond Unlimited.
Read: Verizon Unlimited Plan: 5 Things to Know Before You Buy
Verizon Go Unlimited
Go Unlimited costs $75 a month. For that price, you get unlimited data on your phone, unlimited talk and text, unlimited DVD-quality streaming. You also get unlimited, but slow mobile hotspot connectivity. Hotspot allows you to connect your laptop or tablet to your smartphone and connect to the internet.
Don't be fooled by the "DVD quality" streaming that comes with this plan. This isn't high-definition video. HD resolution is 1080p, and this plan will reduce streaming on your smartphone to a resolution of 480p.
You don't get unlimited calling, texting or data in Mexico or Canada with this plan either. Frequent travelers to those countries should stay away.
Verizon Beyond Unlimited
If you travel abroad or want high-quality video streaming, get the $85 Verizon Beyond Unlimited Plan. It includes unlimited LTE, talk and text. You get full access to LTE when using mobile hotspot for the first 15GB. After that, Verizon slows you down. You don't get full HD 1080p resolution with this plan unless you connect it to a tablet. It maxes out streaming resolution at 720p on smartphones, which is still better quality than unlimited streaming with the Go Unlimited Plan.
The Verizon Beyond Unlimited data is unlimited only in that Verizon doesn't slow down your data consumption if you stay under 22GB. After that, web pages and social networking sites could take longer to load if Verizon's network gets congested.
When traveling in Canada or Mexico, you do get unlimited talk, text and data with this plan. Use more than 512MB each day you're away and Verizon will slow your LTE to 2G speeds.
Families & Multiple Devices
You can add up to 10 phones, 20 tablets and 20 smartwatches to either of Verizon's unlimited plans. A tablet, camera or smartwatch costs you another $20. For phones, things are less straight-forward. The more lines you add, the cheaper each of those lines is. So, a single Go Unlimited line costs $75, but add 4 or more lines to a Go Unlimited plan and each line costs you just $40 a month.
Verizon's Family plans are a solid deal. You buy a pool of high-speed data and up to 10 smartphones can share it. Each of these plans comes with Unlimited Talk and Text and your unused data carries over to the next month. A 2GB plan costs $35 a month. The 4GB plan is $50 a month. Spending $70 a month gets your family 8GB of data to share. Expect to pay $15 for every GB you go over your high-speed data allowance.
Fees
Verizon plans don't include your taxes and fees, and the carrier charges everyone an Activation Fee of $30 per line. The carrier's termination fee is a whopping $350 for smartphones.
T-Mobile Plans
T-Mobile likes to brag that its wireless plans are straightforward, but that's not entirely correct.
A single T-Mobile One plan costs $70 when you give a credit card and pay your bill automatically. For this price, you get unlimited talk, text and data on T-Mobile's network. You also get free 3G mobile hotspot data, and unlimited video streaming.
T-Mobile doesn't have Activation Fees for T-Mobile One.
T-Mobile doesn't have Early Termination Fees.
Save $5 with auto-pay.
T-Mobile is generous with international calling and data. You can text or browse the internet in 140 different countries without updating your plan. On every flight, you get 1 hour of unlimited GoGo in-flight WiFi and free texting. If you're in Mexico or Canada, take advantage of the plan's unlimited talk, text and 5GB of LTE data.
The trouble with the T-Mobile One plan is that it has some of the same limitations as other unlimited plans. You get unlimited video streaming, but it's "DVD quality" at 480p. Use more than 50GB and it's possible the carrier will slow you down until the next billing cycle ends. Though unlimited, hotspot sharing is limited to just 3G speeds with this plan. Web pages will load very slowly on any device you've connected to your phone.
To fix T-Mobile One's faults, expect to pay more.
You get 10GB of LTE mobile hotspot sharing and double the internet speeds abroad when you sign up for the T-Mobile One Plus. This add-on also unlocks voicemail to text features and identities people calling you from an unknown number. Most importantly, it adds high-definition video streaming to replace the DVD-quality streaming the basic plan comes with. T-Mobile One Plus costs $10 a month extra.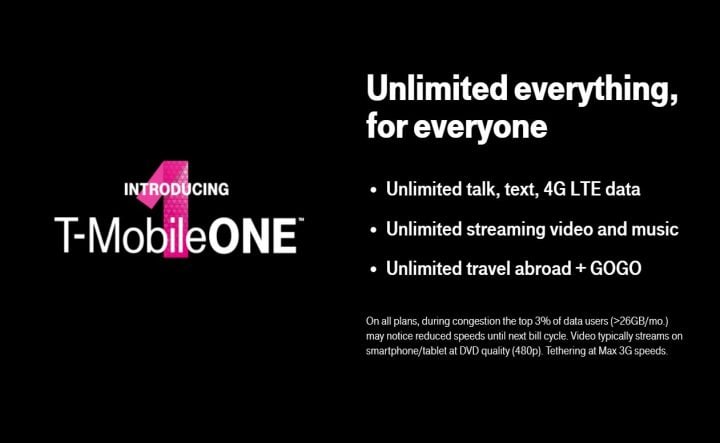 Frequent travelers need the T-Mobile One Plus International add-on. It gets you unlimited international calling to landline phones in 80 countries and mobile phones in 30 countries. It doubles your data speeds in 160 countries. In Mexico and Canada, expect unlimited talk, text and LTE. Back at home, you unlock unlimited in-flight Go-Go Wi-Fi, 4G LTE hotspot data and full HD video streaming.
The problem with this plan add-on is its price. T-Mobile One Plus International is $25. That's in addition to your monthly T-Mobile One plan.
Families & Multiple Devices
Don't forget your device add-ons. Data on your smartwatch costs $10 extra for only 3G speeds. You pay $20 a month extra to add your tablet to a T-Mobile One Plan.
A sliding scale gets you a per-line discount on T-Mobile for the entire family. A family of four can expect $160 in just service charges each month. Two T-Mobile One lines cost $120 together.
Fees
Luckily, T-Mobile redeems itself with its fees. The price you see on its website is the price you pay, the company doesn't pass-on taxes or regulatory fees to T-Mobile One subscribers. Also, the company doesn't have activation fees or termination fees. When you cancel your line, simply pay the remaining balance left on your bill and your phone.
T-Mobile vs Verizon: Phones
Once you've found the right plan for your needs, it's time to choose the right phone.
T-Mobile Phones
Again, T-Mobile introduces a little complexity into your life. The company has two ways for you to buy your phone. Neither of them hides the cost of your phone into your monthly service charges.
EIP stands for Equipment Installation Plan. The carrier takes the total cost of your phone and breaks it into monthly payments. With good credit, you can avoid down payments on most phones. If you leave the carrier, you must pay the remaining balance on your device. If you do, your phone is yours to keep. You don't pay interest when you buy a phone this way.
T-Mobile Jump On-Demand complicates matters. Anyone who buys a new phone is eligible for this program. Through it, you can update your smartphone once a month. Turn in the last phone, and you can keep updating for as long as T-Mobile offers the program. To successfully upgrade, you need to hand in your old device. You can only take advantage of this upgrade plan if you are buying a Samsung Galaxy, an Apple iPhone or another expensive flagship smartphone.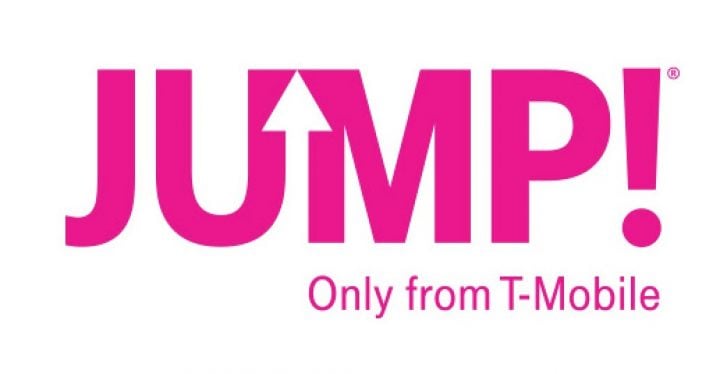 Read: T-Mobile Jump and Jump On-Demand: 11 Things You Need to Know  
Don't confuse that plan with T-Mobile Jump. This program costs between $9-$12, depending on your phone. It comes with insurance, and you can upgrade your phone once you've paid half your payments on it. If you have an Apple device, T-Mobile Jump includes Apple Care.
Finally, there's T-Mobile Jump Plus. It costs between $12 and $15 and includes insurance. If you have an Apple Device, this plan includes that too. You can upgrade once half your device is paid off. With Jump Plus, you get free technical support.
Of course, you can always skip this complicated mix of services and pay for the entire cost of your phone up-front. Just know that T-Mobile will charge you $25 for a SIM card kit if you order online. SIM Cards are the tiny identification chips that you put into your smartphone so that your wireless carrier can pair it with your account.
Verizon Phones
Verizon will sell you a phone through an installation plan or with an up-front cost. If you choose to divide your phone's total cost into 24 monthly payments, there's no interest.
Verizon also has a plan that's similar to Jump On-Demand from T-Mobile. Buy an iPhone 8, iPhone 8 Plus or iPhone X and Verizon will let you upgrade to a newer iPhone once half of your payments are gone. Like other upgrade plans, you must hand in your old device for this upgrade.
Exclusive Devices
Almost every phone worth buying is available on every network. That is, with one exception. If you're looking for a Google Pixel 2, Verizon has a rare exclusivity agreement on it. You can buy the phone directly from the Google Play Store and pay full price, then use the carrier's Bring Your Own Device option to get it working.
Read: 2 Reasons to Buy the Pixel on Verizon & 3 Reasons Not To
Bring Your Own Device
And that brings you to Bring Your Own Device. Both Verizon and T-Mobile carriers will let you use an unlocked smartphone on their networks, provided that smartphone has the correct internals. Verizon gives you a free SIM Card to stick into your phone when you move there. T-Mobile charges $25 for a SIM card.
T-Mobile vs Verizon: Coverage & What You Need to Know
Remember, the cost of your plan and your smartphone are not the only two things you should consider before purchasing your smartphone. Coverage is just as important as what you pay a month.
PC World reports that T-Mobile has the fastest network, according to research firm Ookla. That being said, speed isn't usually why T-Mobile's network gets criticism. The carrier is known for having uneven coverage. It's particularly noticeable in smaller cities as you head out to the suburbs. The carrier tries to make up for the shortfalls in its network with Wi-Fi calling, but that only helps if you have solid internet access where you are. If you spend a lot of time in rural areas, T-Mobile is not the right fit for you.
The interactive Verizon coverage map breaks down how good service is in your area. T-Mobile's coverage map is searchable too. Compare and contrast the network coverage in the places you visit every day to figure out which network will get you the best connectivity where you need it. There's nothing more aggravating than getting a new phone and having bad coverage at home.
T-Mobile Tuesdays and Verizon Rewards
T-Mobile gets credit for giving birth to the free rewards trend. It's T-Mobile Tuesday app gives away, sandwiches, store discounts, magazine subscriptions and more. Keep two T-Mobile One lines up-to-date and T-Mobile gives you a monthly subscription to Netflix at no extra charge.
But Verizon's Up Rewards program is great too. You get 1 credit for every $300 you spend with the carrier. You can claim discounts on flights, music subscriptions, video subscriptions, Starbucks drinks and more.
T-Mobile vs Verizon: Which Should You Buy?
Choosing your carrier isn't an easy decision, so don't make it lightly. It's a major hassle to switch between them.
Plan cost is key. One line on T-Mobile is at least $70 a month. That plan gets you unlimited calling, texting and data, but 480p video streaming. An iPhone 8 there is as little as $29.17 a month. You also get 5GB of free hotspot data to use with your other devices. There's no activation fee and no taxes and regulatory fee, but you are stick with SD video streaming. So, for an iPhone 8, you'd pay $99.17 for two years.
Compare that to what you get at Verizon. An iPhone 8 there is $29.16. A basic, Go Unlimited plan with unlimited calling, texting and data costs $75 a month. You pay taxes and fees and you don't get the GoGo in-flight Wi-Fi and SD video streaming. Expect to pay $104.16 before any regulatory fees or charges.
Keep account fees in mind too. Verizon will charge you a $30 activation fee and up to a $350 termination fee. T-Mobile users don't pay activation fees or termination fees. Instead, the carrier charges $30 for a SIM card if you bring your own device. Verizon will give you one for free.
Once you've done the math, it's time to compare coverage maps. Enter your address into both online tools and see for yourself which is the best. Go for the carrier that has the best monthly price and coverage in your area.