What to Know Before You Buy a Nintendo Switch as a Gift
The Nintendo Switch is a different kind of video game console, and there's a lot you need to know before you buy one as a gift this holiday season.
Even if you've given a friend or a family member an Xbox One or PS4 as a gift before, the Nintendo Switch is an entirely different buying experience. Unlike those consoles, it's a way for gamers to play Super Mario Odyssey on their television and wherever they go. Most video game systems come with one controller, but Switch uses two miniature controllers that snap onto its side. In most cases, you must buy a game with the console bundle so that they're ready to experience everything it has to offer when they unwrap it. For comparison, Xbox One and PS4 come with at least one free game.
Here's everything you to know before you buy a Nintendo Switch as a gift. Use this info and tips to avoid disappointing your friends and family after they unwrap their new console.
What the Nintendo Switch Comes With
Every Nintendo Switch comes with some basic accessories to get you started. In the box is the console itself, a HDMI cable, a power cable, two Joy-Con Controllers and two Joy-Con Straps. The Joy-Cons slot into the left and right edges of the Nintendo Switch and the straps are for when gamers want to detach the Joy-Cons and use them as separate controllers at home or on the go.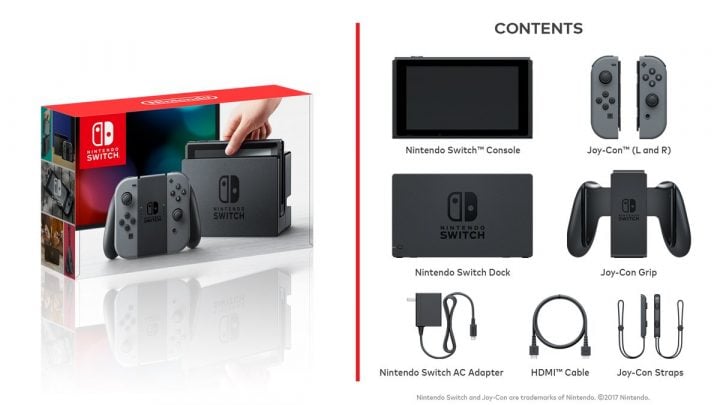 Each Nintendo Switch has an SD card slot. Add an SD card into the slot and you can save your games there. Unlike with other consoles, you can't pay more to get more storage built into the Switch.
Read: Best Nintendo Switch SD Cards
Nintendo Switch Doesn't Need Batteries
Save yourself some money and don't buy batteries for the Switch you're gifting. The device has a built-in battery of its own. For most games, this battery lasts for 3 hours of play. Older games tend to last longer.
If you know that this isn't enough play time for your friend or family member, buy one of these Nintendo Switch battery packs. They double the amount of play time gamers can expect away from home.
Read: 6 Best Nintendo Switch Battery Packs & Chargers
Buy a Nintendo Switch Bundle to Save Money
A Nintendo Switch is an expensive holiday gift. Plan to purchase a Switch bundle to save yourself some cash. None of the original Switch units come with a game. If you buy one of those original units, expect to pay $60 for a game to go with the console.
Luckily, there is one new Nintendo Switch bundle for the holidays. In the United States, you can buy the Nintendo Switch Super Mario Odyssey bundle for $379.99. That's $79.99 more than a standard bundle, but it includes a digital code for Super Mario Odyssey, the game console, a carry case and a screen protector.
Read: Best Nintendo Switch Deals
Amazon also has the Switch Splatoon 2 Bundle. This $399 bundle also comes with a carry case, but you may have a hard time finding it at stores in the United States. It launched over the summer.
https://www.youtube.com/watch?v=S1r369yv2Uk
If you can only find the standard Switch bundles, buy your friend or family member one of these Switch cases or bags to protect their device. It won't look as cool as the cases in these bundles, but it will protect their new console just fine.
Read: 12 Best Nintendo Switch Cases, Covers & Why to Avoid Skins
Save Your Money on Multiplayer Subscriptions
For now, you don't need to spend money for your friend or family member to enjoy their Switch games with other people.
The Switch Online service launches sometime next year. Until then, multiplayer for any game – including Mario Kart 8 Deluxe and Splatoon 2 – is free. That's very different from other consoles. Microsoft and Sony charge $9.99 a month for their online multiplayer services.
Do You Need to Buy Another Controller for Nintendo Switch?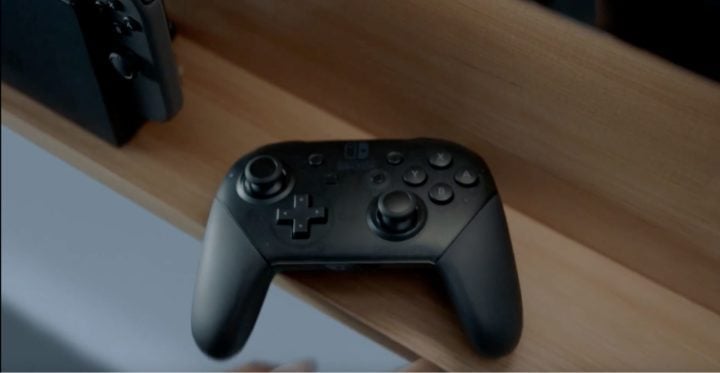 You can skip buying a second controller with the Switch you're gifting this holiday season. The person you're giving the console to doesn't necessarily need one.
The Switch's Joy-Con Controllers are the only controllers they may ever need. When detached from the display, they're set to act as one controller. Owners can go into the console's settings and have them act as separate controllers for multiplayer games, like Mario Kart 8 Deluxe.
Now, if you want to buy a second controller for them, you can still do that. An extra pair of Joy-Cons costs $79.99 at [easyazon_link identifier="B01N6QKT7H" locale="US" tag="gbm-ea-20″]Amazon[/easyazon_link]. There's also, the Nintendo Switch Pro Controller for $69.99 at [easyazon_link identifier="B01N4ND1T2″ locale="US" tag="gbm-ea-20″]Amazon[/easyazon_link]. This controller is made for gamers that like the larger buttons and joysticks of the PS4 and Xbox One controller.
10 Best 2017 Nintendo Switch Games Coming
Sonic Forces
Featuring three protagonists, Sonic Forces will offer platforming and an all-new story when it arrives on video game consoles – including the Nintendo Switch – in 2017.
We know that Sonic Forces lets gamers create their own characters. Players must base this character on one of seven different classes that come with their own advantages and abilities. Sonic Team calls these custom characters "Avatars," and there are hundreds of cosmetic items for Sonic Forces players to add some style to their creation.
You can skip the custom character mode and enjoy two generations of Sonic game play: 2.5D and 3D. The 2.5D mode offers the classic side-scrolling Sonic experience from your childhood. 3D Mode plays more like Sonic Unleashed. All game worlds and characters are three-dimensional, just like they would be in a modern game.

As an Amazon Associate I earn from qualifying purchases.