The iOS 9.0.1 release date is here and it fixes a number of iOS 9 problems for the iPhone, iPad and iPod touch. This is the first iOS 9 update to arrive since the massive update last week and it includes several very important fixes for users who have yet to upgrade to iOS 9 and for users who are already on iOS 9.
The iOS 9.0.1 update fixes alarms that did not sound and a bug that broke cellular data connectivity on some iPhones with a custom APN. Here's what you need to know about the specific iOS 9.0.1 fixes and features.
Apple's iOS 9.0.1 update is a small bug fix update that will not take long to download and install on the iPhone or iPad with sizes around 35MB, but if you are upgrading to iOS 9.0.1 from iOS 8, you will still be in for a decently sized update.
[contextly_sidebar id="TuXRGsXpogVGZGUyutM0XP7xwQRfTUxo"]If you have yet to upgrade to iOS 9, the iOS 9.0.1 release will solve one of the biggest complaints that we've seen from users who could not complete the setup process.
Apple notes that the iOS 9.0.1 update "Fixes an issue where some users could not complete setup assistant after updating." For these users who may still be on iOS 8, this should make upgrading to iOS 9 much easier with a straight shot to iOS 9.0.1.
This is also an important update for users who are already on iOS 9 and who are experiencing problems. There are things that are new in iOS 9.0.1 for users on iOS 9. Here's why you may want to update to iOS 9.0.1 today.
Fixes an issue where sometimes alarms and timers could fail to play.
Fixes an issue in Safari and Photos where pausing a video could cause the paused frame to appear distorted.
Fixes an issue where some users with a custom APN setup via profile could lose cellular data.
If you are experiencing any of these problems it is a good idea to download and install the iOS 9.0.1 update now, especially if you are on iOS 9 already — and you use your iPhone as an alarm.
[contextly_sidebar id="MkUcAs4Q4ILNwopNMILN6h0StHFxRJMm"]
Apple's iOS 9.0.1 update takes about 10 minutes to download and install to the iPhone 6 Plus. The speed will vary based on your iPhone model and internet connection. You need 50% or more battery life and must connect to WiFi to download the iOS 9.0.1 update.
Users can install iOS 9.0.1 from their device or by plugging in to iTunes to download the update on a computer.
iOS 9 vs iOS 8: What's New in iOS 9
iOS 9 vs iOS 8 Walkthrough - Home Screen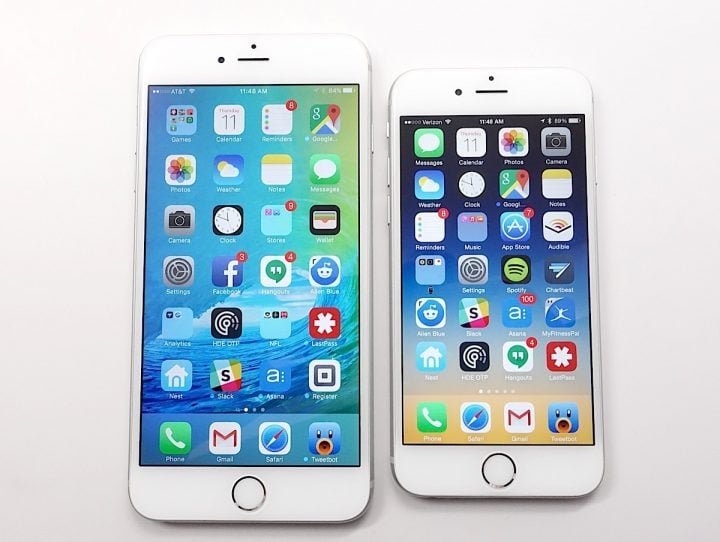 The image above shows that the iOS 9 home screen looks very much like the one on iOS 8. This is not surprising, but you will notice one major change to this screen.
The new iOS 9 font on the home page carries over through settings and apps. It's surprising how much the look of the system can change with a small tweak to a new font.
From the home screen you can now swipe left to a new search screen, and you can still swipe down to Spotlight from any of the home screen pages.
When you upgrade you will also see options to add iCloud Drive to your home screen.
Apple adds two new default iOS 9 apps that you cannot delete. Find iPhone and Find Friends apps now come with the iPhone by default. You can hide them in a folder, but you cannot delete the apps. The Find My iPhone app is a very good addition, while Find My Friends is still not as widely used.

As an Amazon Associate I earn from qualifying purchases.