What's New in iOS 9.3 & iOS 9.3.5
Here's a look at what's new in iOS 9.3 and what's new in iOS 9.3.5, the latest update for the iPhone and iPad.
Shortly after the iOS 9.3.3 update delivered bug fixes and performance updates Apple rolled out a iOS 9.3.4 update that includes security fixes. Now Apple is pushing iOS 9.3.5 to the iPhone and iPad.
The iOS 9.3.4 update broke the jailbreak, and fixed security issues. With iOS 9.3.5 there is a fix for a security issue, which Apple fixed just 10 days after the last update. This comes just a month before we expect the iOS 10 update.
The iOS 9.3.5 update is available for all devices able to run iOS 9 as a free download. This new iOS 9.3.5 update focuses security and it is recommended that users install it.
The iOS 9.3.5 release notes include three bug fixes including one that could allow someone to access your personal data using a link sent in a text message. Lookout says that this can happen "invisibly and silently," so the victim would not know that it is compromised.
If you compare iOS 9.3 with iOS 9.2 you'll see that there is a new Control Center with a Night Shift shortcut and amazing new features like the night node that makes using your iPhone or iPad at night and then going to sleep easier.
Updated with how to use the most important iOS 9.3 features on iPhone and iPad and with fixes in iOS 9.3.3 update that users need to know about.
Watch the video below to see what's new in iOS 9.3 and then keep reading for more details about each feature and about iOS 9.3.3.
Apple added several new features including support for Verizon WiFi calling, which allows users to better user Verizon services even if coverage is spotty.
Apple is officially highlighting many new features and services, which lets us get an early look at how iOS 9.3 and iOS 9.2 compare when it comes to what you can do with your iPhone or iPad.
Some of the new iOS 9.3 features are limited to specific use cases, but offer a look into how Apple may finally make it easier to share an iPad with your family.
The iOS 9.3 update is coming to the iPhone, iPad and iPod Touch. If your current iPhone or iPad can run iOS 9, it will get the new update.
Use the images and descriptions below to learn about what's new in iOS 9.3 for iPhone and iPad. You can click-through each slide or jump directly to the slide that interests you for more information.
Night Shift for iPhone Promises Better Sleep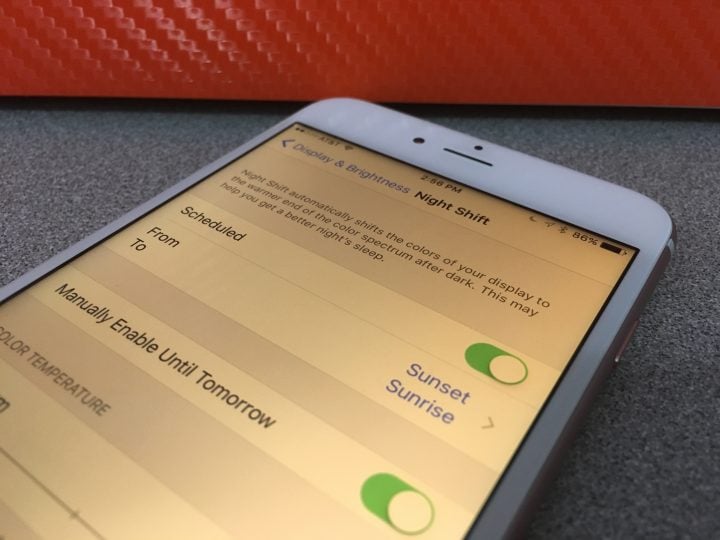 The free iOS 9.3 update adds Night Shift. With Night Shift the iPhone uses your iPhone's clock and your location to automatically shift the colors to a warmer, less blue, mode so that it is easier on your eyes. In the morning the display automatically returns to normal.
iOS 9.2 does not include any features to adjust the warmth of the display to make it easier to fall asleep after using your iPhone.
One of the biggest reasons to jailbreak the iPhone for the past several years has been for access to f.lux. This tweak adjusts your iPhone or iPad display to deliver a warmer light at night so that it is easier to fall asleep after using your iPhone or iPad.
Here's how to use Night Shift in iOS 9.3 to get a better night of sleep.
This is important because using bright blue light at night can interrupt your circadian rhythms, making it hard to fall asleep. This is part of why you may lay down exhausted but are unable to sleep after wasting 20 minutes on your iPhone or iPad in bed.

As an Amazon Associate I earn from qualifying purchases.