How to Use Amazon Echo Multiroom Audio
Amazon Echo multiroom audio will let you turn every Echo in your home into one system that can play albums, playlists and live radio stations across your entire home or office at the same time.
Amazon Echo devices got a free update that added multiroom audio in the summer of 2016. If you're listening to a radio station in your home office, you can have that same radio station play music in your kitchen. You will never miss a second of music as you walk between both areas. Multiroom audio works with Amazon Music, iHeartRadio, TuneIn and Spotify.
Read: What is Amazon Echo & What Can Alexa Do?
Here's how to use Amazon Echo multiroom audio to play music or podcasts in every room you have an Echo speaker.
Choosing the Right Amazon Echo to Use as Wireless Speakers
You don't need to buy new Amazon Echo devices to use multiroom audio. Your existing Echo devices will work with the feature.
If you don't have an Amazon Echo already, you need to buy at least two Echo speakers. Which speakers you buy is important. All Echo devices don't make great speakers for a multiroom audio system.
Read: 50 Exciting Things You Can Do with Alexa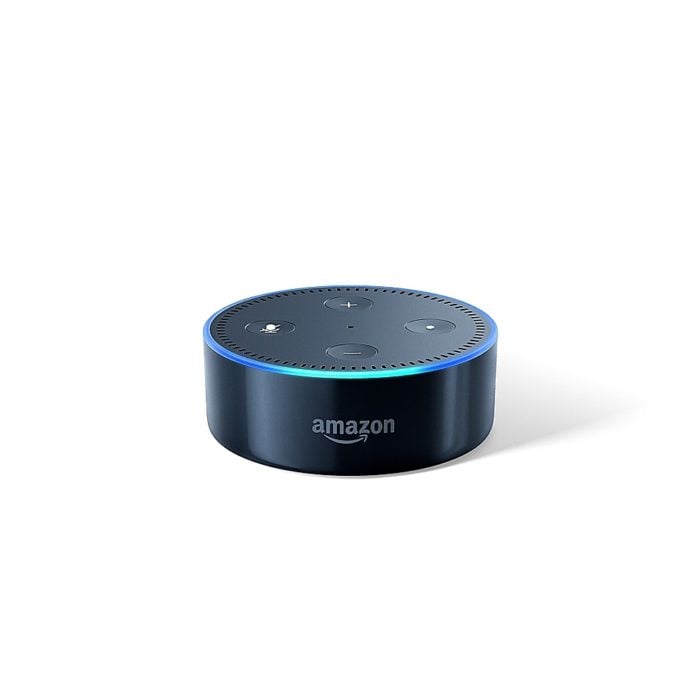 The Amazon Echo Dot costs $49.99. If there's a small room in your house that you want to stream to, this is the Echo to buy for it. Just be sure you don't need great sound quality or loud volume because the Echo Dot's speakers are small. A headphone jack in the back of this device lets you connect it to a speaker system you already own.
Buy the Amazon Echo Dot for $49.99
The 2017 Amazon Echo and Amazon Echo Plus have a 2.5-inch speaker and a tweeter each. Because of that, they offer better sound quality. They're also bigger than the Echo Dot, which makes them a little too big for smaller rooms, like your bathroom. Each has a headphone jack to connect them to your existing stereo system without much effort.
Buy the 2017 Amazon Echo for $99
The Echo costs $99.99 and begins shipping on October 31st. The Amazon Echo Plus, which includes a smart home hub and a 0.8-inch tweeter instead of the 0.6-inch tweeter the regular Echo has, costs $149.99. Its release date is also October 31st.
Buy the Amazon Echo Plus for $149.99
Amazon still sells the first-generation Amazon Echo if either of the newer speakers are too expensive. They have a 2.5-inch speaker, a 2-inch tweeter and Bluetooth. However, they don't have a headset jack.
Buy the First-Generation Amazon Echo for $89.99
The Echo Show has two 2-inch speakers and, but lacks a tweeter. It's perfect for any room that you also hope to watch videos in. It costs $229.99, and you can buy it today.
Buy the Amazon Echo Show for $229.99
Finally, there's the Echo Spot. Launching this December, the Echo Spot has a 1.4-inch speaker and no tweeter. Its 2.5-inch screen also supports video streaming.
Buy the Amazon Echo Spot for $129.99
Again, for the best audio quality, you should go with the full-size Amazon Echo devices and their bigger speakers. In hallways, tight spaces and rooms where you don't do a lot of listening anyway, the Amazon Echo Dot is the best buy.
Read: 5 Things to Know about the new Amazon Echo for 2017
There are a lot of devices with Amazon Alexa support. If you're considering buying one of them to add to your setup, be careful. Plenty of devices – like the Ecobee 4 – take commands for Alexa and can hear you from across a room, but don't have Echo multiroom audio support.
Setting Up All the Speakers for Wireless Streaming
To set up an Echo, connect it to your network and update its software. You can do all that from the Alexa app for iPhone and Android.
Amazon Echo multiroom audio relies on groups.
Open the Amazon Alexa app from your iPhone or Android device.
Tap on the menu button in the top-left corner of your screen.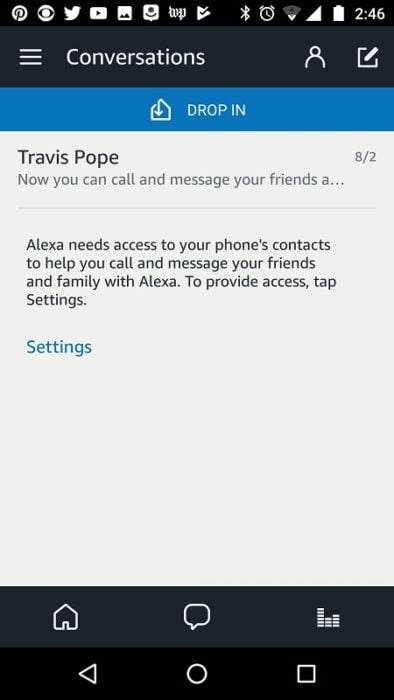 Now tap on Smart Home inside the pop-up menu.
Tap on Groups.
Tap on the Create Group.
Tap on Multi-room Music.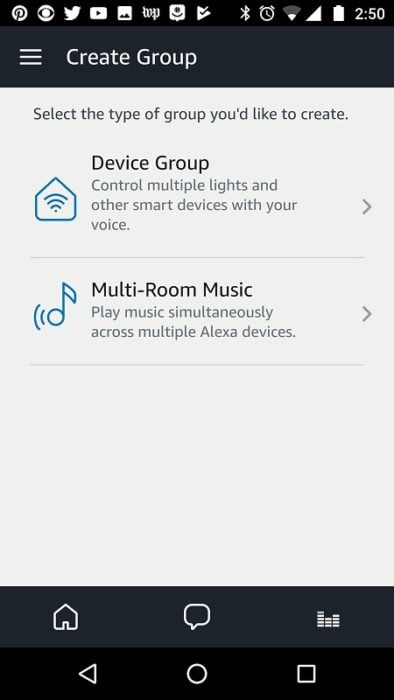 First, use the drop-down field at the top of the Create Group area to choose a name for your new Amazon Echo multiroom audio group. Select Custom Name to give the group whatever name that you want.
Now tap on the Amazon Echo devices in your home that you want to add to this new group. For this tutorial, we're only creating a group for a downstairs area. So, the group is called Downstairs.
Every properly working Amazon Echo device in your home should show up in this list. We've named ours after the rooms that they are in. Remember, all the devices you have with Alexa may not show up on this list because many Alexa devices made by companies other than Amazon don't support all the features Echo devices do.
Tap Create Group and let the Alexa app work on linking the two devices.
Tap Close when the setup is complete.
You can create as many groups as you want, but an Echo can only belong to one group at a time.
When you're ready to play audio across more than one speaker, tell the group name to Alexa along with what you want to play. We created a group for two Amazon Echo speakers called "downstairs." Saying, "Alexa, play The Devil Went Down to Georgia downstairs" plays the Devil Went Down to Georgia by the Charlie Daniels Band across every speaker in the downstairs group.
Audio starts playing at the same time on every device in an Amazon Echo multiroom audio group. Also, skipping to the next song changes the song across every speaker in the group. Unfortunately, raising the volume on one speaker in a multiroom audio group doesn't change the volume on your other Echo devices.
19 Cool Things Your Echo and Alexa Can Do
Stream Music From Spotify, Apple Music Amazon Music, Pandora & More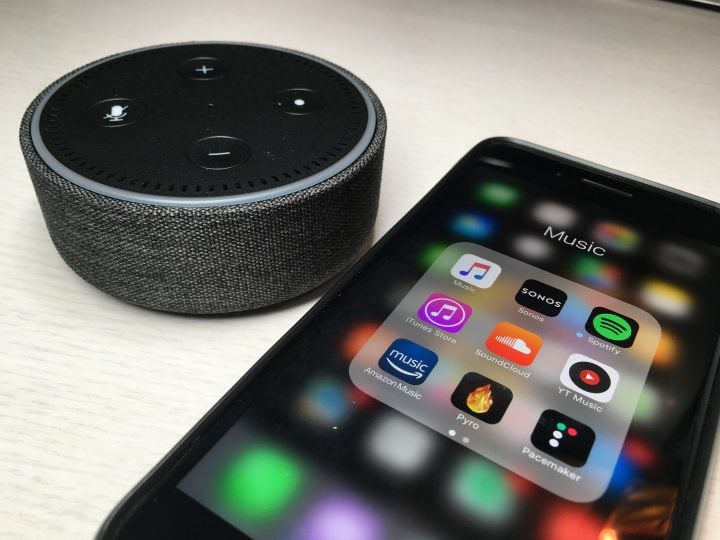 Alexa can stream music from Spotify to the Echo, Echo Dot or a paired Bluetooth speaker. You can also stream Amazon Music, Apple Music, TIDAL, Pandora, iHeartRadio or TuneIn radio to the Echo using your voice.
Open the Alexa app and tap on the menu in the upper left. Tap on Settings and then on Music & Media. Tap on the account you want to use and then link to your account by logging into the account. You need to have Spotify Premium installed for this service to work with Spotify.
You can log into all the accounts you have and when you ask Alexa to play you can say "on Spotify" or on a different service to choose where to listen. On the bottom of this page, tap on Choose default music services to pick the service Alexa should use if you don't specify.

As an Amazon Associate I earn from qualifying purchases.