5 Reasons to Try the iOS 9 Beta
The iOS 9 beta is available now to developers and to users that want to pay $8 to register as part of a development team. In just a few weeks Apple will start a public iOS 9 beta program. Here are five reasons to try the iOS 9 beta instead of waiting for the public release.
Apple announced iOS 9 at WWDC 2015 in early June and soon after delivered a iOS 9 beta to developers. On stage Apple demonstrated many new iOS 9 features including upgraded iPad multitasking, a smarter Siri and other additions.
We also learned that the iOS 9 release date is planned for the fall, likely a few days before the iPhone 6s release date that Apple did not announce yet.
Read: 35 New iOS 9 Features You'll Love
After using the iOS 9 beta for a week and a half we can share specific reasons that you will want to try the iOS 9 beta. There is a list of reasons you shouldn't install the iOS 9 beta as well.
If you choose to install the iOS 9 beta you can downgrade to iOS 8 before the public release.
For users who fit one of these categories, here is how to get the iOS 9 beta right now, without waiting for Apple. For everyone else, it's a good idea to sign up for the public iOS 9 beta with Apple ahead of the release.
Here are five reasons to try the iOS 9 beta well ahead of the iOS 9 release date.
You are an IT Professional
IT professionals, even if they aren't developers making apps, are one group of users who may need to try iOS 9 early.
Although some features and options will change from Beta 1 to the final release, installing the iOS 9 beta is a good way to test how it will work with current systems and to see how it might work with planned rollouts later in the year.
Read: 5 Things to do before Installing the iOS 9 Beta
IT users who support end users at the company may also want to try the iOS 9 beta to prepare for support calls and trouble tickets later this year. This is especially true if there is no policy in place to prevent the end-user from upgrading on day 1.
You Own an iPad Air 2
Apple adds a lot of exciting new iPad features to iOS 9. Not every iPad gets access to all the new options for multitasking, which is why it makes the most sense to try the iOS 9 beta if you own an iPad Air 2.
The new split screen multitasking delivers an incredible experience with an external keyboard, that can deliver great productivity gains. The slide out feature offers a quick look at some apps, but we'll need to see developer support for it this fall.
The picture in picture mode allows users to pop out a video to watch while using another app or to pop out a FaceTime call to see the person you are talking to and work in another app or document.
5 Exciting iOS 9 Features for iPads
Split View Multitasking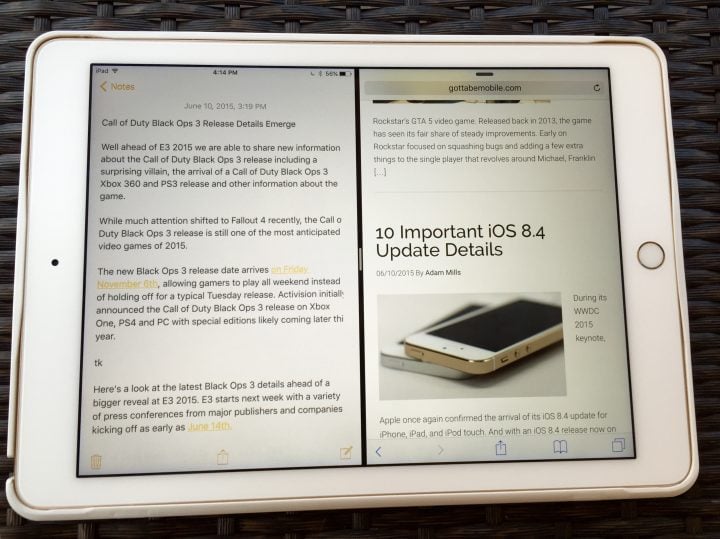 The new iOS 9 iPad multitasking feature lets users run two apps side by side on the iPad. This makes it possible to work in one app and reference another. Switching back and forth is easy to do and Apple makes it easy to make one of the apps larger than the other.
With Split View in iOS 9, the iPad Air 2 delivers greater productivity with or without an external keyboard.
Developers need to support these new features, but during the WWDC 2015 keynote Apple stated that many apps are already close to ready thanks to support for multiple screen sizes and states that the company introduced earlier.
You have a Spare iPhone
The iOS 9 beta, like any beta software is in development and there will be problems and issues.
The iPad Air 2 iOS 9 beta 1 performance is very good, but the first iOS 9 beta on iPhone is not as well-rounded. This is to be expected with a beta. Bugs and performance problems exist in the beta as Apple adds new features and developer upgrade apps. This is essential to remember if you want to try the iOS 9 beta.
Installing the iOS 9 beta on a spare phone allows you to try the new features without poor battery life and crashes ruining your day-to-day iPhone experience.
You Want to Make iOS 9 Better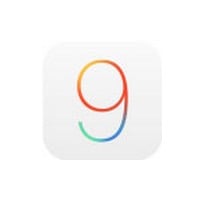 One of the biggest reasons to try the public iOS 9 beta is that you can give feedback directly to Apple. If you are sick of experiencing problems with the new iOS release each fall, this may help solve some of those problems.
Users who rely on less common ways to use the iPhone, with accessories, apps or essential needs can use this beta period to let Apple know what isn't working.
There is a feedback app included in iOS betas that lets users share details on what is and isn't working to make iOS 9 a better final product.
You Can't Wait for iOS 9 Features
The final reason to try the iOS 9 beta is the most common. Simply put you are impatient about trying new features. That's not a bad thing as there are a lot of exciting new iOS 9 features. As long as you have a spare device or can live with the issues of running an iOS beta on your primary device trying out the new iOS 9 features early is a perfectly reasonable excuse to install the iOS 9 beta.
Check out what's new in iOS 9 below and how it compares to the iOS 8 release.
iOS 9 vs iOS 8: What's New in iOS 9
iOS 9 vs iOS 8 Walkthrough - Home Screen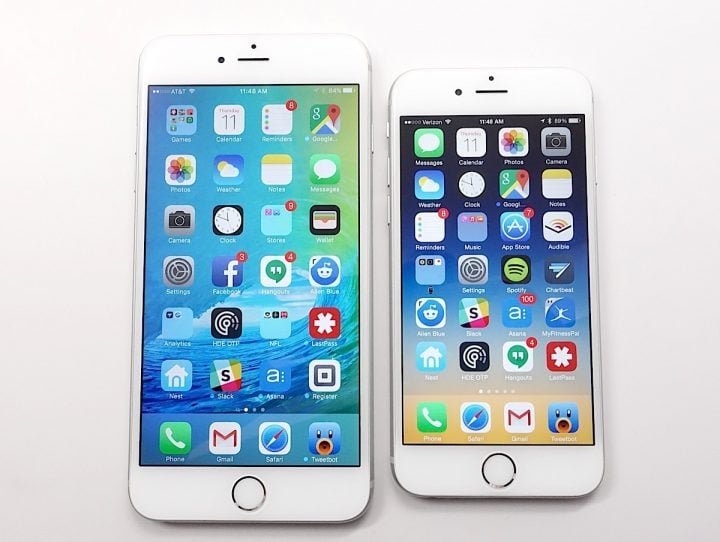 The image above shows that the iOS 9 home screen looks very much like the one on iOS 8. This is not surprising, but you will notice one major change to this screen.
The new iOS 9 font on the home page carries over through settings and apps. It's surprising how much the look of the system can change with a small tweak to a new font.
From the home screen you can now swipe left to a new search screen, and you can still swipe down to Spotlight from any of the home screen pages.
When you upgrade you will also see options to add iCloud Drive to your home screen.
Apple adds two new default iOS 9 apps that you cannot delete. Find iPhone and Find Friends apps now come with the iPhone by default. You can hide them in a folder, but you cannot delete the apps. The Find My iPhone app is a very good addition, while Find My Friends is still not as widely used.

This article may contain affiliate links. Click here for more details.