5 Things to Know about the macOS Catalina Release Date & Features
The macOS Catalina release date is finally here with loads of new features and a few problems as well.
This is what you need to know about the macOS 10.15 release date, the new features that change how your Mac works with the iPad Pro and Apple Watch, as well as compatibility and other key details.
This is what you need to know about the macOS Catalina update that is available to your Mac now.
macOS Catalina Release Date
The macOS Catalina release date here for all compatible Macs. You can download this now from System Preferences and install the update on your Mac. Some users report macOS Catalina download problems, but these should dissipate as the day progresses. .
New macOS Catalina Features
The macOS 10.15 update is a major upgrade for your Mac with a collection of new features, a way to use your iPad as a display for your Mac, new accessibility upgrades and support for iPad Apps and some interesting iOS features that finally make the jump.
Cross-Platform Apps – Run iPad apps on your Mac.
New Mac Apps – New Music, Books, and Podcasts Apps.
iPad as an External Display – Use your iPad as a display for your Mac.
Voice Control – Total voice control of the Mac.
New Find My App – A new Find My iPhone and Friends App Combo and you can find your Mac when it's asleep.
Activation Lock – Your mac now has the same Activation lock as your iPhone.
Screen Time – Screen Time is coming to the Mc.
iPad Apps – Developers can bring iPad apps to the Mac with Catalyst easily.
Read More macOS Catalina Features
Some of these features are available with the update today, and others will not arrive until later this fall. Expect to see a macOS 10.15.1 update later this month or in early November. .
macOS Catalina Device List
Apple's been keeping macOS updates available to older devices for quite some time, but last year they limited the availability somewhat. The good news is that you can install the macOS Catalina update on any device running macOS Mojave. Here's a list of Macs that support macOS Catalina;
 MacBook (Early 2015 or newer)
 MacBook Pro (Mid 2012 or newer)
 MacBook Air (Late 2012 or newer)
 Mac mini (Late 2012 or newer)
 iMac (Late 2012 or newer)
 Mac Pro (Late 2013 or newer)
 iMac Pro (2017)
While you can install the macOS 10.15 update on many older Macs, you won't get all of the new features. We're looking into a breakdown of the specific feature cut off points and will update when we know more.
macOS Catalina Problems
We are seeing some macOS Catalina download problems and there are a number of apps that don't work with macOS Catalina right now. This is a very important set of information to process before you install this update.
Here's a look at the current macOS Catalina problems, as well as the things you need to do before installing macOS Catalina to help avoid any problems.
Major macOS Catalina Catch
For all the new macOS 10.15 features, there is a major catch that you will need to adjust to. Apple no longer supports 32-bit apps on this version of macOS.
Apple started warning users about this with macOS Mojave, and now the cutoff is real. macOS Mojave is the last version of macOS that will run 32-bit apps.
Developers will need to offer 64-bit apps to run on macOS Catalina. You can check your apps to see if any of your apps are 32-bit.
Hold the option key and click on the Apple logo in the upper left.
Click on System Information.
Scroll down to Software and Choose Applications.
Click on the 64-bit menu option to sort by it.
Once you know, you can look for alternatives or reach out to the developer to see if they have a plan to support you with a 64-bit app this fall.
7 Reasons Not to Install macOS Catalina & 14 Reasons to Install macOS 10.15.7 Today
Install for macOS 10.15.6 Fixes and Security Updates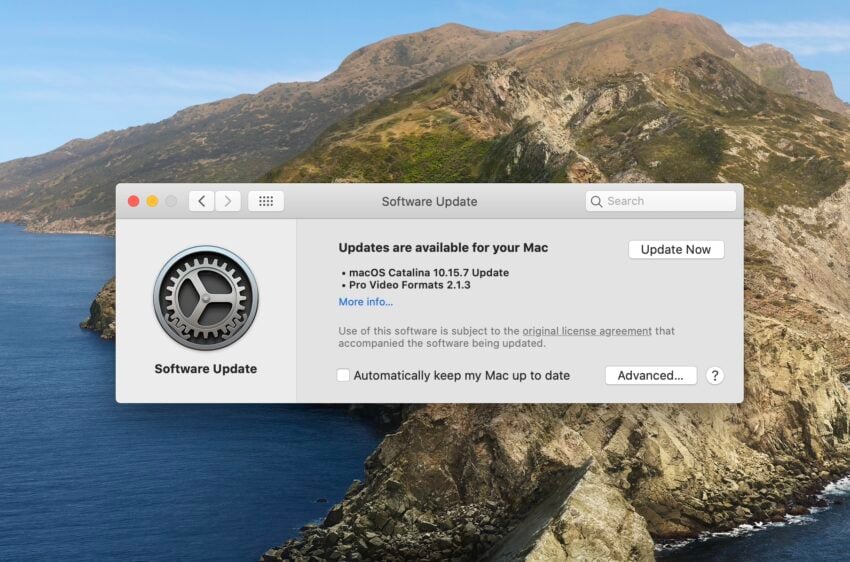 If you are on macOS Mojave or an older version of macOS 10.15, you should install this update to get the latest security fixes and new features that come with macOS. These include security updates that help keep your data safe and updates that patch bugs and other macOS Catalina problems.
The macOS 10.15.7 update includes the following fixes;




Resolves an issue where macOS would not automatically connect to Wi-Fi networks

Fixes an issue that could prevent files syncing through iCloud Drive

Addresses a graphic issue that may occur on iMac (Retina 5K, 27-inch, 2020) with Radeon Pro 5700 XT
We will also see a list of security updates in this, which are disclosed on this security page.