11 Best iMessage Apps to Try in iOS 10
There are a plethora of new iOS 10 iMessage apps that allow users play games, use stickers and even send cash right from the Messages app.
You'll need to install iOS 10 on the iPhone to use iMessage apps, and in some cases the other person will need iOS 10 installed to see the exact message you send, to play a game or to accept money.
The iMessage App Store is where you will need to go to download iMessage apps to your iPhone. You can also go into the settings to automatically install companion iMessage apps to your iPhone. If you already have the app on your iPhone, the iMessage app is just waiting to be installed. Here's more on how to install and use iMessage apps.
Here are the iMessage apps that you need to try out before the store is over-run. There are already quite a few iMessage apps available including fun games and crazy stickers.
Truth Truth Lie for iMessage
Record three short videos. Two truths and a lie, then send the video to your friend or to a group iMessage thread and see who knows you.
Download Truth Truth Lie on the iMessage App Store.
ETA for iMessage
Are you always late? Use the ETA iMessage app to send your specific ETA using your location and where you are headed to a contact or a group.
Download ETA for iMessage on the iMessage App Store
Super Mario Run Stickers
You still have to wait for Super Mario Run, but with the new Super Mario Run stickers you can use the iMessage app to put stickers into your conversations. There's a Mario nose and a Mario hat that you can put on top of photos as well.
Download Super Mario Run Stickers for iMessage on the iMessage App Store
Rock Paper Scissors
Play Rock Paper Scissors with your friends right in iMessage. Whether you need to figure out who gets to choose or you want to waste some time this is one you need to try.
Download Rock Paper Scissors for iMessage on the iMessage App Store
ESPN iMessage App
The ESPN iMessage app lets you quickly see sports scores and then send them to a friend. This is an awesome way to send sports scores as a way to cheer on your team or to taunt a friend.
Download ESPN for iMessage on the iMessage App Store
GamePigeon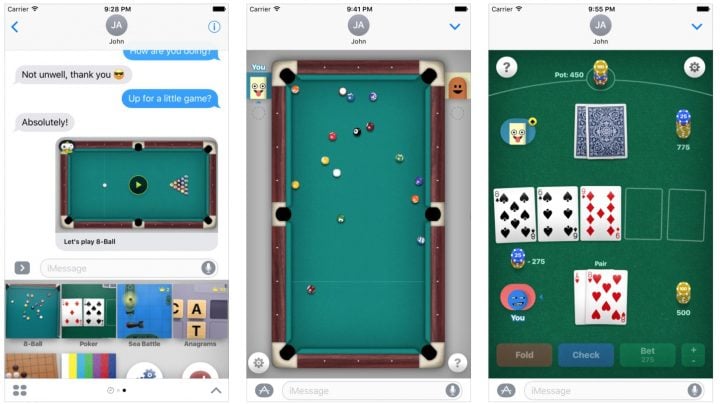 Play a variety of two-player games with your friends inside iMessage. This includes 8-ball, poker, sea battle, anagrams and gomoku. Additional games are coming soon.
Download GamePigeon for iMessage on the iMessage App Store
Words With Friends
You can now play the classic Words with Friends right inside iMessage on iOS 10. Play the social crossword game inside the Messages app and stand out with smart play.
Download Words With Friends for iMessage on the iMessage App Store
Genius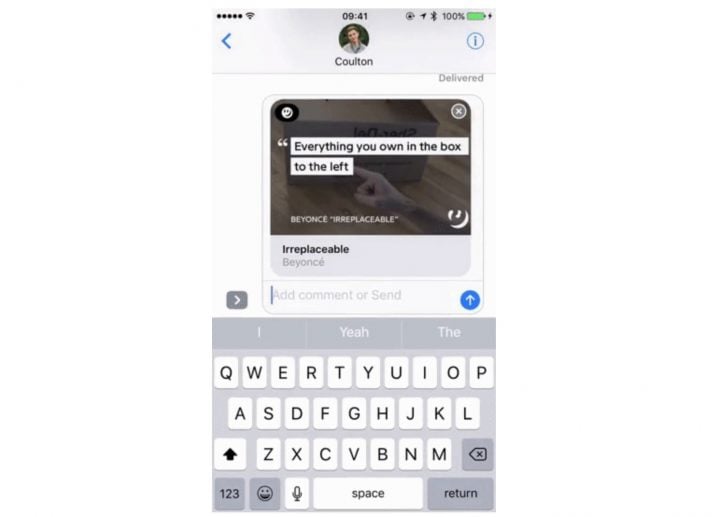 Genius allows you to quickly send popular lyrics as a photo message to others on iMessage. Pre-selected lyrics will show up with the artist photo or a stylized background. You can also search songs and select lyrics you want to highlight and choose a background.
Download Genius for iMessage on the iMessage App Store
The Weather Channel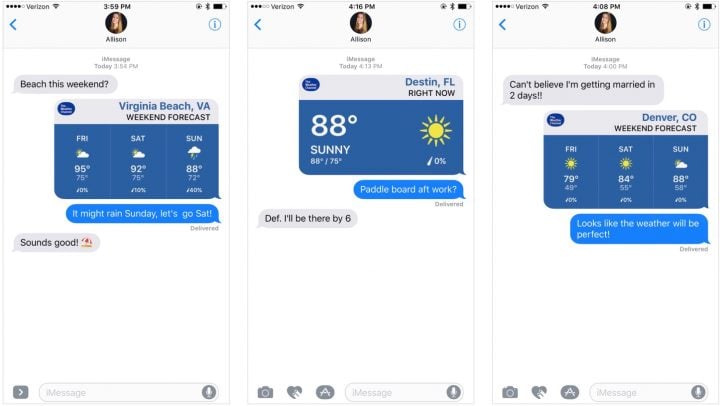 Trying to plan an event with friends? share the forecast or current weather without taking a screenshot and get everyone on the same page. This is an awesome way to make sure everyone knows what to wear — so you don't have to share your jacket again.
Download The Weather Channel for iMessage on the iMessage App Store
Yelp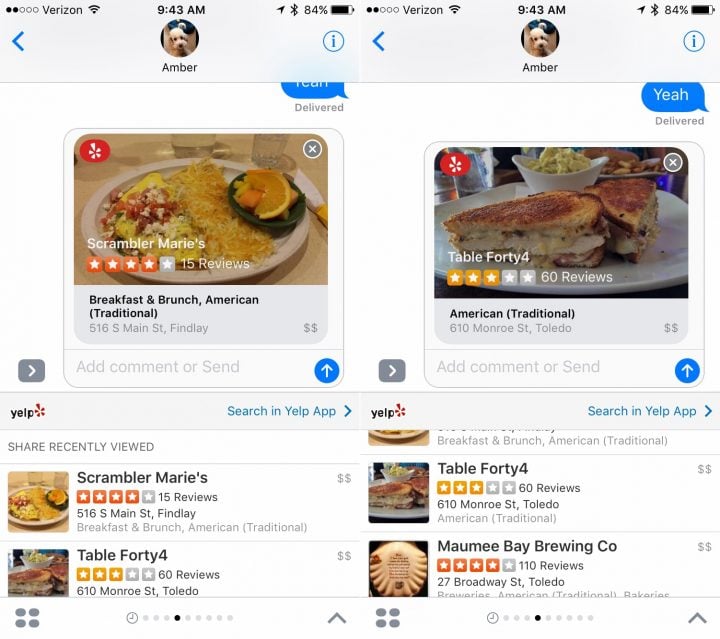 Trying to show your friends where you want to go for dinner? Share your recent Yelp views without leaving the Messages app, or get one tap access to Yelp from your conversation.
Download Yelp for iMessage on the iMessage App Store
Venmo iMesssage App
Use Venmo to send cash to friends within iMessage. It's now faster than ever to pay for your share of the bill and to chip in for shared expenses.
Download Venmo for iMessage on the iMessage App Store
What's New in iOS 10.1
What's New in iOS 10.1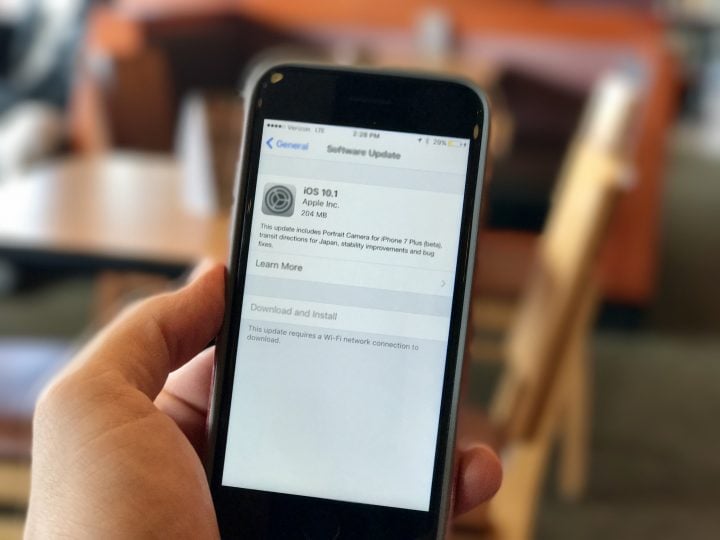 This is a list of what's new in iOS 10.1, including new features like Portrait mode on the iPhone 7 Plus and a number of important fixes for the iPhone and iPad.
Camera and Photos

Introduces Portrait Camera for iPhone 7 Plus that creates a depth effect that keeps your subject sharp while creating a beautifully blurred background (beta)
People names in the Photos app are saved in iCloud backups
Improved the display of wide color gamut photos in the grid views of the Photos app
Fixes an issue where opening the Camera app would show a blurred or flashing screen for some users
Fixes an issue that caused Photos to quit for some users when turning on iCloud Photo Library

Maps

Transit support for every major train, subway, ferry, and national bus line, as well as local bus systems for Tokyo, Osaka, and Nagoya
Sign-based transit navigation including layouts of all underground structures and walkways that connect large transit stations
Transit fare comparison when viewing alternative transit routes

Messages

New option to replay bubble and full screen effects
Messages effects can play with Reduce Motion enabled
Fixes an issue that could lead to contact names appearing incorrectly in Messages
Addresses an issue where Messages could open to a white screen
Addresses an issue that could prevent the report junk option from displaying with unknown senders
Fixes an issue where videos captured and sent in the Messages app could be missing audio

Apple Watch

Adds distance and average pace to workout summaries in the Activity app for outdoor wheelchair run pace and outdoor wheelchair walk pace
Fixes issues that may have prevented Music playlists from syncing to Apple Watch
Addresses an issue that was preventing invitations and data to appear in Activity Sharing
Fixes an issue that was allowing Activity Sharing to update over cellular when manually disabled
Resolves an issue that was causing some third-party apps to crash when inputting text

Other improvements and fixes

Improves Bluetooth connectivity with 3rd party accessories
Improves AirPlay Mirroring performance when waking a device from sleep
Fixes an issue where playback would not work for iTunes purchased content when the "Show iTunes Purchases" setting is turned off
Fixes an issue where certain selfie apps and face filters used with the FaceTime HD Camera on iPhone 7 and iPhone 7 Plus did not display a live preview
Fixes an issue in Health where individual strokes are converted to separate characters when using the Chinese handwriting keyboard
Improves performance of sharing websites from Safari to Messages
Fixes an issue in Safari that caused web previews in tab view to not display correctly
Fixes an issue that caused certain Mail messages to be reformatted with very small text
Fixes an issue that caused some HTML email to be formatted incorrectly
Fixes an issue that in some cases caused the search field to disappear in Mail
Fixes an issue that could prevent Today View Widgets from updating when launched
Fixes an issue where Weather widget sometimes failed to load data
Fixes an issue on iPhone 7 where Home Button click settings would not appear in search results
Fixes an issue that prevented spam alert extensions from blocking calls
Resolves an issue that could prevent alarm sounds from going off
Fixes an issue where audio playback via Bluetooth would cause the Taptic engine to stop providing feedback for some users
Resolves an issue preventing some users from restoring from iCloud Backup
For information on the security content of Apple software updates, please visit this website: https://support.apple.com/HT201222

Keep reading to check out the iOS 10 features and iOS 10.1 features that these updates offer.

As an Amazon Associate I earn from qualifying purchases.