How to Fix Galaxy S8 Airplane Mode Battery Drain
Samsung Galaxy S8 Oreo users are complaining about severe battery drain while using the device's Airplane Mode setting. While we wait for a permanent fix, we want to guide you through some fixes to try if the problem surfaces on your device.
As the Samsung Galaxy S8 Oreo roll out makes progress we're starting to hear about the problems plaguing those that've upgraded from Nougat to Oreo.
Galaxy S8 users are reporting a variety of bugs including abnormal battery drain. Abnormal battery drain is a common problems, particularly after moving a device from one operating system to another.
In particular, Galaxy S8 and Galaxy S8+ users are complaining about bad battery life when flipping the phone to Airplane Mode. Airplane Mode kills connections like Wi-Fi and Bluetooth and it's designed to help conserve battery life, not hurt it.
The problem looks like it's (mostly) impacting Galaxy S8 users in Europe and users are seeing abnormal battery drain, sometimes up to 20%, when the phone is idling.
Samsung is apparently aware of the issue, reports indicate that it could be a coding problem, but it's unclear when or even if the company will issue a permanent fix.
Fortunately, it looks like there's a way to temporarily fix the issue should you encounter it on your Galaxy S8, Galaxy S8+, or Galaxy S8 Active.
How to Fix Galaxy S8 Oreo Battery Drain
While some users have apparently tried factory resetting the device and clearing the cache, those don't appear to have an effect on the Airplane Mode battery draining issue.
However, it appears some Galaxy S8 users experiencing the problem have temporarily fixed the issue by switching the phone into 3G/2G network mode before turning on Airplane Mode. This option is located in the Galaxy S8's settings in Settings > Connections > Mobile networks.
The other option at the moment is to completely avoid using Airplane Mode until Samsung is able to work out a fix for the problems.
There's a chance the company will issue a remedy inside the next security update for the Galaxy S8 and Galaxy S8+, but there's no guarantee.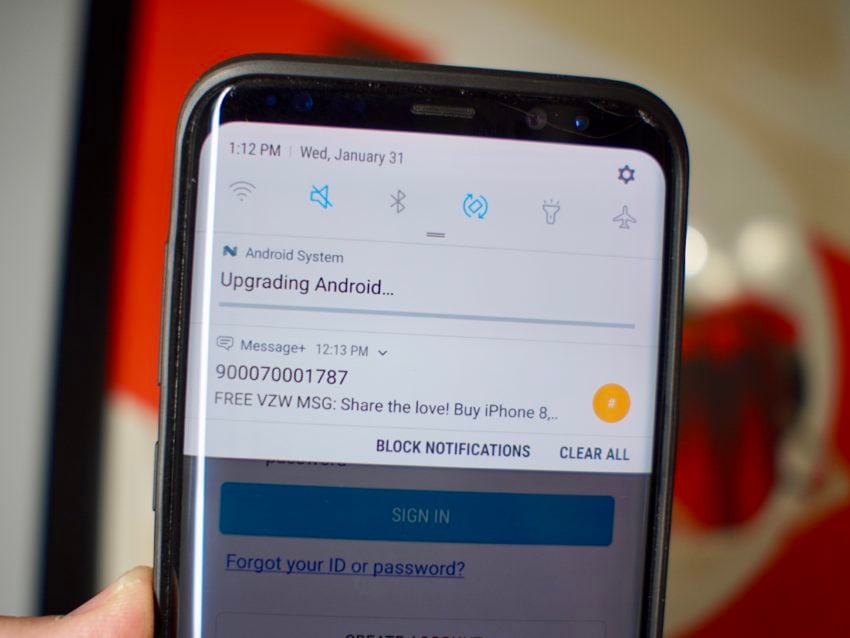 Other Galaxy S8 users have been complaining about more general battery life problems where the phone's battery appears to drain faster than normal.
If you don't think your battery life issues have anything to do with using Airplane Mode, please take a look at our list of fixes for bad Galaxy S8 battery life.
There's a very good chance it's one of your apps causing the issue, but there are also some settings tweaks you should try in order to get a handle on the issue.
4 Reasons Not to Install Galaxy S8 Oreo & 11 Reasons You Should
Install Oreo If You Want to Improve Your Security
If you value your security, and we assume all of you do, you should think about installing the Galaxy S8 Oreo update soon after it arrives for your phone.
Samsung continues to release important security patches for Galaxy-branded devices and your Galaxy S8's Android 8.0 Oreo update should bring the latest patches from Samsung, and Google, to your phone.
The Galaxy S8 Android Oreo update delivers the company's latest security updates and we expect upcoming releases to come with newer security patches.
If you're curious about Samsung's security updates, you can read more about the changes on Samsung's website.
If you failed to download an older security update from another month, you'll get those patches when you go to install Android Oreo on your Galaxy S8 for the first time.
The Galaxy S8 Oreo update also comes with security improvements to Samsung Pay, Samsung's popular mobile payment solution. If you use Samsung Pay, you should probably download the Android Oreo update soon after it arrives for your phone.
It also comes with some enhancements to Find My Mobile including the ability to remotely back up Secure Folder to Samsung Cloud when you lose your phone and a way to lock up Samsung Pass using Find My Mobile.
On top of those features, Oreo comes with enhancements to the device's Biometrics. Features that use biometrics like your face, fingerprints, and irises are only available when you use a secure screen lock type (pattern, PIN, or password).
If you decide to switch to a non-secure screen lock type (Swipe or None), the device will automatically suspend biometric authentication for unlocking and for verification in apps like Samsung Pay and Samsung Pass.