How to Fix Poor iPhone X Performance
Apple iPhone X problems continue to emerge and some users are reporting lag, freezes, and other performance issues.
iPhone X users are reporting a wide variety of issues with the Apple's 5.8-inch flagship. We've heard about FaceID problems, setup issues, battery life problems, and various issues with the device's performance.
The iPhone X utilizes powerful hardware, but some users are running into occasional lag, lockups, freezes, random reboots, and other common performance issues.
These issues typically popup immediately after Apple releases a new iOS update, but they can emerge at anytime.
If your iPhone X starts to freeze, lag or randomly reboot, you don't need to make an appointment at your local Apple Store right away. There's a good chance you'll be able to fix your problems from the comfort of your computer chair or couch.
This walkthrough will take you through the solutions that have worked for us, and many others, in the past and they'll help you maintain a fast and efficient iPhone X down the road.
Restart Your iPhone X
If you start running into performance issues on your iPhone X the first thing to do is restart your phone. This works a little bit differently on the iPhone X.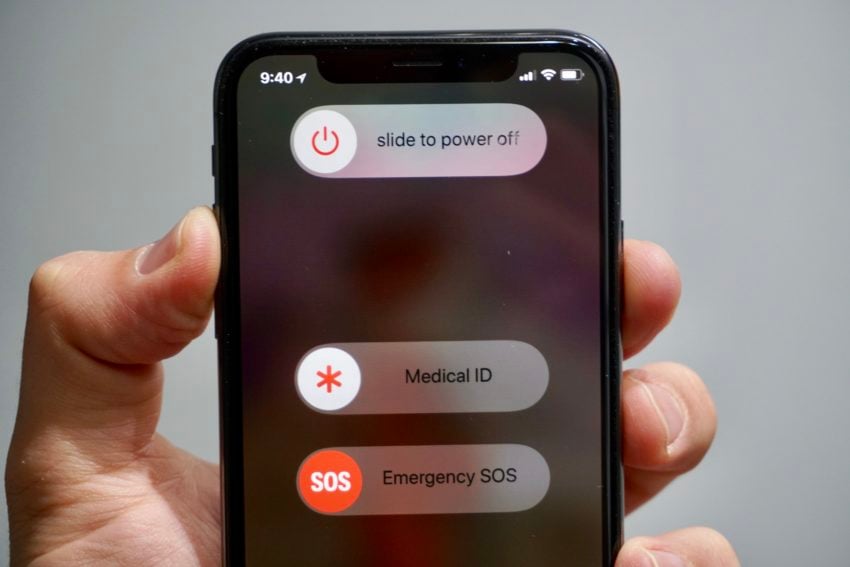 To completely turn off the iPhone X, press and hold the Side button and either volume button (up or down) at the same time. Slide to power the phone down.
You can also try force restarting your iPhone X. To do that, press Volume Up and let go, press Volume Down and let go, and press and hold the side button until the Apple Logo appears. The device will reboot itself.
Watch Your Storage
If you restored from a backup, there's a good chance you brought a ton of files over to your iPhone X's internal storage. Clutter can slow down an iPhone so you might want to comb through your data and delete files, apps, songs, videos, and photos you no longer need.
Head into your iPhone X's Settings > General > and tap on iPhone Storage. This will bring up a detailed look at the files taking up space on your device. Take a look around and delete what you can.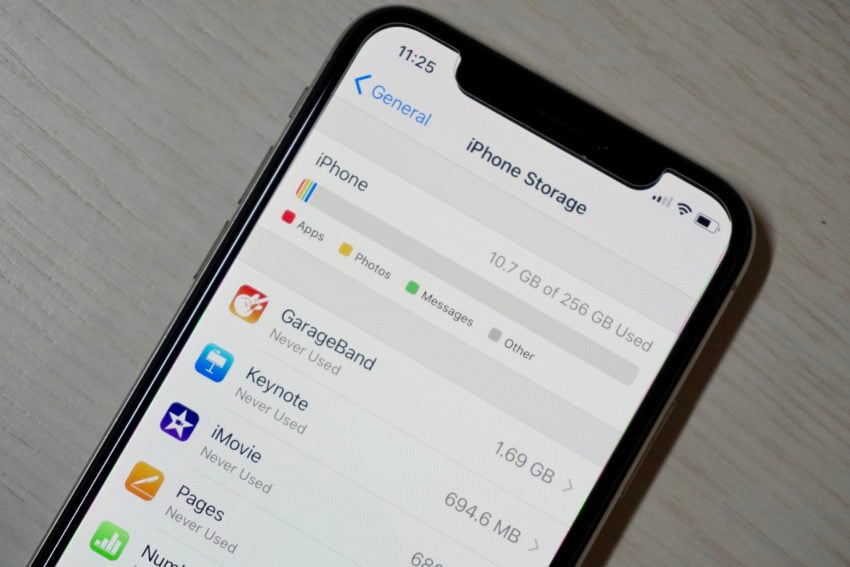 If you aren't sure where to start, iOS gives you some recommendations. For instance, if you have a ton of apps you don't use, the software will tell you to "Offload Unused Apps."
It'll also give you a list of apps taking up the most space on your iPhone X. Tap on an app and you'll get a breakdown and personalized recommendations.
Update to the Latest Software
If you're currently running an older version of iOS, it might be time to upgrade.
You can check for a new iPhone X update via your device's Settings. Go to Settings > Software update. If you're feeling nervous, read reviews before downloading new software to your device.
The current version of iOS is iOS 12.
Update Your Apps
If your apps are acting up you'll want to download the latest update provided the update isn't causing problems.
Developers are rolling out iOS 12 support updates and these could stabilize the app(s) giving you trouble. We'll see a steady stream of app updates throughout the year (some developers update their apps every two weeks) so keep an eye on the App Store.
Before you download the latest update to your iPhone X make sure you go into the App Store and read reviews from iPhone X users and those using the latest software.
Stop Auto Downloads
If you aren't good about keeping your applications up-to-date, you might want to flip on Automatic Downloads. That said, while auto downloads are useful, they can slow your iPhone X down.
If you don't mind manually checking the App Store for new software updates, try disabling Automatic Downloads on your iPhone X to see if that helps improve your device's speed.
Head into your Settings app > iTunes & App Store. Once you're in there toggle Updates, located in the Automatic Downloads section, off.
You might want to toggle the other options off as well.
Clear Browser Cookies & Data
If you don't do it already, make sure periodically clear your browser's cookies and data. This will free up memory and it could speed up your iPhone X.
If you're using Safari on your iPhone X, go into your Settings > Safari > and go down to where it says Clear History and Website Data. Tap that.
Once you tap this button your browsing history, cookies, and other data will be removed from Safari. History will also be cleared from any devices signed into your iCloud account. If you're fine with that, tap Clear History and Data again.
If you're using Google Chrome on your iPhone X, head into the Chrome app and tap the three vertical circles in the top right corner.
On the next screen, tap Settings > Privacy > Clear Browsing Data. You can now select what you wish to delete.
If you're experiencing a ton of lag on your device, you might consider starting over from scratch. To do that, tap Clear Browsing Data.
Reduce Animations
The animations on the iPhone X are a nice touch, but if you're experiencing significant slowdown you might consider reducing their presence.
If you start noticing animations or abnormal lag on your iPhone X, go into the Settings app > General > Accessibility and toggle Reduce Motion to on.
You'll might also want to reduce the your device's transparency and blur effects. Head into Settings > General > Accessibility > tap Increase Contrast and then toggle Reduce Transparency function on.
Kill Background Refresh
Your iPhone X comes with a feature called Background Refresh. When Background Refresh is turned on, your device will continuously work to keep your apps updated with fresh data. It's a nifty feature, but turning it off could help improve your device's performance.
To turn Background Refresh off you'll want to head into Settings > General > Background App Refresh and toggle Background Refresh off. This will kill the feature completely.
You can also go down your list of apps and flip the feature off on a case-by-case basis.
Disable Your Widgets
Widgets are all over the place on the iPhone X. While useful, they could be slowing your device down. If you don't use widgets, consider disabling them.
While on the iPhone X home screen swipe to the right to see your list of Widgets. Scroll all the way to bottom of the list and tap on Edit.
On the next screen you'll see a list of services and apps. These are your iPhone X's active and inactive widgets. To disable a widget on your device, tap the red circle with the white line and tap Remove.
You can remove as many widgets as you want and you can always turn them back on if you don't see a performance boost on your phone.
Start Fresh
If none of these fixes work and you can't or don't want to take your iPhone X to an Apple Store, you can try wiping the device to see if that helps.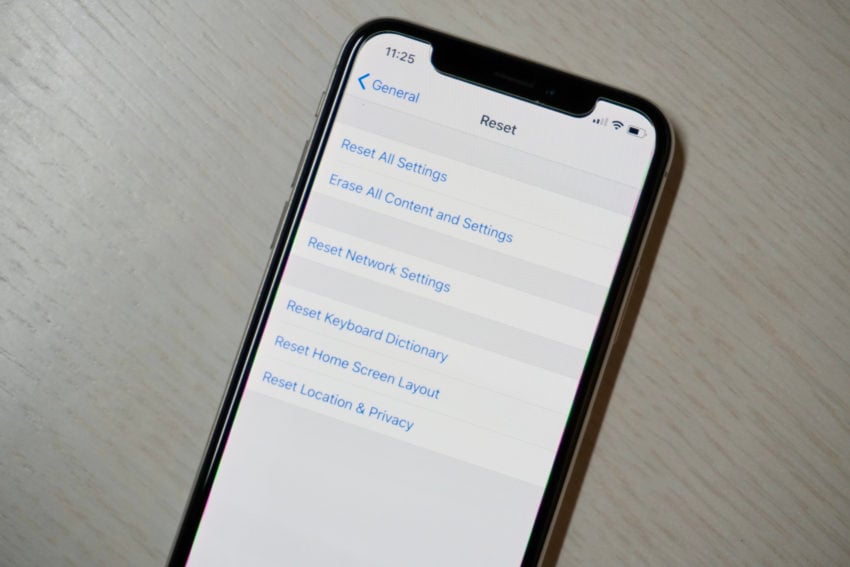 Factory resetting your iPhone X will wipe the device clean, but it could improve the device's overall performance.
Before you reset your iPhone X to its factory defaults, make sure your data is properly backed up via iTunes or Apple's iCloud service. That way, if you don't see an improvement, you can easily restore from a backup.
Once you've got all of your files backed up, head into Settings > Reset > Erase All Content and Settings to get the reset process started.
4 Reasons Not to Install iOS 14.6 & 11 Reasons You Should
Install iOS 14.6 for Better Security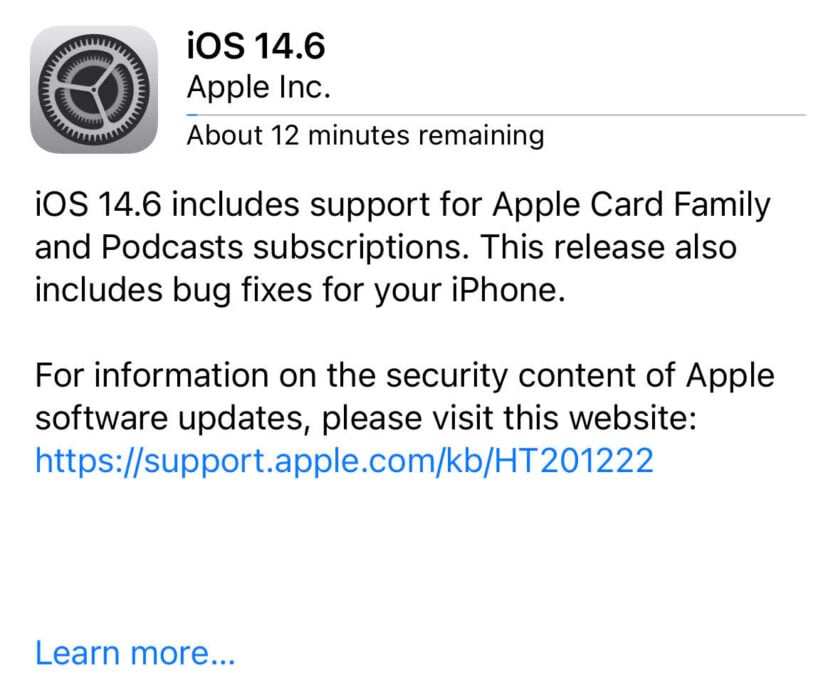 If security is important to you, think about installing iOS 14.6 right away.
iOS 14.6 brings 38 important security patches to the iPhone. If you're curious about the particulars, you can read about them right here.
If you skipped iOS 14.5.1, you get the update's two security patches on board. You can read about them over on Apple's website. Both are related to WebKit.
If you missed iOS 14.5 you'll get its patches with your upgrade. You can read more about those changes over on Apple's website.
iOS 14.5 also brought Apple's new App Tracking Transparency which lets you control which apps are allowed to track your activity across other companies' apps and websites for ads or sharing with data brokers.
If you skipped iOS 14.4.2, you get its security patch with iOS 14.6. You can learn more about that patch over on Apple's website as well.
If you missed iOS 14.4.1, you get its patch with your upgrade to iOS 14.6. You can read about that patch right here.
If you skipped iOS 14.4, you get the update's patches with your upgrade. You can learn more about iOS 14.4's security patches right here.
If you skipped iOS 14.3 you'll get its nine security updates with your upgrade. You can read more about them on its security site.
iOS 14.3 also included a new privacy information section on App Store pages that includes a developer-reported summary of the app's privacy practices.
If you skipped iOS 14.2, your iOS 14.6 update includes 24 additional security patches. You can learn more about the patches on Apple's security website.
If you're still running iOS 13, iOS 14.6 includes iOS 14.0's security updates.
iOS 14.0 brought 11 new security patches to the iPhone. If you're interested in the exact nature of these improvements, you can read about them over on Apple's website.
In addition to those patches, iOS 14 comes with some security and privacy upgrades including improvements to Home/HomeKit and Safari.
For instance in Safari, you can now tap the Privacy Report button to better understand how websites handle your privacy.
With iOS 14 on board you can now get information on the App Store that will help you understand the privacy practices of apps before you download them.
There is also a new recording indicator that will appear at the top of your screen whenever an app is using your microphone or camera. You can see if an app has used them recently in Control Center.
Researchers also discovered that Apple brought a new "BlastDoor" sandbox security system to iOS 14. The system is meant to prevent attacks from occurring via the Messages app.
You can read more about "BlastDoor" right here.

This article may contain affiliate links. Click here for more details.