How to Fix Windows 10 Camera Problems
Need to know how to fix Windows 10 camera problems on your notebook, desktop or tablet? They sound like a small issue, but sudden camera issues can be very frustrating when you're just trying to get something done, so keep reading to find out how to fix these common issues.
Almost every Windows 10 PC has a camera today. Notebooks and desktops have a front-facing camera so that you can video chat with friends and family. Tablets and convertibles often have a second camera so that you can take a picture of the world around you. When all is well, both types of cameras work flawlessly with the Windows 10 Camera app and any other app that needs camera access.
Windows 10 Camera problems can make you less productive or miss capturing an important moment. Owners of Windows 10 laptops may attempt to connect to a conference call, only to realize that their device's camera isn't working. The same thing can happen on the Surface Pro 4 and other tablets when someone tries to use their rear-facing camera. Some users get an error message every time they open the Camera app to capture photos and video.
Read: 16 Common Windows 10 Problems & How to Fix Them
Here's how to get your device's camera working properly and fix Windows 10 camera problems.
Setting Camera App Permissions to Fix Windows 10 Camera Problems
You must give an app permission to access any camera or sensors inside your PC. Most of the time, this process is painless because apps that require camera access will ask you when you open them. It's very easy to miss the pop-up window for the request, though. And without the proper permission, apps show just a black screen.
Press the Windows key on your keyboard or click on the Start button in the bottom-left corner of your screen.
Tap or click on the cog on the left edge of the Screen Menu or Start Screen to open the Settings app. You can also access the Settings app from the Action Center. Just swipe left from the right side of your device's touchscreen. Next, tap on the All Settings shortcut at the bottom of the Action Center.
Tap or click on the Privacy icon inside the Settings app. It's in the third row and has a padlock icon.
Tap or click on Camera in the menu on the left side of your screen.
There's a switch at the top of the Camera area. If it's set to off, tap or click on it to turn it on.
Each app you're trying to use with your device's camera must also have explicit permission. Use the app list at the bottom of this area to make sure your most used apps, like Instagram and Facebook, have the camera access they need.
Read: How to Take Selfies & Photos with the Surface Pro 4
Switching & Closing Apps to Fix Windows 10 Camera Problems
Often, Windows 10 camera problems are due to users having more than one app open that needs access to the camera at the same time. For example, if you're opening an app that requires Windows Hello sign in, the Camera app can't take access from that app to let you take a photo.
When this happens to you, close every app you have open that might have access to the camera. Next, switch back to the app you're trying to use. Close that app and reopen it again. If this doesn't fix the camera not working, restart your Windows 10 PC from the Start Menu.
Change Your Camera Settings to Fix Windows 10 Camera Problems
Sometimes an app can access your device's cameras, but not reset the camera's settings so that you have a bright, clear photo. If this happens to you, go to the Start Menu, and open the Camera app from the alphabetical list on the left side of your screen.
Click the controls at the top of the Camera app. Now, use the controls to change the brightness and contrast. Close the Camera app and open the app you were trying to use the camera with.
These fixes should help you solve any Windows 10 camera problems you have. Gotta Be Mobile will continue to add new problems and fixes to this breakdown as new issues surface.
10 Best Surface Pro Alternatives in 2020
ThinkPad X1 Tablet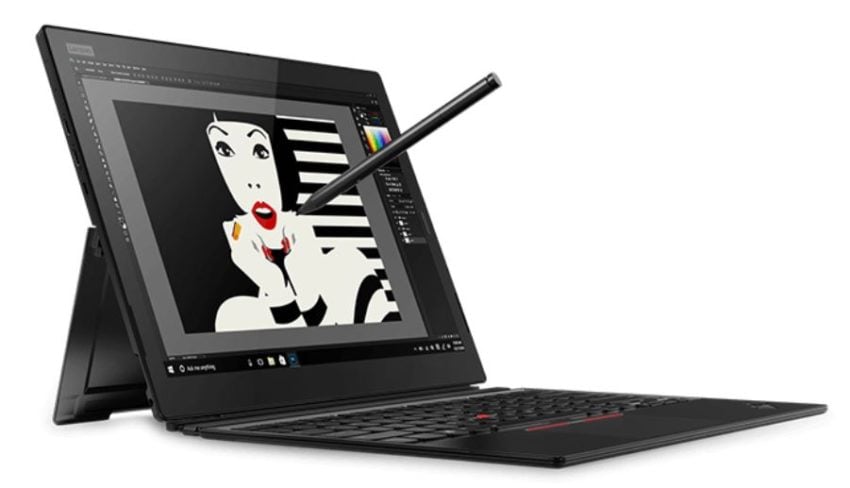 The ThinkPad X1 Tablet offers a lot of great features: a durable shell, an amazing display and Amazon's Alexa personal assistant.

The ThinkPad X1 Tablet has a 13-inch display. And, despite its good looks, the device has passed 12 military torture tests to ensure it can survive dust storms, cold temperatures, drops and spills. Finally, If you don't find Microsoft's Cortana personal assistant useful, the ThinkPad X1 Tablet has the same Alexa personal assistant your Echo smart speakers do. A Surface Pro won't survive a drop or spilled liquid and Cortana isn't as useful as Alexa is.


Read: ThinkPad X1 Carbon, X1 Yoga and X1 Tablet Have Stunning Display and Alexa


The third-generation ThinkPad X1 Tablet has powerful processors, plenty of RAM and other options. Models come with up to an 8th generation Intel Core i7 processor and 16GB of RAM. You won't get stuck waiting for web pages to load or your photo editor to process your touch-ups. If you don't like passwords, use the IR camera on the front of the ThinkPad X1 Tablet to sign into Windows. This 2-in-1 also has a fingerprint reader.

The ThinkPad X1 Tablet's screen detects 4,096 different levels of pressure from its digital pen. Besides that, it's a really detailed display. Windows, your videos and everything else you do on it looks crisp and detailed. Again, it's three times as sharp as an HD display.

Like other Surface Pro 4 alternatives, this Windows 2-in-1 connects to its included keyboard cover using a special slot on its bottom edge. It has Thunderbolt 3 ports for fast data transfers, a MicroSD card reader and a headset jack. With LTE connectivity, you can add the ThinkPad X1 Tablet to your smartphone data plan. You can't do that with a Surface Pro 4.