How to Stop Windows Insider Preview Updates  
If you try Windows 10 updates early through the Windows Insider Program, you need to know how to stop Windows Insider Preview updates too.
Learning how to stop Windows Insider Preview updates is crucial because early Windows 10 updates are buggy. These releases don't just include finished features. The program also gives you access to Windows 10 updates that are full of incomplete code. These Early updates can harm performance and prevent you from using Windows 10 the way you always have. That's why Microsoft recommends not turning on Windows Insider Preview updates if you only have a single Windows PC.
Read: How to Get Windows 10 Updates Early with Windows Insider
Here's how to stop Windows Insider Preview updates if you decide to leave the program.
Start by creating a backup of all your videos, pictures, music and documents to an external drive or cloud storage service. Creating a backup could save you from losing files if you can't stop early Windows 10 updates or your PC has issues while you try to stop early updates.
Read: How to Back Up Files in Windows 10
If you have a notebook, tablet or 2-in-1, connect it to a power outlet. Windows 10 does not make big operating system changes without your device connected to a power outlet.
Next, tap or click on the Start button in the bottom-left corner of your screen.
Tap or click on the cog icon to open the Settings app.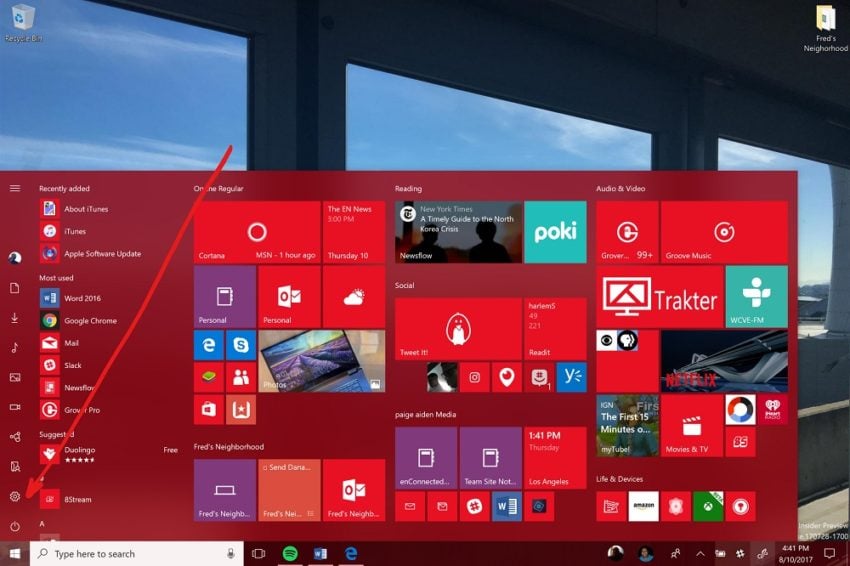 In the Windows 10 Settings app, tap or click on Update & Security. It's in the third-row in our screenshot, but it could be in a slightly different place on your computer.
Tap or click on the Windows Insider Program option in the menu on the left side of your screen. In our example, this option is at the bottom of the left navigation.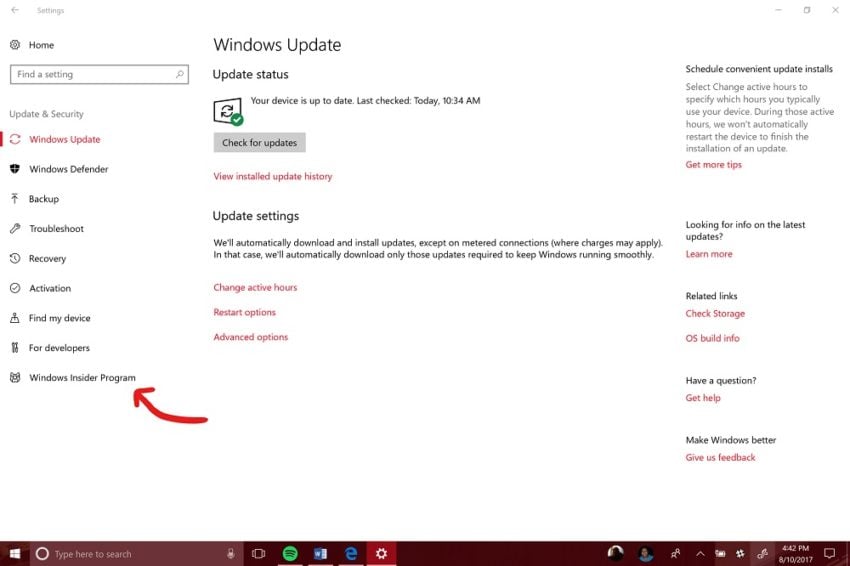 Give Windows 10 a chance to check your PC's configuration. After that check, your Windows Insider Preview update settings should appear.
Your Ring setting determines how early you get Windows 10 Updates. For example, a user with the Fast setting turned on gets new features before anyone else does. However, those features can be very buggy and harm your installation of Windows 10. For example, one Fast Ring update broke the Action Center and made the Start Screen unreliable before the Windows 10 Fall Creators Update.
Read: Windows 10 Fall Creators Update: 5 Things to Know
The drop-down under What kind of content would you like to receive? Determines what type of early updates you want. With this menu, you tell Microsoft whether you'd like to install updates that are in development or skip to the next upcoming Windows 10 upgrade.
If you're sure you want to stop all Windows Insider Preview updates, tap or click on the Stop Insider Preview Builds button at the top of your screen.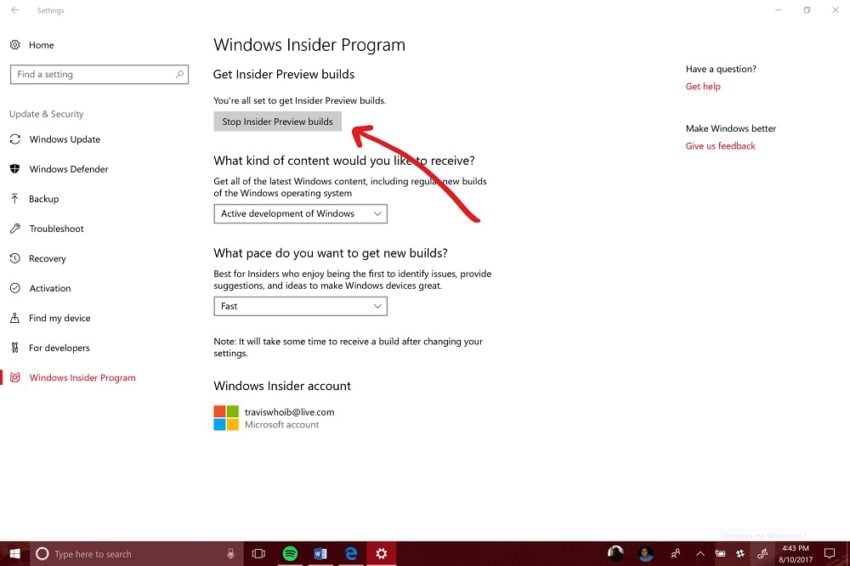 Now, it's time to choose how you'd like to stop Windows Insider Updates for Windows 10. Microsoft gives you plenty of options. Read them all carefully so that you click the right one for your situation.
Change to a Slow Cadence moves your PC from the Fast Ring to the Slow Ring. You will still get updates earlier than most users, but the updates you get won't have as many bugs as the updates that members of the Fast Ring get.
Pause Updates for a Bit lets you tell your system to not install Windows Insider Preview updates for a day or more. Your PC is still in the Windows Insider Program and your updates will begin again the moment your hold on them expires.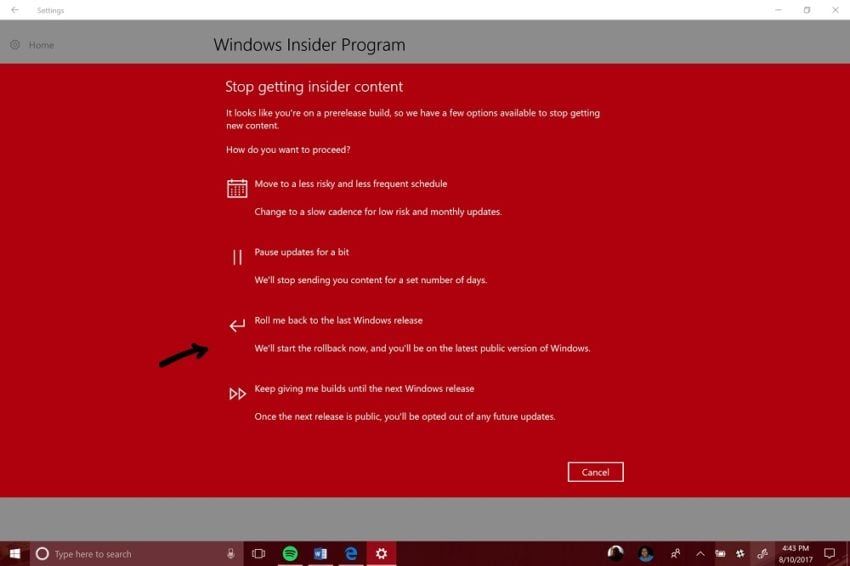 Roll Me Back to the Last Windows release takes you back to the version of Windows 10 that the public is using. Right now that's the Windows 10 Creators Update. Use this button to stop Windows 10 Insider updates on your PC and go back to a more stable Windows 10 experience. If you are ready to stop Insider updates all together, this is the button you use.
Follow the on-screen prompts until you have logged in to the version of Windows 10 that everyone outside of the Insider Program is using. If you're unsure whether you have the right version, look for a watermark in the bottom-right corner of your display. If there's no watermark, you have the same version of Windows 10 that everyone else does.
10 Best Surface Pro Alternatives in 2020
ThinkPad X1 Tablet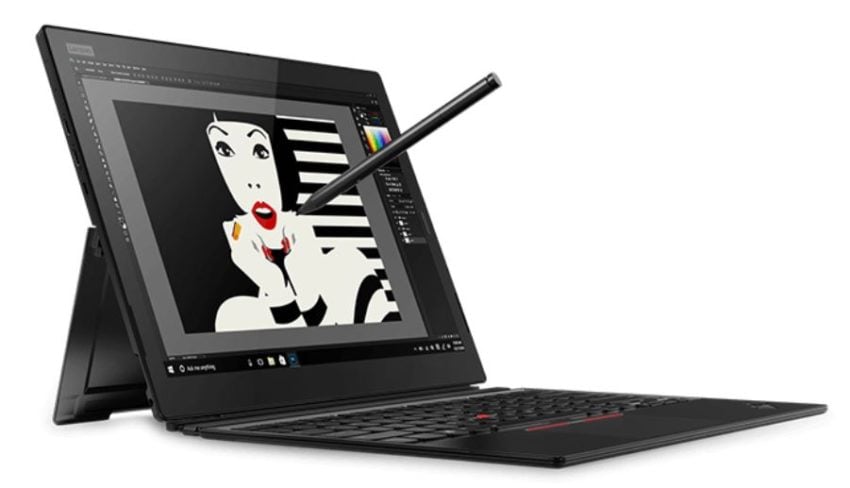 The ThinkPad X1 Tablet offers a lot of great features: a durable shell, an amazing display and Amazon's Alexa personal assistant.

The ThinkPad X1 Tablet has a 13-inch display. And, despite its good looks, the device has passed 12 military torture tests to ensure it can survive dust storms, cold temperatures, drops and spills. Finally, If you don't find Microsoft's Cortana personal assistant useful, the ThinkPad X1 Tablet has the same Alexa personal assistant your Echo smart speakers do. A Surface Pro won't survive a drop or spilled liquid and Cortana isn't as useful as Alexa is.


Read: ThinkPad X1 Carbon, X1 Yoga and X1 Tablet Have Stunning Display and Alexa


The third-generation ThinkPad X1 Tablet has powerful processors, plenty of RAM and other options. Models come with up to an 8th generation Intel Core i7 processor and 16GB of RAM. You won't get stuck waiting for web pages to load or your photo editor to process your touch-ups. If you don't like passwords, use the IR camera on the front of the ThinkPad X1 Tablet to sign into Windows. This 2-in-1 also has a fingerprint reader.

The ThinkPad X1 Tablet's screen detects 4,096 different levels of pressure from its digital pen. Besides that, it's a really detailed display. Windows, your videos and everything else you do on it looks crisp and detailed. Again, it's three times as sharp as an HD display.

Like other Surface Pro 4 alternatives, this Windows 2-in-1 connects to its included keyboard cover using a special slot on its bottom edge. It has Thunderbolt 3 ports for fast data transfers, a MicroSD card reader and a headset jack. With LTE connectivity, you can add the ThinkPad X1 Tablet to your smartphone data plan. You can't do that with a Surface Pro 4.


This article may contain affiliate links. Click here for more details.