How to Use Nintendo Switch Joy-Cons for Two Players
If properly configured, your Nintendo Switch Joy-Cons let you and a friend play your favorite games without buying a second set of controllers. Here's how to use Nintendo Switch Joy-Cons for two players.
The Nintendo Switch Joy-Cons are what make the console unique. They allow it to morph from handheld to living room entertainment system in seconds. In their wireless mode, a simple software switch lets you change the Joy-Cons from acting as one united controller to two separate controllers with their own bumper buttons, joystick and face buttons. This way, you and a friend can enjoy Mario Kart 8 Deluxe and other Nintendo Switch games without investing in more Nintendo Switch Joy-Cons.
Read: How to Fix Stuck Joy-Cons on the Nintendo Switch
Power on your Nintendo Switch by pressing the Power button along the top edge of the console.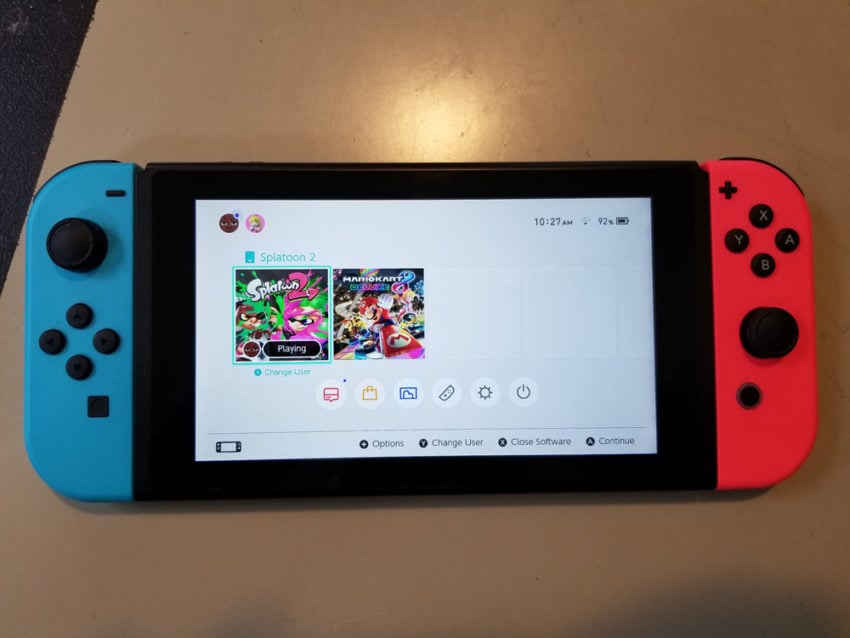 At the home screen, don't open any games or apps. Instead, use the Joy-Cons to select the Controllers icon along the bottom edge of your display. It's the third circular button from the right, just to the left of the general Settings icon that has a cog.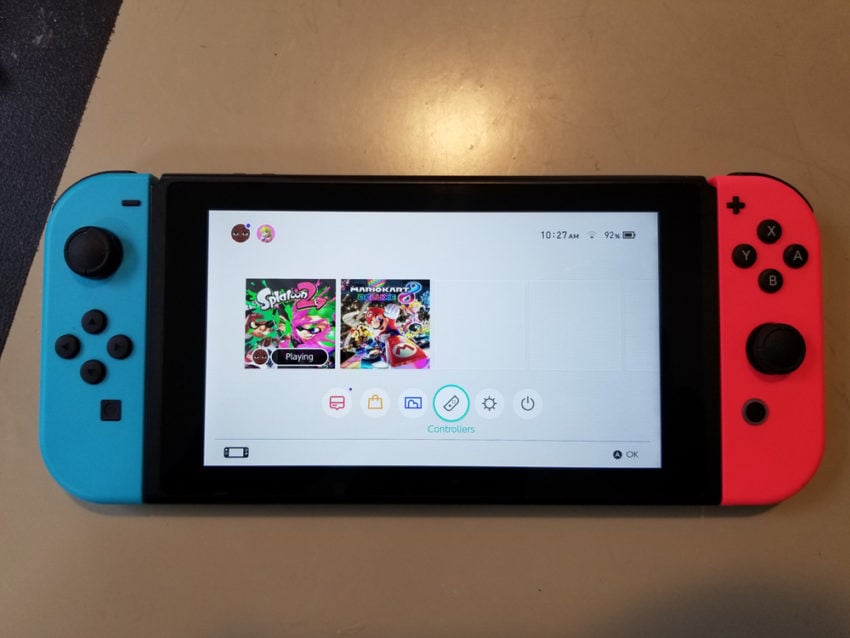 Welcome to the Controller Menu. From here you can change everything about your Nintendo Switch Joy-Cons. You can even find them if they are inside a couch cushion somewhere nearby. The screen on the left side of the menu breaks down how much battery power your console and your controllers have left. Be sure to check each controller's battery power before you begin playing with someone else.
Read: Nintendo Switch Buying Guide: Bundles, Games & Accessories
Tap or select Change Grip/Order.
Unlock the left Joy-Con from the console by pressing the black button on the back of it. Push up on the controller to fully detach it from your system.
Do the same thing for the right Joy-Con. Press the button on the back of the controller and push it up and out of the slot with your finger.
On the left Joy-Con, press the SL and SR bumper buttons at the top of Joy-Con and wait for it to appear in the list of controllers. These buttons are different colors for each controller, so don't be alarmed if the controller's buttons in this how to don't match your buttons.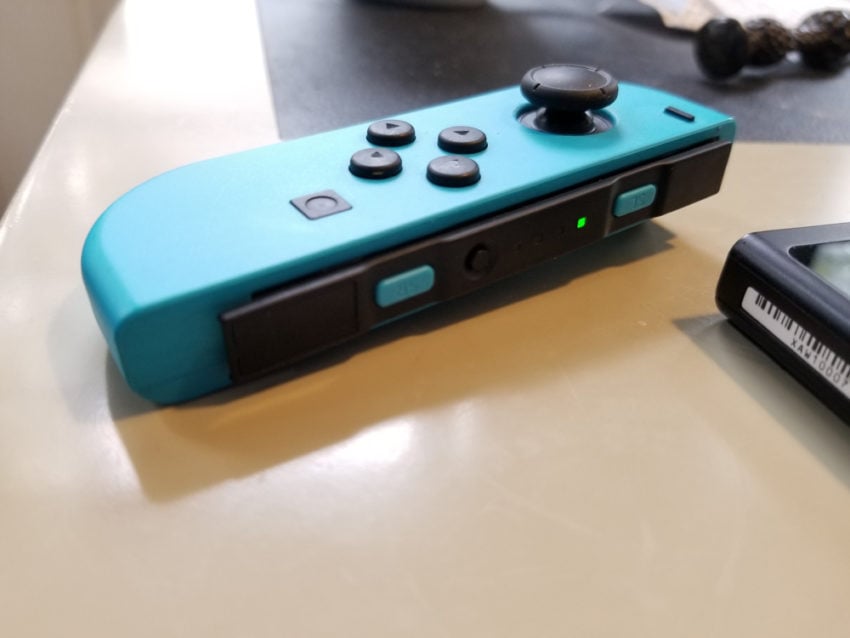 Do the same thing for the right Joy-Con controller.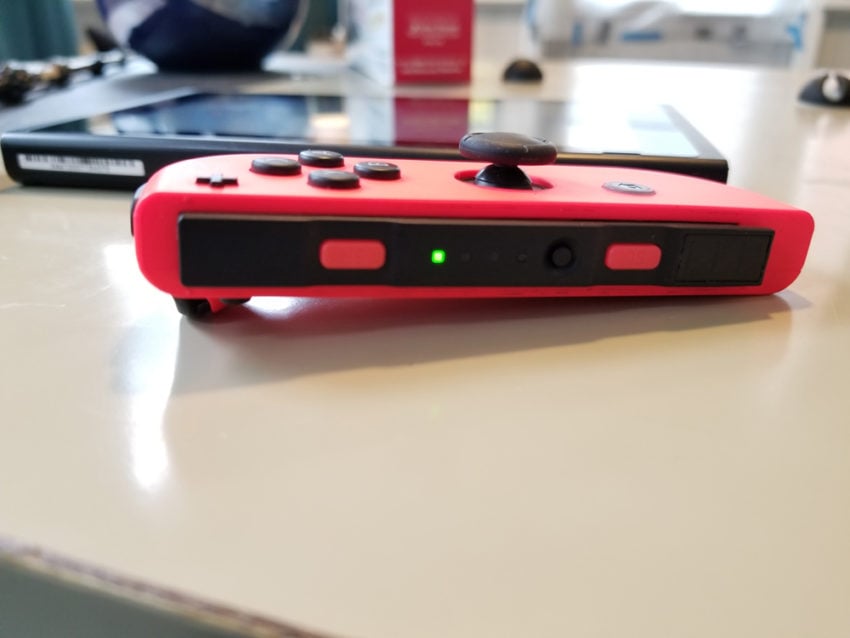 Now press the A button to confirm your new controller configuration.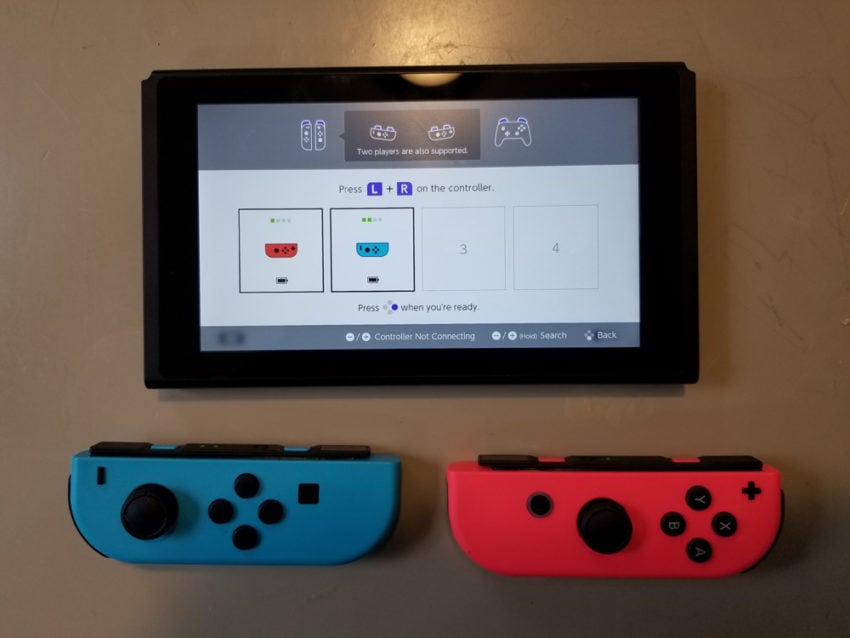 Your console came with two straps for your Nintendo Switch Joy-Cons. If you have these straps with you, you attach them to the top of your controller so that you and your friend have a more tactile button surface. Hand the second Joy-Con controller to your friend or family member and open your favorite game. Select a two-player mode from their menu and enjoy your game.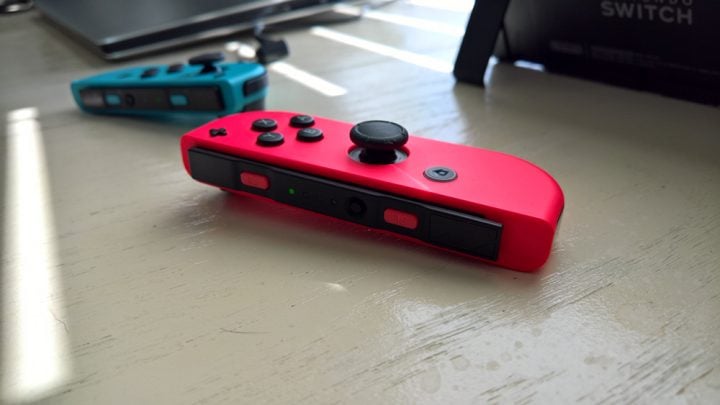 Come back to this screen to change your controller configuration back to the single player anytime you want.
As with the two-player system on all video game consoles, you can only use the Nintendo Switch Joy-Cons for two players if the game that you're playing supports that. Before you buy a game, check the back of its case or its Nintendo eShop store page to confirm which player modes it supports and which modes it does not.
Most of Nintendo's own games do support two players. For example, Arms, Mario Kart 8 Deluxe and Super Mario Odyssey let you play with someone else locally. There are major Nintendo Switch games that only have a single player experience or rely on Nintendo Switch Online for multiplayer. Splatoon 2, arguably 2017's most important multiplayer game for the console, does not. Two people can still play multiplayer together using system link. System link requires that everyone have a copy of the game and a console to play it on.
The Best Nintendo Switch Cases & Covers
Hori Tough Pouch for Nintendo Switch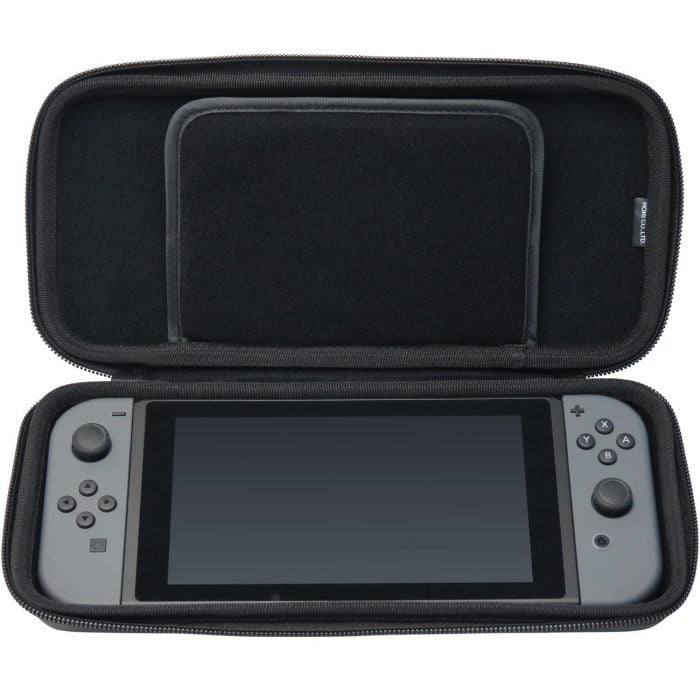 The Hori Tough Pouch for Nintendo Switch protects your device between gaming sessions without much effort. A flap inside shields the console's touchscreen. Its shell is reinforced to handle impacts from other things in your bag,
Also, unlike some other cases, the Hori Tough Pouch strikes a gentle balance between protection and convenience. Because you only put your Switch into it when you're done playing, it doesn't change how you grip the console or its Joy-Con controllers.
Amazon has the Hori Tough Pouch for Nintendo Switch available for $17.99. Because it's an officially licensed accessory, the front is embossed with the Nintendo Switch logo.

As an Amazon Associate I earn from qualifying purchases.