Upcoming Nintendo Switch Games for 2017 & 2018
The roster of upcoming Nintendo Switch games coming in 2017 and beyond has something for every type of gamer. That is why you need this guide to all the new games that are on the way.
Big fans of Nintendo's characters have Yoshi, Metroid Prime 4 and Yoshi titles to look forward to. These games will launch in 2018 and provide the Nintendo Switch with an army of exclusive games. The Nintendo Switch is already the only system you can play Arms, Splatoon 2 and Super Mario Odyssey on.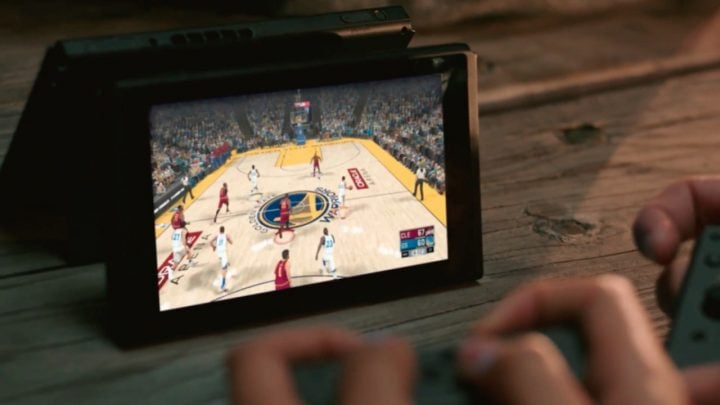 For a long time, Nintendo's consoles didn't get much support from developers, but has changed. Nintendo's calendar of upcoming Nintendo Switch games includes Rocket League, Sonic Forces, DOOM, Steep, Minecraft: Better Together and Wolfenstein 2: The New Colossus. NBA 2K18 and FIFA 18 are already available on the system.
Use this breakdown of upcoming Nintendo Switch games in 2017 and 2018 to plan your next game purchase. Some of these titles have release dates and official trailers already available. Other titles were officially added to the list of upcoming Nintendo Switch games the company keeps online, but don't have official release dates yet.
Sonic Forces – Release Date November 7th, 2017
Sonic Forces is a new game in the franchise. It also celebrates what made the original titles so much fun.
You control one of three Sonic characters in Forces. One of them uses the same moves and side-scrolling mechanics of the original game. The other has full 3D movement taken from Sonic Unleashed. If you don't like either of these characters, you can create your own using in-game items and templates inspired by existing Sonic characters.
DOOM – Release Date November 10th, 2017
Doom for Nintendo Switch isn't a completely new release. It's an updated version of the game that launched in 2016 on Xbox One and PS4.
Read: DOOM Release Date: 5 Things to Know
In the first-person shooter game, you kill a line-up of increasingly dangerous aliens at all costs. The game is known for its gore-filled combat. Doom comes with a complete single-player experience. Unfortunately, like other upcoming Nintendo Switch games, it's a slight downgrade from other versions. You can't create maps and share them with friends as you can with Doom for other consoles.
L.A. Noire – Release Date November 14th, 2017
L.A. Noire players become Cole Phelps, a recruit of the Los Angeles Police Department, that's just getting his start. Throughout the game, you work to close murders, drug crimes and robberies as diligently as possible. There are shootouts, but expect to spend most of your time finding clues and interrogating suspects.
Read: L.A. Noire Release Date, Pre-Orders & Xbox One, Switch, PS4 Details
L.A. Noire for Nintendo Switch has all the original game's downloadable content, new suits that unlock abilities for Phelps, Joy-Con motion controls and touchscreen menus.
Lego Marvel Super Heroes 2 – November 14th, 2017
If you like Lego playsets and Marvel heroes, Lego Marvel Super Heroes 2 is for you.  The adventure game gives Nintendo Switch players access to Thor, Spider-Man, Captain American, Wolverine and many of the other heroes from Marvel's comics. According to developer TT Games, Lego Marvel Super Heroes 2 keeps the thing that gamers love about all its Lego titles: their sense of humor.
Rime – November 14th, 2017
Rime is an adventure game. Your character explores a huge world by solving puzzles and taking on enemies on a huge island. Like The Legend of Zelda Breath of the Wild, there's plenty of crafting. Unlike that game, you get an animal companion in Rime.
The Elder Scrolls V: Skyrim – November 17th, 2017
Nintendo Switch gets one of gaming's best role-playing titles when The Elder Scrolls V: Skyrim launches on the Nintendo Switch. The title's world is massive, and there are hundreds of missions to do. Portability is the main reason this game is getting a release for Nintendo's latest console. If you buy this version, you can do all those missions anywhere you are instead of spending hours in front of your TV.
Read: Nintendo Switch Skyrim Release Date, News & Details
Xenoblade Chronicles 2 – December 1st, 2017
Xenoblade Chronicles 2 introduces a new world and new characters to the long-running franchise. It's a Japanese role-playing game, with a lot to do and many new things for lovers of the franchise to see. You play as Rex, someone searching for an ultimate paradise for humanity.
Rocket League – Release 2017
Rocket League for Nintendo Switch is the only version of the game made to play wherever you are. You create a racer, then use that racer to score on opposing teams. It's like soccer, but with cars.
Nintendo Switch gamers get access to some exclusive Nintendo themed extras for their cars, offline play and options to change the rules of the game. Online play links together Xbox One, Nintendo Switch and PC players.
The Escapists 2 – Release 2017
If you enjoyed escaping prisons in The Escapists, expect to do more of it in The Escapists 2. The puzzle game features co-operative play and has an upgraded combat system. Also, new character options let you create an escape artist that fits your skill and taste.
Farming Simulator – November 7th, 2017
Farming Simulator for Nintendo Switch has new crops, new drivable vehicles, new tools and two biomes. The point of the game hasn't changed though. You use all these new tools and options to farm acres of land wherever you are.
Yooka-Laylee – Release 2017
Yooka-Laylee for Nintendo Switch is a platforming game that already launched on the Xbox One and PS4. It's a successor to the Bango-Kazooie titles that launched for the Nintendo 64, but without the main characters that made those games so loveable. There's an open-world for you to explore and collectibles to find. The more you do, the more abilities you unlock for the chameleon and bat that lead the game's cast. Other versions of Yooka-Laylee have multiplayer, so it's possible this one will too.
Read: Best Nintendo Switch Cases, Covers & Why to Avoid Skins
Super Meat Boy Forever – Release 2018
Super Meat Boy Forever is a sequel to one of the first independently developed video games to sell millions of copies on the Xbox 360 and PS3.
The game's core mechanics haven't changed. Meat Boy uses his lack of skin to avoid dangerous objects and enemies that might otherwise kill him. There's no multiplayer at all. Instead, its levels get harder the more you play them. There are 6 complete chapters in all.
Wolfenstein 2:  The New Colossus – Release 2018
Set in 1961, Wolfenstein 2: The New Colossus is another shooter for Nintendo Switch. Murdering the Nazi's general in the last game only temporarily hurt their resolve. In this new game, you venture to different American cities to help build a resistance and free the country from occupation.
Yoshi for Nintendo Switch – Release Date Unknown
Yoshi for Nintendo Switch doesn't have an official name yet, but it's already one of the most anticipated upcoming Nintendo Switch games. We know that it's a side-scrolling platforming title and that it will have multiplayer.
Kirby for Nintendo Switch – Release Date Unknown
Kirby for Nintendo Switch is another platforming game from Nintendo. You use hearts to turn enemies to your side and copy the abilities of other enemies to make yourself more powerful. Up to four people can play Kirby for Nintendo Switch together, making it one of the console's most flexible multiplayer games.
Steep – Release Date Unknown
We're still waiting for official release details for Steep. In the winter sports game, you ski, paraglide and snowboard for the best run times. In other versions of the game, you can use an in-game GoPro to record your best tricks and run times. Hopefully, that's also in this new version of the game for Nintendo Switch.
Read: 7 Nintendo Switch Tips & Tricks
Metroid Prime 4 – Release Date Unknown
Metroid Prime 4 is in the early stages of development. So far, we know that the new title will continue the game's story where Nintendo left it ten years ago. That means a return of Samus the bounty hunter. There's no release date for the game, but Metroid Prime 4 pre-orders are already available.
Pokémon for Nintendo Switch – Release Date Unknown
The Pokémon Company will fulfill gamer's wildest dreams when Pokémon for Nintendo Switch launches. The company revealed it was working on the title early in 2017, but didn't confirm a release date. As every Nintendo Switch game works in console and handheld mode, Pokémon for Nintendo Switch will bring the role-playing elements of the franchise to the living room for the first time.
Right now, we don't know if it will act as a follow-up to the Pokémon Sun and Pokémon Moon or start a completely new generation of the series. If it does usher in a new generation, expect new creatures, a new location and new game mechanics.
13 Best Nintendo Switch Battery Packs & Chargers in 2019
Anker PowerCore+26800 PD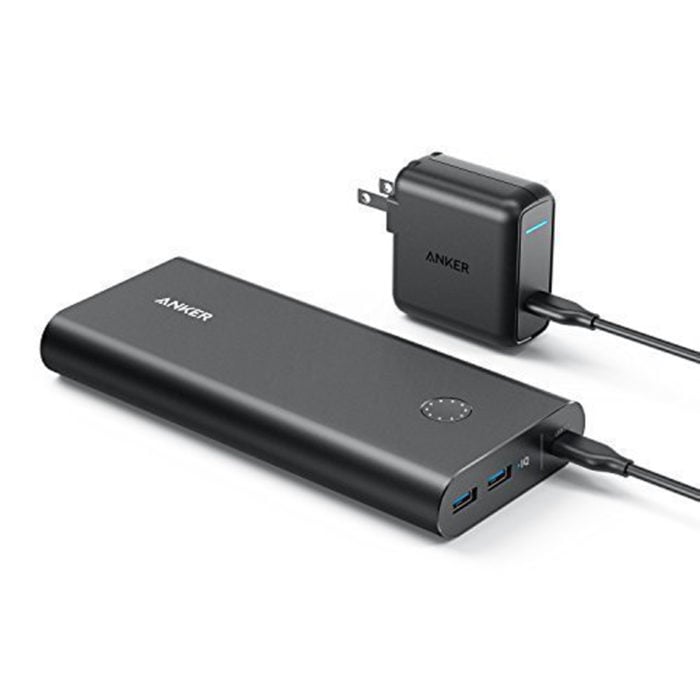 The Anker PowerCore+26800 PD is a smartphone charger that outputs enough power to charge your Nintendo Switch.
This updated Anker PowerCore+ has higher voltage limits than the model it replaces and a 26800 mAh battery inside. Two full-size USB ports let you charge a smartphone or tablet quickly. It's the built-in USB Type-C port that has the voltage the Nintendo Switch requires for charging and gaming. The battery charges the console in just 4 hours.
There is just one downside to using the Anker PowerCore+26800 PD to keep your Nintendo Switch charged. You must keep the 1-pound battery in your lap as you game. Aside from that, it's definitely worth the $99.99 it costs from Amazon.

As an Amazon Associate I earn from qualifying purchases.