iOS 9.3 Update: 5 Things I Learned from the Beta
The iOS 9.3 update delivers a number of important features to the iPhone and iPad. After using the iOS 9.3 update for the last month as part of the iOS 9.3 beta program there are several stand out features and details that iPhone users need to know.
The iOS 9.3 release date should arrive in March, possibly alongside a new iPad Air 3 and 4-inch iPhone 5se that will get access to the new version of iOS 9 as well.
Apple officially announced the iOS 9.3 update in January with the release of the iOS 9.3 beta for developers and then shortly after opened it up to the public with a iOS 9.3 update preview that members of the general public could use.
The iOS 9.3 update is part of the new Apple strategy of building in important new features through updates that arrive throughout the year. Instead of saving Night Shift for an iOS 10 release date in the fall, Apple is adding a major new feature to the iPhone and iPad this Spring.
After using the new iOS 9.3 update through several beta releases over the last month and a half, I've learned more about the new features, the overall performance and other items that users need to know about.
Here is a quick look at the 5 most important things I've learned while using the iOS 9.3 update in beta. You can read this guide to reasons you should and shouldn't install the iOS 9.3 beta, which is an important guide before you install the iOS 9.3 beta on your devices.
iOS 9.3 Beta Performance
With all beta software there is a chance that you will run into bugs, slow downs and issues that hamper the overall performance of your device.
After upgrading to the iOS 9.3 beta 4 in late February the iOS 9.3 update feels smoother than with the second beta, which is to be expected.
If you've been waiting to jump in and try the iOS 9.3 beta on a newer device, this is good time to take the plunge.
I am testing the iOS 9.3 beta on the iPhone 6S Plus, so it is tough for me to say how well the iOS 9.3 performance is in the current beta on older devices. One upside to testing the iOS 9.3 beta on your iPhone 5 or similarly aged device is that you can see the performance and then if needed downgrade before the official release.
We expect to see additional changes in the iOS 9.3 performance over the next several weeks, leading up to the iOS 9.3 release date.
iOS 9.3 Stability and Fixes
Comparing the iOS 9.3 beta 4 on the iPhone 6s Plus to iOS 9.2.1 on the iPhone 6s there are a few areas where the newer version of iOS 9 stands out.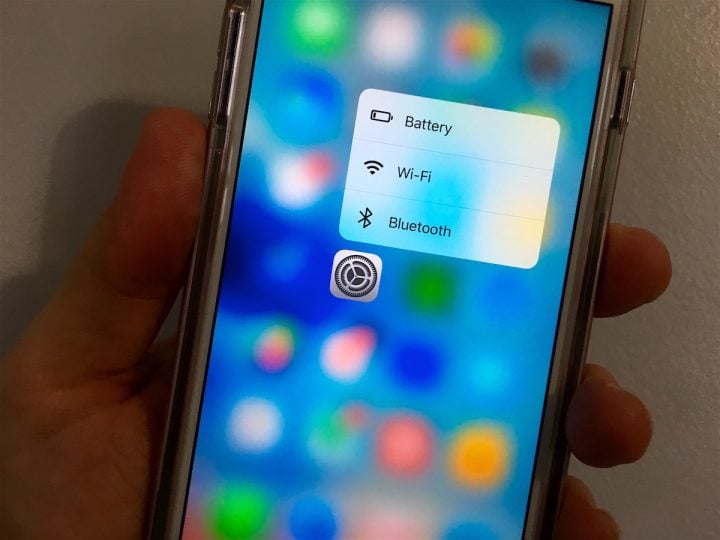 In addition to the stated new features, there are two major improvements on iOS 9.3 compared to iOS 9.2.1 on my new iPhones.
The first thing I noticed is that the 3D Touch feature is more reliable on the iPhone 6s Plus with iOS 9.3 than on the iPhone 6s with iOS 9.2.1 on board. Far too often on the iPhone 6s I try to use the 3D Touch keyboard selection tool and end up with a long pressed number or I try to use a 3D Touch shortcut and end up with jiggling icons and an option to delete an app.
Even when purposefully trying to use 3D touch in a lackluster manner I have not had an accidental long press on the iPhone 6s Plus since upgrading.
Another important difference is that I have yet to see the iPhone 6s Plus battery percentage stuck, which left me without power in early January. I tried manually changing the iPhone time zone twice and did not run into the issue. Either I am lucky or Apple fixed this issue in iOS 9.3.
iOS 9.3 App Compatibility
Occasionally there are issues using apps after updating to new software. This is one of the reasons not to install iOS beta software. That said, after testing many of the best iPhone apps we recommend installing on a new iPhone there no iOS 9.3 compatibility issues at this time. It is very likely that all of your apps will work fine when you install the official iOS 9.3 beta.
iOS 9.3 Night Shift is Amazing
The new iOS 9.3 night mode feature that changes the color temperature of your screen warmer after sunset and back to the cool blue you know on older versions of iOS 9 in the morning is amazing.
Using the iPhone at night without the new iOS 9.3 Night Shift feature can cause you to stay awake well after you are done using the iPhone.
For the past month I've been tracking my Sleep on the iPhone 6s Plus while also using the new iOS 9.3 Night Shift feature and my sleep is slowly improving. It's not yet easy to quantify with a number because I am still using some devices on iOS 9.2.1, but this is a feature that I really enjoy and I think most users will as well.
Exciting iOS 9.3 Features
Although the Night Shift feature is one of the most visible new iOS 9.3 features, there are many others that stand out. You can see what's new in iOS 9.3 in the slides below, but here's a fast breakdown of my favorite new features in addition to Night Shift.
Password Protect Notes – I can prevent someone who has access to my notes from reading a note using a password or Touch ID.
Duplicate Photo Option – When I need to edit a Live Photo, or I just want to make sure I always have my original, the new Duplicate option in the share menu is very handy.
Verizon WiFi Calling – I have not been able to test this yet, but the AT&T WiFi calling is an awesome feature to have available, so I expect this will be just as nice when I install iOS 9.3 on the iPhone 6s.
Those are the most standout features so far, but I do enjoy using the new 3D Touch Quick Actions on the home screen and workout tracking in the Health app.
What's New in iOS 9.3 & iOS 9.3.5
Night Shift for iPhone Promises Better Sleep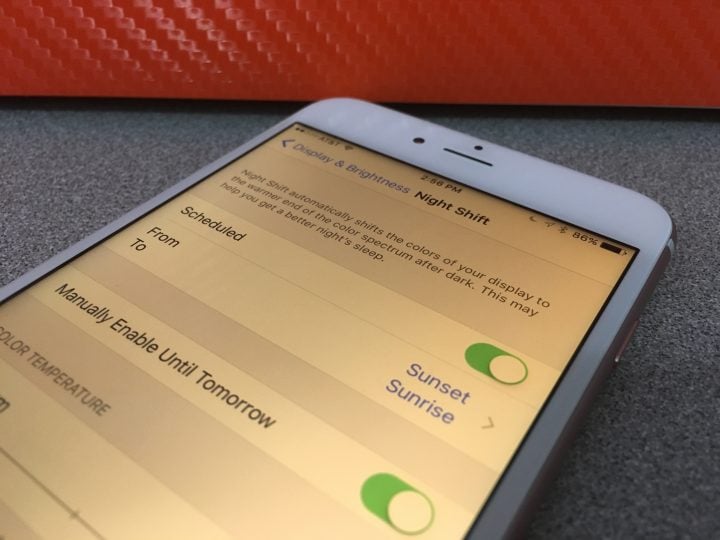 The free iOS 9.3 update adds Night Shift. With Night Shift the iPhone uses your iPhone's clock and your location to automatically shift the colors to a warmer, less blue, mode so that it is easier on your eyes. In the morning the display automatically returns to normal.
iOS 9.2 does not include any features to adjust the warmth of the display to make it easier to fall asleep after using your iPhone.
One of the biggest reasons to jailbreak the iPhone for the past several years has been for access to f.lux. This tweak adjusts your iPhone or iPad display to deliver a warmer light at night so that it is easier to fall asleep after using your iPhone or iPad.
Here's how to use Night Shift in iOS 9.3 to get a better night of sleep.
This is important because using bright blue light at night can interrupt your circadian rhythms, making it hard to fall asleep. This is part of why you may lay down exhausted but are unable to sleep after wasting 20 minutes on your iPhone or iPad in bed.