11 Common iOS 9 Beta Problems and Fixes
The iOS 9 beta allows iPhone, iPad and iPod touch users to try out the new iOS 9 features before the full iOS 9 release date this fall. Last week Apple kicked off the public iOS 9 beta and we are already seeing users run into iOS 9 beta problems. Here is a look at some of the common iOS 9 beta problems and fixes.
If you are reading this while on iOS 8.4, keep in mind that bugs and problems are a part of the beta process. Apple normally fixes a lot of iOS problems before the official release. If you test the iOS 9 beta and do not like it you downgrade to iOS 8.4, which is a very fast fix to common iOS 9 beta problems.
After weeks of a developer iOS 9 beta Apple released a public iOS 9 beta that any user can sign up for. If accepted you can test iOS 9 and OS X El Capitan early.
We offer a deep dive into what's new in iOS 9 so you can see what all the new features are on iPhone and iPad. After an initial rush in June, a huge influx of new iOS 9 beta users arrived with the public release and with that uptick we also saw a rise in the number of iOS 9 beta problems.
[contextly_sidebar id="U8UkYUMXhRAlSNXUkaC4QO9LWpECgJxU"]
Here is a look at the common iOS 9 beta problems for the public iOS beta and for the developer beta, and fixes that can help you get your iPhone or iPad back up and running in tip-top shape again.
iOS 9 Proactive Screen is Blank
One of the biggest new iOS 9 features is a Proactive home screen that sits to the left of your main home screen. If you swipe over and this is blank you need to perform a three-step fix. Go to Settings -> General -> Spotlight Search -> Off. Restart your iPhone. Now turn the setting back on. According to Lanky_Ape on Reddit this will fix the problem for you.
Problem Switching from WiFi to Cellular
Anyone using iOS 9 Public Beta and losing all data when you leave a wifi zone like your house?

— Wayne (@ctt1wbw) July 12, 2015
Another iOS 9 beta problem we are seeing happens when you leave WiFi and need to switch to cellular data. cerialkiller741 reports, "I'm having an issue where, when I disconnect from a wifi network, like leaving home in the morning, my cellular data won't work."
There are two potential solutions to this problem. You can try toggling airplane mode from Control Center for a fast fix, but for some users this will not work. If this doesn't work you need to go to Settings -> Cellular -> Cellular Data -> Off. Wait a second or two and then turn it back on.
Cannot Use Volume Button to Take Photo
If you rely on the volume button to take photos on your iPhone, this is not working in the iOS 9 public beta. This is a known issue and one that Apple is likely to fix with a new iOS 9 beta in the next few weeks.
For now the only option is to wait for the next beta. While this is not an instant fix, you should soon be able to upgrade and resolve this issue.
iOS 9 Beta Battery Life Problems
For many users the iOS 9 battery life is very good, but a handful of users report problems with iOS 9 battery life including draining fast.
Is the iOS 9 beta a battery hoover or is my phone jobbied?

— Marc (@somarcsaid) July 11, 2015
Updated to iOS 9 Beta. My iPHone 6 runs blazing hot and battery winds down fast enough to watch it. Nice work @apple

— nsxdavid (@nsxdavid) July 9, 2015
[contextly_sidebar id="c4Rk8X0AFdVoCVQX7XjE4SiXUwmMUcPU"]If you run into bad iOS 9 beta battery life, you can go use these steps to identify the problem. First off go to Settings -> General -> Usage -> Battery Usage to see if there is an app that is the primary problem. You may need to delete that app or reinstall it.
If you are streaming songs from Apple Music, that may be burning your battery life faster, so store them locally when possible.
You can also try to restart your phone and if that doesn't work, choose to Reset All Settings. Open Settings -> General -> Reset -> Reset All Settings and then enter your pass code. If this fails, you may need to reset your phone or downgrade to iOS 8.4.
Public iOS 9 Beta WiFi Problems
A small number of users report iOS 9 beta WiFi problems that prevent connecting to any networks or include disconnects.
https://twitter.com/ho1ger/status/619416110732050432
I'd probably skip the iOS 9 public beta on a phone. it's made wifi totally unreliable for me. iPad seems fine.

— Kevin van Haaren (@kvanh) July 9, 2015
If you run into iOS 9 beta WiFi problems there are two steps to try before you downgrade to iOS 8.4. First off is a Network Settings Reset and next up is telling your iPhone to forget the connection and reconnecting.
Go to Settings > General > Reset > Reset Network Settings to wipe your network settings clean. This can solve many problems. Another option is to go to Settings > Wi-Fi > WiFi Name > Tap Forget this Network.
iOS 9 Beta Status Bar Problems
If your iOS 9 beta shows a status bar that takes too long to go away when you open an app, you can fix this with a simple reset of settings. Watch the video below to see this iOS 9 beta status bar problem in action.
https://www.youtube.com/watch?v=i2IVumQ-WFs
According to the user who uploaded this video you need to go to Settings -> General -> Reset -> Reset All Settings to fix this problem.
Constant Sign in to iTunes Store Pop Ups
One problem we ran into on the iPhone 6 Plus with the iOS 9 beta installed is a constant request to sign in to the iTunes Store.If you continue to see a pop up and cannot download apps on the iOS 9 beta, you may need to use this fix shared on Reddit.
Go to Settings -> Touch ID & Passcode -> iTunes & App Store -> Off. If it happens again, turn it back on. Keep toggling as you need to make this work.
Time is Wrong on iOS 9 Beta
Although this is a minor issue compared top other iOS 9 beta problems, some users report that the time is messed up and does not reflect the current time in their location.
If this happens to your iPhone or iPad you should go to Settings -> General -> Date & Time -> Set Automatically -> Off.
This should fix the problem for now, and Apple will likely solve this in the next beta.
iOS 9 Beta Install Error 56
While trying to install the iOS 9 beta you may end up with an Error 56 Unable to Install message. The blue_vortex reports, "yikes, my iOS 9 install froze at the loading apple for hours… I rebooted it and now its in recovery mode… can't even recover to iOS 8… gives error 56 unable to update…"
You can try another computer or a new iPhone cable, but you will likely need to find the iOS 9 beta 3 developer download for your device and follow these instructions to force iTunes to install the iOS 9 beta. You may need to register your iPhone UDID with a service like IMZDL for this to work.
iPhone Does Not See Public iOS 9 Update
If you are signed up for the iOS 9 public beta, but your iPhone or iPad does not see the update you may need to re-install the profile. Apple uses a profile to allow your iPhone to download the iOS 9 beta. Sometimes the installation fails.
To repeat this process go to beta.apple.com/profile and tap on Download Profile. Once downloaded, choose Install. Restart your iPhone and then go to Settings -> General -> Software Update and you should see the iOS 9 public beta download.
Downgrade iOS 9 to iOS 8.4
If you experience other iOS 9 beta problems you can downgrade from the iOS 9 beta to iOS 8.4. This process is easy and you can restore a backup you made before upgrading, but not a iOS 9 backup.
Use these instructions to downgrade from the iOS 9 beta to iOS 8.4 in less than 30 minutes without looking for an iOS 8.4 download.
iOS 9 vs iOS 8: What's New in iOS 9
iOS 9 vs iOS 8 Walkthrough - Home Screen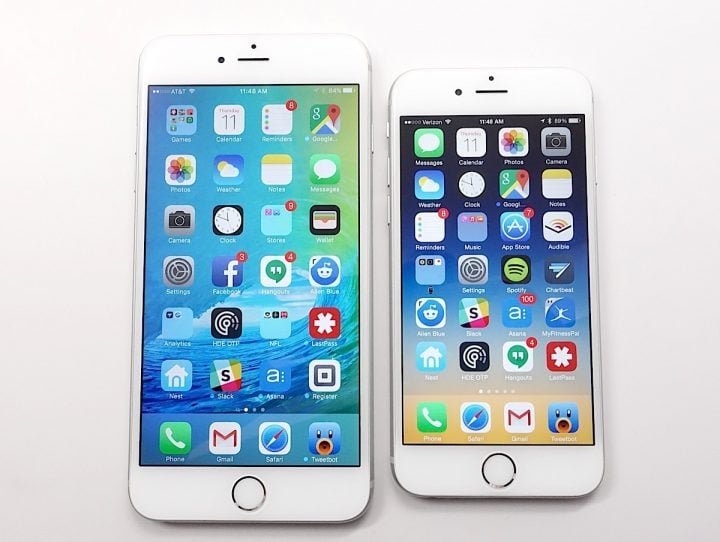 The image above shows that the iOS 9 home screen looks very much like the one on iOS 8. This is not surprising, but you will notice one major change to this screen.
The new iOS 9 font on the home page carries over through settings and apps. It's surprising how much the look of the system can change with a small tweak to a new font.
From the home screen you can now swipe left to a new search screen, and you can still swipe down to Spotlight from any of the home screen pages.
When you upgrade you will also see options to add iCloud Drive to your home screen.
Apple adds two new default iOS 9 apps that you cannot delete. Find iPhone and Find Friends apps now come with the iPhone by default. You can hide them in a folder, but you cannot delete the apps. The Find My iPhone app is a very good addition, while Find My Friends is still not as widely used.

As an Amazon Associate I earn from qualifying purchases.