The iPhone 6s delivers the best smartphone experience for general users with better cameras, ease of use, feature-packed software and many other improvements across the board.
Apple's iPhone 6s may not include the highest resolution screen and we still aren't satisfied with the iPhone 6s battery life. But with a new 3D Touch feature that allows us to use common apps and features faster and the insanely fast Touch ID sensor, there is a lot to love.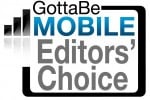 Externally the iPhone 6s looks almost identical to the iPhone 6, but with smart new features, a more rugged design and improvements to key areas. As a result, the iPhone 6s earns a Gotta Be Mobile Editor's Choice Award.
The iPhone 6s is available on AT&T, T-Mobile, Sprint, Verizon Wireless and other carriers. Shoppers can buy the iPhone 6s for $199 on contract or for $0 down with a monthly payment of roughly $21 on most carriers. Apple also sells the iPhone Upgrade Plan that includes AppleCare+ and the ability to upgrade to a new iPhone in a year for $32 a month and up.
What We Like About the iPhone 6s
Here are the things we like about the iPhone 6s, after upgrading from the iPhone 6.
Faster Performance & Touch ID
Better Cameras on Front and Back
3D Touch: Speeds Up Access to Common Tasks
Tougher, Slightly Easier to Grip Metal
What We Don't Like About the iPhone 6s
Here are some areas the iPhone 6s falls short, including a common complaint from our time with the iPhone 6.
iPhone 6s Battery Life is too short for Power Users
16GB of Storage Isn't Enough
iPhone 6s Review: The Bottom Line
Apple boasts that, "The only thing that's changed is Everything" in the iPhone 6s ads on TV. This is a bold claim for an iPhone "S" model that looks the same other than a new Rose Gold color option, but it is a fitting way to describe the upgrades that Apple includes with the iPhone 6s.
Even though many users will not need all the processing power packed into the new processor, it enables new Live Photos and 4K recording. The new cameras on the front and back of the iPhone 6s place the iPhone at the top of the class. It is easy to take good photos with the iPhone 6s, and that's not something that we can say about every Android phone on the market.
Users who already own the iPhone 6 may not find enough reasons to upgrade to the new iPhone 6s, but for owners of the iPhone 5s or older this is an upgrade that delivers two year's worth of important changes to users.
iPhone 6s Display & 3D Touch
Apple hasn't upgraded the iPhone 6s display to a 1080P resolution like your HDTV or to a 4K resolution like the new videos that it can record, but that's not an issue. The iPhone 6s screen is 4.7-inches and it looks stunning in the light and in the dark. Display specs don't matter when you can deliver a quality screen for users to look at.
This year, instead of pushing boundaries with size or resolution, Apple adds a new way to control the iPhone 6s display. The new screen includes 3D Touch that can tell the difference between a tap, a press and a deeper press.
One feature this unlocks is the ability to push an on animated lock screen to see motion, but the real reason this feature excites us is that it makes common iPhone tasks easier.
We constantly use 3D Touch Quick Actions which turn a push on the iPhone 6s home screen into a small pop up to jump to an activity within an app. The most common quick actions we use are;
Go Directly to a Camera Mode
View Photos from a Year Ago
Recent Messages
Call Favorite Contacts
Add Event
Tweet Last Photo with Tweetbot
Share Photo to Facebook
The 3D Touch feature also works inside apps to let users "Peek" at something by pushing on it. Instead of tapping on a location or a time that someone texts you, you can press on it to preview your calendar or a map of the place. Push in harder to "Pop" into that app. This is a handy way to check out items before you switch apps.
3D Touch isn't something everyone will use, but if you like shortcuts that save time on common tasks, this is a great new iPhone 6s feature. App support is growing, thought not all the best iPhone apps support 3D Touch yet.
iPhone 6s Design & Durability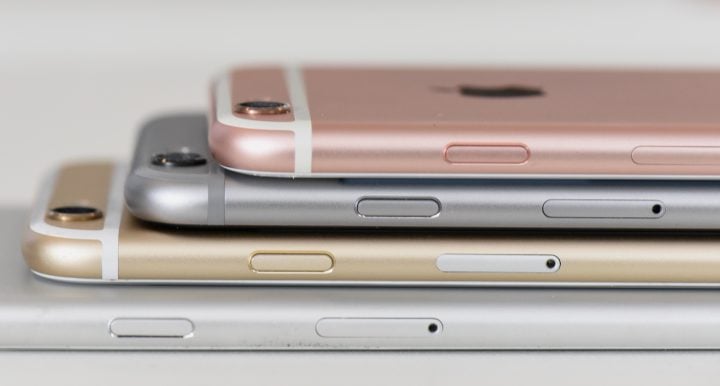 The iPhone 6s design is slightly thicker, but you will only notice if you are holding both in your hands. If you are doing that you'll also notice that the iPhone 6s is also a little heavier than the iPhone 6.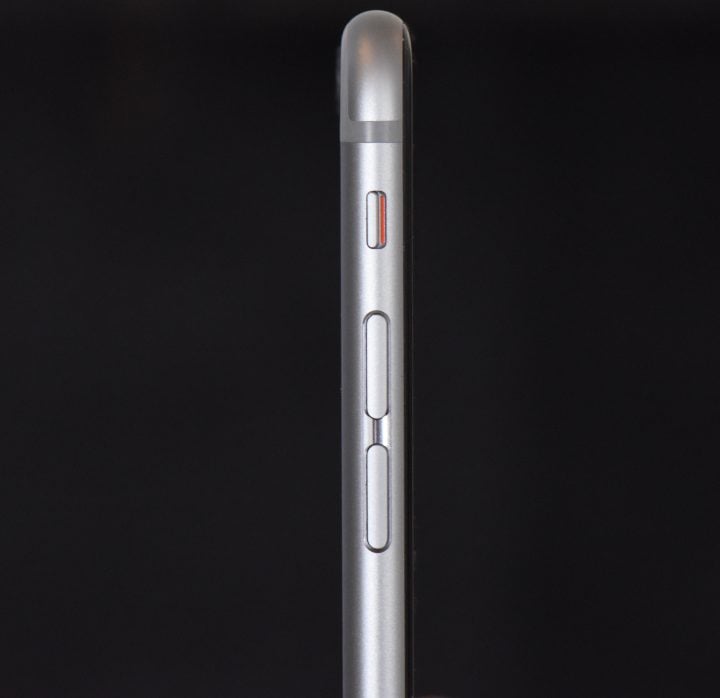 Apple switches to a new 7000 series aluminum that is stronger than the iPhone 6, that arrived to complaints of easy bending last year. This new aluminum is also easier to hold, but not grippy enough to convince us to use the device without a great iPhone 6s case.
The new Rose Gold iPhone 6s color is more pink than gold, but it is still an attractive color option that joins Silver, Gold and Space Gray.
Although Apple doesn't advertise this feature, a new seal helps protect the iPhone 6s around and even in water. You'll still need a waterproof iPhone 6s case to go swimming with the iPhone, but the likelihood that the iPhone 6s will survive an accidental drop into water is much higher than on older models.
iPhone 6s Cameras
The new iPhone 6s cameras are great, and even if you don't enjoy the Live Photos or plan to record in 4K, there are improvements worth getting excited about.
Apple includes a new 12 MP camera on the back and a 5MP camera on the front of the iPhone 6s. The iPhone 6s Plus includes the same cameras and adds optical image stabilization. You can see just what the iPhone 6s camera is capable of in a gallery of photos taken at an NFL game by a professional photographer using the iPhone 6s Plus.
The rear camera on the iPhone 6s takes photos fast and delivers consistently great results. When you need the flash it mixes the LEDs to deliver a flash that fits the environment.
One of the big new features is Live Photos. With Live Photos the iPhone 6s camera captures frames and sound for 1.5 seconds before and after you press the shutter. You still get a full resolution 12MP snapshot that you can edit, print and share — but you also get a moving photo that is almost like a GIF, but it is a small video with sound.
One downside to Live Photos is that when you finish taking the photo you need to stay still for another second or you'll end up ruining the effect. Apple's iOS 9.1 update helps with this issue, but it isn't perfect.
Unlike a Burst Photo, you cannot choose a new frame if you like one of them better than the image you captured when you pressed the shutter.
There is an app that converts a Live Photo to a Gif, but without this there is currently no easy way to share the moving photo with someone who is not also using an iPhone 6s or iPhone 6s Plus. iOS 9.1 will make Live Photos easier to share.
The iPhone 6s can also record 4K videos. These take up a lot of room, so you need to make the switch between 4K and 1080P in the iPhone settings instead of right as you shoot a video. The 4K video quality is good, but it would be nice to switch between these options in the camera app.
Apple finally upgrades the iPhone 6s front-facing camera from a 1.2MP sensor to a 5MP sensor and adds a smart new flash. The improved sensor means you can take better looking selfies and now you can use the screen as a flash to add light to your selfies. Similar to the way the Retina Flash on the back of the iPhone 6s flashes at the right tone to complement your current environment. The end result is better looking selfies in all kinds of light. Live Photos also work on the front facing camera.
Check out the iPhone 6s photos samples below to see what the new iPhone 6s camera is capable of.
iPhone 6s Battery Life
The iPhone 6s battery life is still a major issue for power users. Apple did not add a larger battery in the iPhone 6s, from the iPhone 6, and even with software improvements power users will need to find a place to charge the iPhone 6s before the end of a busy day.
On an average work day I spend an hour to an hour and a half on FaceTime Audio or phone calls, which is one of the biggest battery drains on my iPhone. Alien Blue, Facebook and Tweetbot are the apps that also knock out my battery the fastest.
On a typical work day, my iPhone 6s is at 40-50% by 4PM after coming off the charger at 7:30AM. On some days this is enough to get me through until 10PM, but not every day.
The new Low Power Mode does stretch the last 20% of the iPhone 6s battery farther by turning off un-needed features with the flip of a switch. Even with this option, power users should consider the iPhone 6s Plus that offers a bigger battery or look into a backup battery or iPhone 6s battery case.
iPhone 6s Performance
The iPhone 6s packs a faster new Apple A9 processor, more RAM and new connectivity tech that delivers a very fast experience.
Everyday tasks like switching between apps are quick and the iPhone is more likely to have the secondary app ready to go in the same place you left it, which was an issue with the iPhone 6.
There is a new Touch ID sensor that is incredibly fast. Many times the after pressing the home button to just turn the screen on the iPhone is unlocked and ready to go.
With the new processor Apple is able to keep Siri always listening, even when you aren't connected to power. This makes it possible to say Hey Siri, and ask a question anytime the phone is nearby, without touching it.
iPhone 6s Software
The iPhone 6s runs iOS 9, which adds handy features like WiFi Calling on AT&T, better Apple Pay access and support for Discover cards, an upgraded Notes app, Apple Maps improvements including transit options and much more. The slides below walk through the new features in iOS 9. Apple is working on iOS 9.1, which will add additional features to the iPhone 6s and other Apple devices.
iOS 9 vs iOS 8: What's New in iOS 9
iOS 9 vs iOS 8 Walkthrough - Home Screen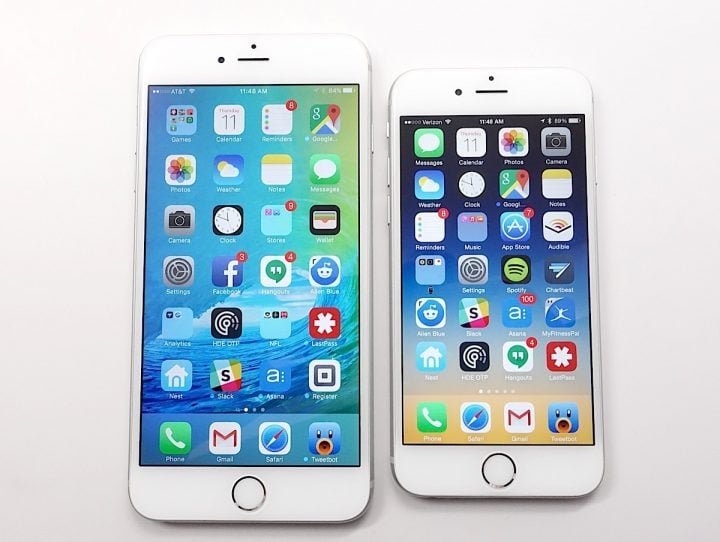 The image above shows that the iOS 9 home screen looks very much like the one on iOS 8. This is not surprising, but you will notice one major change to this screen.
The new iOS 9 font on the home page carries over through settings and apps. It's surprising how much the look of the system can change with a small tweak to a new font.
From the home screen you can now swipe left to a new search screen, and you can still swipe down to Spotlight from any of the home screen pages.
When you upgrade you will also see options to add iCloud Drive to your home screen.
Apple adds two new default iOS 9 apps that you cannot delete. Find iPhone and Find Friends apps now come with the iPhone by default. You can hide them in a folder, but you cannot delete the apps. The Find My iPhone app is a very good addition, while Find My Friends is still not as widely used.