Which Madden 18 G.O.A.T. Player Should You Choose
If you choose to buy the Madden 18 G.O.A.T. edition, you get to pick one of five G.O.A.T. players to be on your Madden Ultimate Team. We'll help you decide which of these ELITE G.O.A.T. players you should pick when you start playing Madden 18. We'll also cover how you can pick one of three additional Elite G.O.A.T. players for your Madden 18 Ultimate Team to get an even bigger head start.
Here's our take on if Madden 18 G.O.A.T. is worth buying, and what exactly you get with this edition on top of playing early. Keep in mind you can play faster if you nab this early Madden 18 release date that even beats the G.O.A.T. edition. Here's how to get Madden 18 for $12 and Madden 18 G.O.A.T. for $27.49, which will leave you with a lot of cash to spend on Madden 18 MUT Packs.
Madden 18 Elite G.O.A.T. Ratings
We know the Madden 18 G.O.A.T. player ratings, which are all 84 overall rating, but you should be able to upgrade them as you play. More on that is coming in the near future. You can check out more on the Madden 18 Elite G.O.A.T. player ratings on MUT Head at the links below;
Bonus G.O.A.T. Players available as part of the G.O.A.T. Squads Upgrade
You can click those links above to learn more about the ratings breakdown of each of the Madden 18 Elite G.O.A.T. players that you can pick from. MUT Heads shows 84 ratings, but EA says 85 and 83 ratings. Keep in mind there is a separate $19.99 G.O.A.T. pack that allows you to pick one more G.O.A.T. player. If you grind through the Madden 18 Ultimate Team solos you have a chance to open another fantasy pack to pick a second Elite G.O.A.T., but for most players you only get to pick one G.O.A.T. player. You cannot auction this player and you cannot change your mind.
For the first 20 days after the Madden 18 release date, you can win Baby G.O.A.T. players by completing solo challenges that are live for 24 hours and then using them to upgrade the G.O.A.T. player you picked from the list above. This will bump up the overall rating, or you can collect enough baby G.O.A.T. players to trade in for another G.O.A.T. player overall. You will also see baby G.O.A.T. players inside of special packs.
Which Madden 18 G.O.A.T. Player to Pick
Keep in mind that in addition to picking a G.O.A.T. player, you will be picking other players. Most players should avoid doubling up on a position across the Rookie and the Elite G.O.A.T. players. Remember that the players will level up. EA says they can be upgraded to 87 overall, but some suspect it will go higher.
We highly recommend opening up all of the other packs before you open this up, so you know what you already have and don't accidentally replace your best player in a pull.
Jake Stein, a producer on Madden 18 says it's close, but. "It's probably Deion or Barry and I probably give the slight edge to Deion."
CookieBoy17, a prominent Madden 18 YouTuber says, "If you're undecided on who to get for your GOAT Edition player for Madden 18, I suggest getting Barry Sanders. Elusive RBs this year are fun."
SportsGamersOnline recommends Barry Sanders or Ray Lewis in a recent breakdown video.
This all comes down to what your style of play is and where you want to make the biggest difference overall. We are heavily leaning towards Barry Sanders as our G.O.A.T. player pick so that we can use the Madden 18 run mechanics to trounce the competition. We love using a run play to make the difference in a tough set of downs and we can rely on the Elite player that everyone can pick to fill in a wide receiver slot, pick up an excellent defender or even a star QB.
After playing Madden 18 in EA Access and unlocking a good Corner Back in the Solos, Barry Sanders is looking even better than ever.
If you are willing to spend $19.99 on the GameStop exclusive G.O.A.T. Squads Edition, Ronnie Lott or Randy Moss are neck to neck, and ultimately would come down to who we get in the other Madden 18 MUT packs that come with the G.O.A.T. edition of the game. The odds are good we'll load up the defense with Lott, unless we luck out in pack openings.
Madden 18 vs Madden 17: 11 Exciting New Madden 18 Features
Madden 18 Graphics Upgrades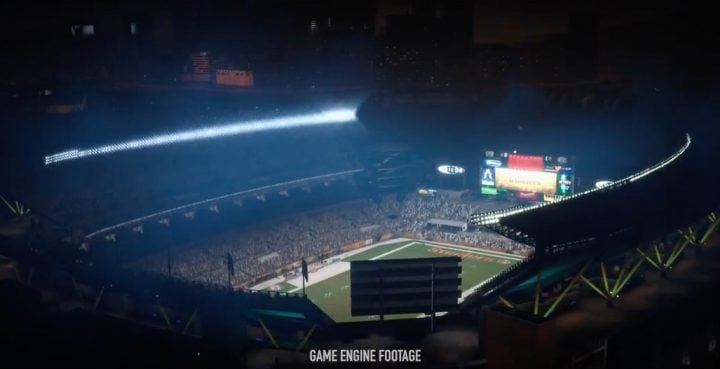 You can count on Madden 18 graphics upgrades thanks to the switch to the Frostbite engine. EA switched FIFA to Frostbite last year and this year it's time to upgrade Madden.
We get to see game engine footage in the Madden 18 teaser trailer below, but we don't see any head to head gameplay that reveal the changes you will see when you play.
The Madden 18 graphics upgrades we know about include better-looking stadiums inside and out. With Frostbite we will see city skylines and stadium exteriors. EA promises that you can, "watch the spectacle of NFL game day come to life in our most photorealistic game to date." Frostbite can deliver better-looking player faces as well. This is one of the places where FIFA upgrades were most noticeable.
EA promises more to come, but specifically, calls out the fireworks that you see in the video above, player runouts and "stunning" weather elements. Frostbite delivers impressive weather in Battlefield 1, and we hope that this means we will see more realistic weather elements in Madden 18.