6 My NBA 2K18 Tips, Tricks
You can be sure of a few things when there's a new NBA 2K launch, and a refreshed companion app is one of them. My NBA 2K18 is now available for iPhone and Android users that want to scan their face or play around with their digital deck of cards before NBA 2K18 Early Tip-Off Weekend begins and the official NBA 2K18 release date on September 19th.
My NBA 2K18 keeps you glued to NBA 2K18 when you aren't near your Xbox One, PS4 or Nintendo Switch. Available as a free download, it connects directly to the account that you use for your MyCareer player, MyGM manager or your custom franchise. The app also provides another way for you to earn Virtual Currency, which you can spend in the game on new gear.
It's because of all that integration that you need to master MY NBA 2K18 before you can truly get the most out of NBA 2K18 on your console. Here are some My NBA 2K18 tips and tricks to get you started with the mobile game and companion experience.
Read: NBA 2K18 Release Date, Features & Details
My NBA 2K18 Tips for Face Scanning
Chances are you've downloaded My NBA 2K18 to your iPhone or Android smartphone because you want to scan your face for MyCareer on your console. If you don't have someone helping you, you can scan your own face using your smartphone's built-in front-facing camera.
For the best scan, have a friend hold your camera. Most smartphones have a better rear-facing camera than they do front-facing camera. Face scanning for NBA 2K18 works best with high-quality photos.
Read: NBA 2K18 MyCareer: What's New
Second, be sure to remove your glasses or anything else that might ruin your scan. Shave any facial hair you don't want the scan picking up as well. Also, take off your jacket, sweater or coat.
Put the Right Player in the Right Position for a Performance Bonus
If you're really looking to get every advantage you can in Head 2 Head mode, Quick Game and playoff matches, remember to monitor each My NBA 2K18 card's position in your lineup carefully. Choosing the right position for each player boosts their stats. In Playoff matches, cards in the right position also last longer before needing energy.
Read: NBA 2K18 Features: 7 Reasons to Upgrade

How to Get Free My NBA 2K18 Cards
Sign in to the My NBA 2K18 app on your phone every day to unlock the Login Rewards Packs that 2K Games give fans for free. Each day you log in you get closer to unlocking another pack of cards. Signing in for four days straight unlocks Rare Packs, for example. Logging in for 20 days straight gets you an Elite Pack. My NBA 2K18 Elite Packs include very hard to find players with impressive stats. The game resets daily card progress each month. If you miss a day, you can buy it back from the game and still meet your next goal to unlock new packs.
You also collect free Virtual Currency for the Xbox One and PS4 versions of the game every time you log in. VC is the in-game currency that unlocks clothes, shoes and other items in MyCareer.
Trade Cards to Improve Your Game
As you begin to fill your deck with players, be sure to use My NBA 2K18's training options to boost their performance. To do this, tap or click on Cards at the bottom of your screen and select MyCards. Next, tap on the card you'd like to improve and select Train. Pick the weaker cards you don't want and use those to Train the card you would like to keep.
Training will help you get your card to its maximum level. The higher its level, the more likely that it will be successful against other players.
Check the Chatroom for Help
If you're looking for someone to play against or tips, check the My NBA 2K18 Chat Room. Just tap the Profile button at the top-left corner of your screen. Next, tap Chat Room. Here, everyone that has the game installed on their phone can send and receive messages.
Read: NBA 2K18 Classic Teams: All the New & Return Squads
Earn Virtual Currency Using Quick Games
The easiest way to earn Virtual Currency is through Quick Games. In a Quick Game, you pick your favorite team and battle with another player's card collection. The more you win, the more Virtual Currency you stack. Once you've connected the mobile game to a PlayStation Network or Xbox Live account, you can earn up to 500 in Virtual Currency each day by playing Quick Games.
NBA 2K18 Features: 8 Reasons to Upgrade
More Realistic Player Movement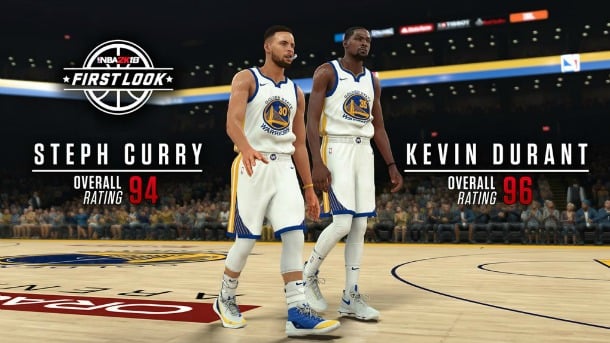 Speaking to Game Informer, NBA 2K18 gameplay director Mike Wang says that players can expect this year's title to have a lot less animation in it.
"We've been accused of being animation heavy at times, and this year we've done a good job of making the game feel like you are in complete control," Wang told the outlet in August.
The new physics system takes height, weight, acceleration and speed of each player into account before it renders any animation. That way, players react the way that you expect them to. It also means that transitioning for a layup or dunk is less jarring.
The NBA 2k18 images here are from GameInformer, to which 2K games shared new NBA 2K18 details.