12 Amazing Nintendo Switch Features You'll Love
Video game consoles are fast morphing into something that classic gamers would hardly recognize. What was once a pretty straight-forward combination of a living room console, controller and games for people to purchase has become something more. Leading the charge is Nintendo with the newly released Nintendo Switch. There are so many compelling Nintendo Switch features that you'll want to run out and by the console as soon as possible.
The Nintendo Switch is a hybrid device. It behaves just like any other device connected to your television does. You're able to play the latest games from Nintendo and a refreshed line-up from its partners. We're talking games like NBA 2K18, Skyrim and Skylanders Imaginators.
It's when you want to do something away from home that the Nintendo Switch features everyone is excited for come into play. Say that you're going on a trip and want to be able to continue your The Legend of Zelda: Breath of the Wild exactly where you left off. Microsoft's Xbox Play Anywhere initiative would require you to have a powerful gaming PC where you are going. Sony Remote Play would force you to have a speedy internet connection and a controller to communicate with your console back home.
Read: Nintendo Switch Pre-Orders Breakdown: What You Need to Know
Nintendo Switch lets you remove it from its home base. Not only can you continue your game once you reach your destination, you can play in the cab on the way to the airport and at the airport too. You don't need a good internet connection, and you don't need special hardware. Mario Kart 8 Deluxe and Splatoon 2 will allow you to play directly with the other Nintendo Switch owners around you.
The Nintendo Switch arrived on store shelves on March 3rd. Since then, it has been all the gaming world can talk about. When folks aren't discussing the console's games, they're getting excited about the new online service that'll link them to other players the world over. Here are the Nintendo Switch features that make the console so attractive to long-time Nintendo fans and casual gamers.
Nintendo Switch Features You'll Love
Play Games on the Nintendo Switch in the Living Room
Gaming on the Go with Nintendo Switch
The Nintendo Switch Kickstand
The Nintendo Switch Joy-Cons & Joy-Con Grip
Nintendo Switch Mobile Multiplayer
The Nintendo Switch Pro Controller
Easy Sharing with Game Cards
Nintendo Switch Online Services
Screenshot Sharing
Joy-Con Gestures
No Region Lock on Games
USB Type-C & MicroSD
Play Games on the Nintendo Switch in the Living Room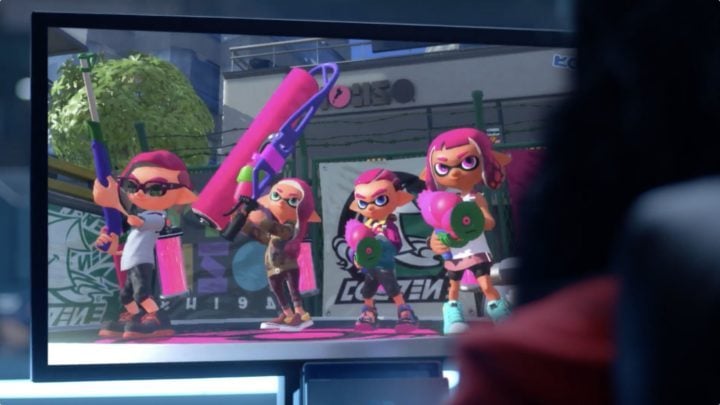 When docked, the Nintendo Switch allows anyone to play their video games on a high-definition television. In that way, the device is every bit the replacement for the Nintendo Wii U that we were expecting. Nintendo even describes it as a home entertainment console in its marketing materials.
At first glance, the Nintendo Switch almost looks like a tablet with controller surfaces at the end – sort of like the current Wii U GamePad. Things can change quickly, though.
Nintendo calls the attachments at each end of the device Joy Cons, short for Joy Controller. Each Joy Con has four sets of face buttons, a bumper and a joystick. Gamers can leave the Joy Cons attached to their Nintendo Switch or detach them later on.
In this mode, you can remove the Joy-Con Controllers from the sides of the console and dock them with the Nintendo Switch Joy-Con Grip. You can also pick up the Nintendo Switch Pro Controller for this mode and leave your Joy-Cons in place.

As an Amazon Associate I earn from qualifying purchases.