Public iOS 9 Beta Release Date Inches Closer
The public iOS 9 beta release date draws closer today as Apple shares new support information designed to help users navigate the upcoming public iOS 9 beta for iPhone and iPad.
Late Wednesday Apple delivered the iOS 9 beta 3 for developers with several new iOS 9 features and options, but there was no public iOS 9 beta with this release. This is likely a good thing as small iOS 9 beta problems exist with this developer version that may frustrate regular users.
As part of the iOS 9 beta release Apple added new support documents for iOS 9 and OS X El Capitan. In one document about new features the company specifically mentions that this is for the public betas of OS X El Capitan and iOS 9.
The new Apple Support document for Two-factor authentication in iOS 9 and OS X El Capitan outlines how to use this new feature that makes signing in to secure accounts easier than on iOS 8.4 and older versions of iOS and OS X. The support document specifically mentions, "This FAQ is for the public betas of iOS 9 and OS X El Capitan."
Read: What's New in iOS 9
This document outlines how this new feature will work and how it is different from iOS 8 and OS X Yosemite. Apple claims this will offer a, "more streamlined user experience."
Features are interesting, but the timing of this document suggests the public iOS 9 beta release is days away, not weeks.
Apple announced the public iOS 9 beta at WWDC 2015 in early June when the company showed off a collection of exciting new features on stage. Executives promised a public iOS 9 beta release date in July, but so far there is no specific timeline.
With the arrival of the iOS 9 beta 3 for developers and this support document it looks like the public iOS 9 beta release date could come within the week. Apple does not traditionally release updates on Fridays or weekends, so if there is no public version today early next week is a very good bet.
Anyone can sign up to test the public iOS 9 beta without paying to register a device or being a developer. When you sign up you agree not to talk about features Apple did not already announce or show on the iOS 9 page.
You can take several steps right now to get ready for the public iOS 9 beta. Apple does allow users to downgrade from the iOS 9 beta to the iOS 8.4 release, and will support a downgrade path up until the public iOS 9 release date this fall.
The slides below walk through many of the new iOS 9 features. Most of these are present in the iOS 9 beta for developers and will likely appear in the public iOS 9 beta as well, but others may not appear until later this year.
iOS 9 vs iOS 8: What's New in iOS 9
iOS 9 vs iOS 8 Walkthrough - Home Screen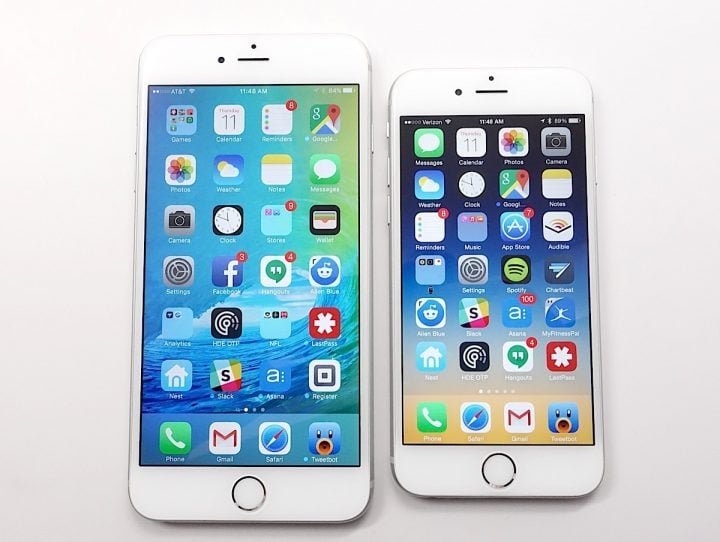 The image above shows that the iOS 9 home screen looks very much like the one on iOS 8. This is not surprising, but you will notice one major change to this screen.
The new iOS 9 font on the home page carries over through settings and apps. It's surprising how much the look of the system can change with a small tweak to a new font.
From the home screen you can now swipe left to a new search screen, and you can still swipe down to Spotlight from any of the home screen pages.
When you upgrade you will also see options to add iCloud Drive to your home screen.
Apple adds two new default iOS 9 apps that you cannot delete. Find iPhone and Find Friends apps now come with the iPhone by default. You can hide them in a folder, but you cannot delete the apps. The Find My iPhone app is a very good addition, while Find My Friends is still not as widely used.

As an Amazon Associate I earn from qualifying purchases.