Amazon Fire TV 4K & New Amazon Echo Speakers Upgrade Your Home
Amazon just announced a new Fire TV with 4k support, three new Amazon Echo speakers, a box that lets your Echo call landlines, Echo Buttons and Alexa Integration for BMW.
While Apple and Google are trying to carve out a place in your home and the new Apple TV 4K is just going on sale there is a new series of Amazon hardware that is set to dominate this fall and during the holiday season.
Here's what you need to know about the new Amazon Fire TV 4K, new 2017 Echo speakers and other new Amazon hardware.
2017 Amazon Echo
The new Amazon Echo delivers better sound thanks to Dolby Audio, it's smaller, it looks better and it's only $99. Amazon thinks this will compete with the Sonos Play:1 and be a better solution for many users than the Apple HomePod, which can't play Spotify by voice commands.
Amazon designed the new Echo with metal and cloth, and you can change out the shell to deliver a different look that fits your house better. Amazon previously announced multi-room audio support for Amazon Echo, and you will be able to place these throughout your home to get a whole home audio system for $99 a room.
FireTV with 4K & HDR
You can pay $149 for the Apple TV 4K or you can pay $69.99 for the Amazon Fire TV 4K with HDR support. This small device plugs into the HDMI port on the back of your TV and streams 4K content with HDR support. It also includes Dolby Atmos support for enhanced sound. This device includes the Alexa smart remote that you can control with voice. Amazon just dropped the price of 4K movies sold through the Amazon Video store.
Amazon Echo Plus
The Amazon Echo Plus is your gateway to Alexa, but it's also your smarthome hub. Similar to how Apple uses the Apple TV to control your smarthome, Amazon is using the Echo Plus. This looks similar to the original Echo and it works with over 100 smart home systems right out of the box.
If you can control it with Alexa, this is your home's best friend. You won't need a hub like SmartThings or an Apple TV. This device can search for smart home devices and connect to them without the need for users to add skills and configure things in an app. The Echo Plus works locally and includes cloud support. You get the Echo Plus and one Hue smart bulb for $149.
Amazon Echo Spot
The Amazon Echo Spot is a small, round version of the Echo Show with a 2.5-inch display that shows you information at a glance. It's like a small smart alarm clock or kitchen hub that shows you weather or the time, but that's not all. It also supports video calling, like the Amazon Show, and you can use it to access Alexa. The new smart clock is coming in December for $129.
Echo Buttons
Amazon is also hoping to further connect you to Alexa with Echo Buttons. These are small $19.99 buttons that you can use to trigger Alexa or to connect with the Echo. You can set them up to do different things when you push them. Amazon offered up one use case, of playing Trivial Pursuit on an Echo, but it's unlikely many families will spend $80 just to play a game with Echo.
Echo Connect
Do you miss your landline? Amazon Echo devices can now call landlines if you buy the $35 Echo Connect and set it up at your house. You can already make calls with Echo devices to other Echo devices, but this will let you call any number. The $35 device goes is available for pre-order today.
Alexa in Your BMW
We saw Ford add Alexa earlier this year, and BMW is jumping on board now. Starting with BMW cars in 2018 you will be able to summon Alexa in your car to control a variety of options and you can expect to see that Echo Plus smart home integration come in very handy while driving home. No specific models or trim levels were mentioned.
19 Cool Things Your Echo and Alexa Can Do
Stream Music From Spotify, Apple Music Amazon Music, Pandora & More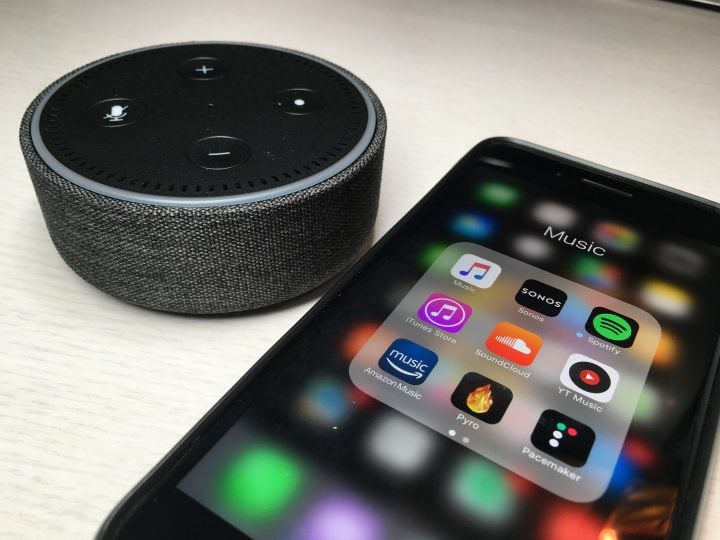 Alexa can stream music from Spotify to the Echo, Echo Dot or a paired Bluetooth speaker. You can also stream Amazon Music, Apple Music, TIDAL, Pandora, iHeartRadio or TuneIn radio to the Echo using your voice.
Open the Alexa app and tap on the menu in the upper left. Tap on Settings and then on Music & Media. Tap on the account you want to use and then link to your account by logging into the account. You need to have Spotify Premium installed for this service to work with Spotify.
You can log into all the accounts you have and when you ask Alexa to play you can say "on Spotify" or on a different service to choose where to listen. On the bottom of this page, tap on Choose default music services to pick the service Alexa should use if you don't specify.