9 Things to Do Before the NBA 2K20 Release Date
If you're thinking about picking up a copy of NBA 2K20 ahead of its release in September, there are some things you'll want to do before the big day arrives.
It took awhile, but 2K Games and Visual Concepts have confirmed the latest entry in the long-running 2K series. Dubbed NBA 2K20, the next installment is set to arrive for Xbox One, PS4, Windows PC, and Nintendo Switch on September 6th. The game will also launch on Google Stadia when it arrives in November.
The highly anticipated game is currently on sale at retailers like Amazon, Best Buy, GameStop, NewEgg, and Walmart and those interested in pre-ordering can choose from three editions including a standard edition, Digital Deluxe Edition, and a Legend Edition that features the recently retired Dwyane Wade on the cover.
The NBA 2K20 release date is still a few weeks away, but there are some things prospective buyers should do before the game arrives on shelves.
In this guide we'll take you through a few things that will help those on the fence and those who've already put in a NBA 2K20 pre-order.
Decide If You Want to Pre-Order
While you might be tempted to pre-order a copy of NBA 2K20, there are some great reasons to put your wallet away and wait.
We've put together a guide that will take you through the best reasons to pre-order a copy and the best reasons to hold out for a few more weeks.
Dig into these reasons and decide if the game is worth the investment. Remember, most retailers allow you to cancel a pre-order, free-of-charge, ahead of the release date.
Buy the Correct NBA 2K20 Edition
If you do decide to buy NBA 2K20 make sure you purchase the correct edition for your budget and interest level.
Again, there are three versions of the game and each comes with a different set of bonuses. The standard edition is the cheapest option, but it comes with the least amount of content.
The Digital Deluxe Edition and Legend Edition come with more bonuses, but they're also more expensive than the standard $60 copy. Before you commit to one of these, you'll want to weigh your options.
We've put together a guide that will take you through the pros and cons of each NBA 2K20 edition and help you pick the right one for your situation.
Keep Tabs on Your Order
As we push toward the game's release in September, make sure you keep an eye on your order. This will help you avoid potential headaches.
Make sure your delivery information is up-to-date. If you recently moved, you might have forgotten to change your shipping address.
You'll also want to make sure all of your payment information is correct so that you don't hit any snags when your retailer charges you for the game in early September.
Buy an External Hard Drive If You Need One
NBA 2K20 won't be as big as Red Dead Redemption 2 or Cyberpunk 2077, but it will likely require a nice chunk of space on your internal storage. If you're running out of space and don't want to delete files, think about investing in an external hard drive.
If your console or PC already has a huge internal hard drive, you should be good to go. However, if you'll be playing the game on an older console with limited amount of space, you might need some additional space. Fortunately, there are a bunch of affordable hard drives out there.
The Samsung T5 Portable SSD is one of our favorites, but it's a little pricey. If you don't want to spend that much, we recommend going with the WD My Passport 4TB.
Keep an Eye Out for NBA 2K20 Deals
If you don't want to pay full price for a copy of the game, keep an eye out for NBA 2K20 deals as we press on toward the game's release date.
If you are part of Best Buy's My Best Buy Program (it's free to join), you'll get $10 in rewards certificates when you pre-order any version of the game.
Retailers sometimes knock $5-10 off the price of games pre-launch in order to stay competitive so make sure you look around before paying full price. Monitor sites like Slickdeals if you need to. You'll also want to monitor the price at retailers like Amazon, Best Buy, GameStop, NewEgg, and Walmart.
If you can wait beyond the release date we should see better NBA 2K20 deals popup in late 2019 during Black Friday and the holiday shopping season.
Follow NBA2K on Twitter
We still don't know a whole lot about the game itself, but we expect 2K Games to outline those details over the course of the next few weeks.
If you're interested in the game, make sure you follow the NBA 2K Twitter account for the latest info about the game, contests, and more.
Think About Buying a PS4 Pro or Xbox One X
If you're still holding onto an original Xbox One or PlayStation 4, and you own a 4K television, think about buying an Xbox One X or PS4 Pro.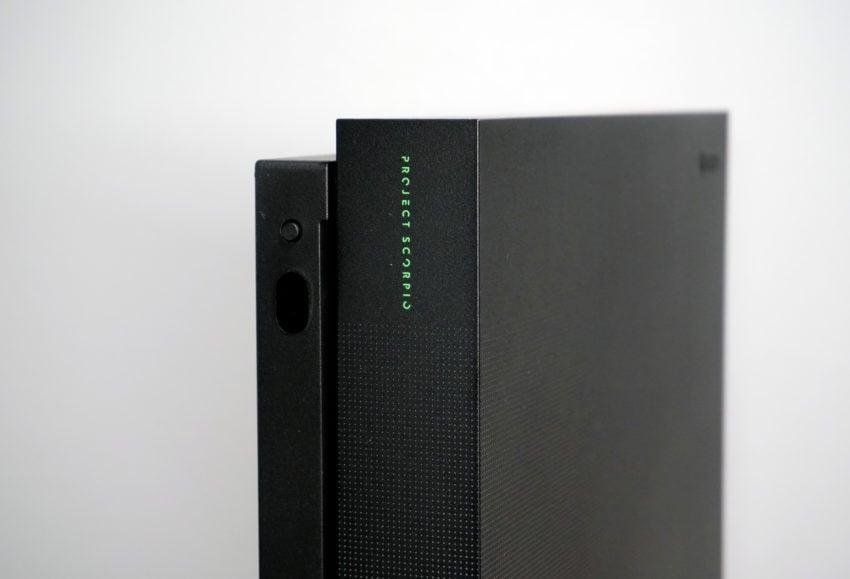 If you want the smoothest and best looking version of NBA 2K20, you'll need a 4K TV with a current-gen console. If you aren't familiar with them, we've put together guides to buying the Xbox One X and PlayStation 4 Pro.
Microsoft's Project Scarlett and Sony's PlayStation 5 are coming in 2020 and some of you might want to wait until then to upgrade.
That said, there are some great PS4 Pro and Xbox One X deals out there right now and we should see some additional deals popup during the holidays.
The PS5 and Project Scarlett might be tempting, but many of you will be just fine with a PS4 Pro or Xbox One X going forward.
Play the NBA 2K20 Demo
If you're on the fence about buying NBA 2K20 or you just want to get a head start, you'll want to play the NBA 2K20 demo when it arrives in August.
Every year 2K Games provides a short demo called The Prelude that lets people try a portion of the game before the full version arrives. This year, the company is simply calling it the NBA 2K20 Demo.
The NBA 2K20 demo arrives on August 21st at 12AM Pacific and it's a free download for all Xbox One, PS4, and Nintendo Switch owners.
The demo will allow you to play the game's MyCAREER career mode which includes a new MyPLAYER builder. Your character will then carry over to the full version of NBA 2K20, should you choose to buy it, when it launches in September.
For more on the demo, take a look at our guide.
How to Get NBA 2K20 Early
2K Games isn't offering an early release date this year, but should be able to play the game before the September 6th release date if you live in the right time zone or are willing to travel the night of September 5th.
If you pre-order a digital copy of NBA 2K20 you should be able to pre-load the game and start playing when the clock strikes Midnight Eastern on September 6th. So if you live in California, that means 9PM on September 5th.
If you pre-order a physical copy and you want to play when the game unlocks, you should be able to pickup your copy the night of September 5th.
Best Buy and GameStop typically hosts NBA 2K launch events starting at 9PM local time giving those who want to play the new game ASAP a way to do so.
Keep an eye out for those details closer to launch.
3 Reasons to Pre-Order NBA 2K20 & 5 Reasons to Wait
Pre-Order NBA 2K20 for These Bonuses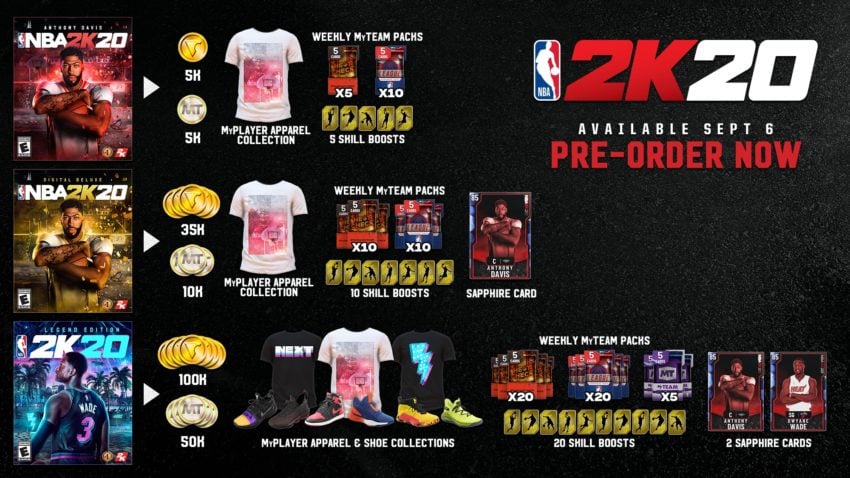 If you plan to invest quite a bit of time into some of NBA 2K20's game modes, you might want to pre-order a copy for the bonuses.
If you pre-order a copy of the standard version of the game, you'll get some nice bonuses with your copy in September.
These include:



5,000 Virtual Currency;
5,000 MyTEAM Points;
5 MyCAREER Skill Boosts;
MyPLAYER Clothing Capsule;
10 MyTEAM League packs (delivered one per week);
5 Heat Check packs (delivered one per week beginning at the start of the NBA season).
Those are all free with a pre-order and they'll give you a pretty good head start in the NBA 2K20's popular game modes.