12 Best Work Apps for Windows 10
The best work apps for Windows 10 are essential to almost everyone's workflow. Some are native versions of apps and services you use on your iPhone or Android device, like LastPass, Slack and Evernote. Windows 10 also has a great set of work apps that use its most unique features. Drawboard PDF, Office Lens, Office Mobile and OneNote all work with digital pens, a mouse and a keyboard. You can lock some of them with a Windows Hello camera and search their contents with Microsoft's Cortana personal assistant.
Read: 56 Best Windows 10 Apps in 2018
Best Work Apps for Windows 10
Despite being very solid ways to get things done, the prices of the best work apps for Windows 10 varies. Many of these apps have free trials. Others are completely free to use. Microsoft's work apps require a subscription to Microsoft's Office 365 service to do more than just edit things you've created on other devices. There are work apps on this list that have a flat fee and others that cost you each month.
Here are the best work apps for Windows 10 in no particular order. Download them and boost your productivity today.
Drawboard PDF
Whether you have a Windows 10 PC with touch and a pen or not, you need Drawboard PDF installed. It is essential if you find yourself conducting business on your PC regularly.
Drawboard PDF allows you to read and scribble on any PDF someone sends you. Use it to sign documents and add notations to anything. A built-in browser lets you manage multiple PDFs at a time and its highlighting tools can easily emphasize important details for later reading. Support for the Surface Pen, Surface Dial and other accessories makes it a great companion for any Windows 2-in-1. That's why its one of the best work apps for Windows 10 you can download.
Drawboard costs $9.99 from the Microsoft Store.
Buy Drawboard PDF from the Microsoft Store for $9.99
Microsoft Office Mobile
You don't need to install the bloated and heavy Microsoft Office 2016 suite on your PC. Switch to Office Mobile instead.
Microsoft Office Mobile includes modern versions of Word, Excel, PowerPoint and OneNote. Unlike the full-fledged programs, these apps scrap the complicated features that people don't use that often. That's why they take up so little space. They're also ready for touch and pen input. Built-in collaboration tools and syncing let you share what you've made with someone else and work together it in real-time.
Read: How to Get Free Microsoft Office in Windows 10
Most of Office Mobile requires a subscription. It's free to create and edit digital notebooks with Microsoft OneNote. Editing anything in Word, PowerPoint or Excel requires at least a $6.99 subscription to Office 365. If you only need to view an existing document, Office Mobile is free.
Office Lens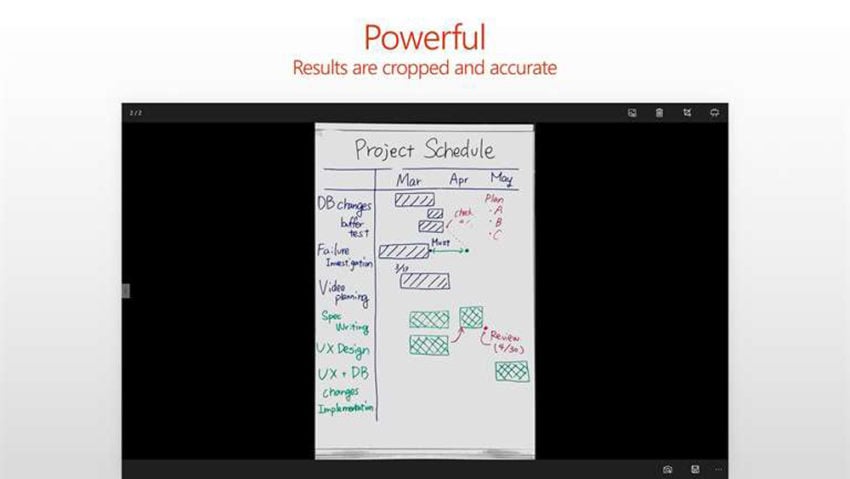 If your device has a decent camera, you can scan every document or whiteboard you come across with Office Lens. Office Lens saves scans as a PDF, presentation, Word document and an image file. Scanning with the app and sharing it with OneNote builds a database of files that you can search from your PC, phone or tablet.
Download Office Lens from the Microsoft Store
Dropbox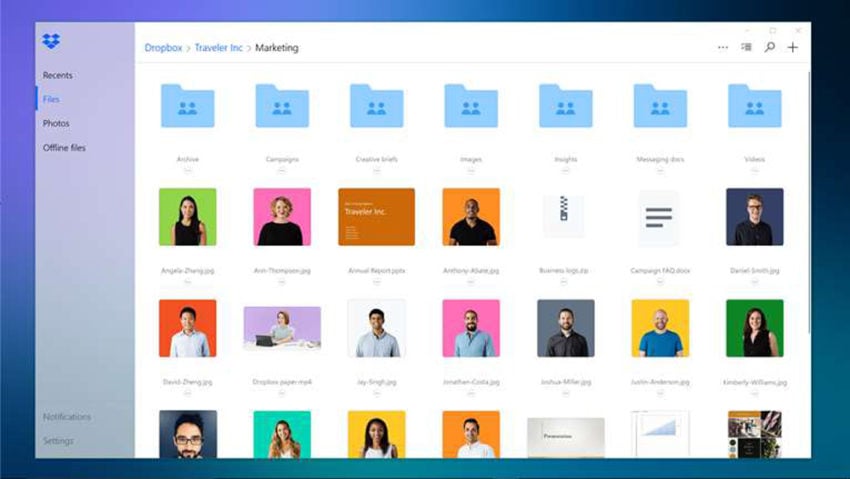 Dropbox is a very popular cloud storage service that lets you leave large and small files online. If something ever happens to your PC, you can download whatever you have stored on the service and continue working. Free users get two gigabytes of storage. A terabyte of storage on Dropbox costs $9.99 a month.
Download Dropbox Mobile from the Microsoft Store
Evernote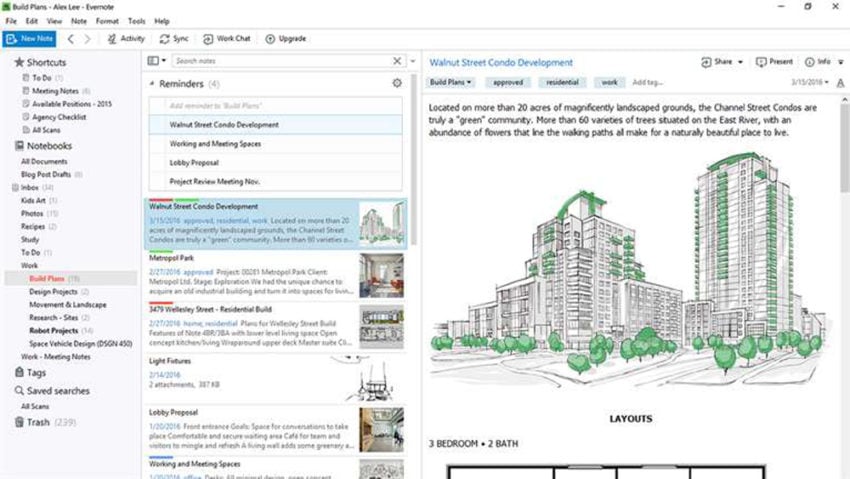 Evernote is an online digital notebook app. If you already use the app on your smartphone or tablet, it's smart to install this app on your PC.
Create an Evernote notebook and you have a convenient place to leave your most important thoughts, web clippings and images without having to write anything down on paper. The app syncs whatever is in your notebook to a cloud service for back up. Real-time collaboration lets you and someone else work on an Evernote notebook together.
Evernote is free to download and that's why it belongs in this best work apps for Windows 10 breakdown. That being said, a $39.99 subscription adds more storage for your cloud notebook and email support.
Download Evernote from the Microsoft Store
Photoshop Elements 2018
The most well-known image editing tool is now available in the Microsoft Store. Photoshop Elements 2018 includes every feature the standard app does, including different layouts depending on your skill set, layering and great tools for adjusting hue and saturation.
When you buy Photoshop Elements 2018, it's linked to your Microsoft Account. Because of that, you don't need to keep track of a product key or install an update utility that runs every time your PC starts. The app costs $99.99.
Buy Photoshop Elements 2018 from the Microsoft Store for $99.99
Microsoft To-Do
To-Do is Microsoft's replacement for Wunderlist. Like with that app, you create detailed tasks lists that sync between different devices. A special My Day breakdown lets you see all the things you need to get done next with just a glance. You set the due date, add notes or add a reminder.
Download To-Do from the Microsoft Store
Slack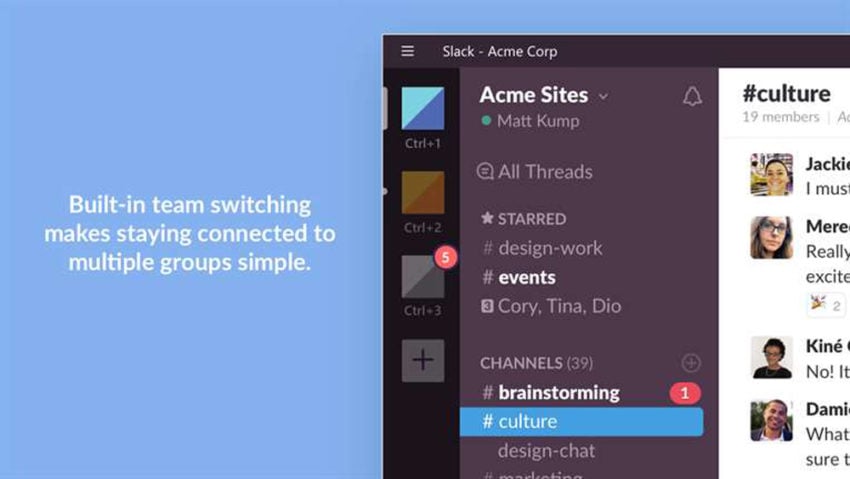 Windows 10 finally has a version of Slack that receives new updates quickly and has a Live Tile. Notifications from the app also surface in the Action Center, so you immediately know when there's an important message pending.
Slack for Windows 10 is free. If you work in an office that already uses the service, it's one of the best work apps for Windows 10 you can download today.
Download Slack from the Microsoft Store
8 Zip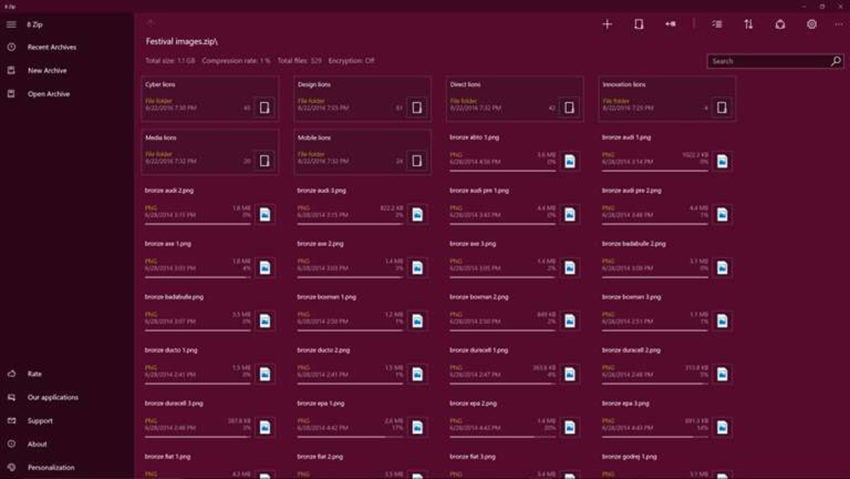 Install 8 Zip on your PC and you can work with compressed file formats Windows 10 doesn't yet understand, like 7z. 8 Zip also lets you compress files, so with it, large stashes of pictures, music, and photos take up less space on your computer than they would without compression. Use the app to encrypt important files so they're useless if you don't unlock them with Windows Hello fingerprint readers and iris scanners too.
Buy 8 Zip from the Microsoft Store for $14.99
LastPass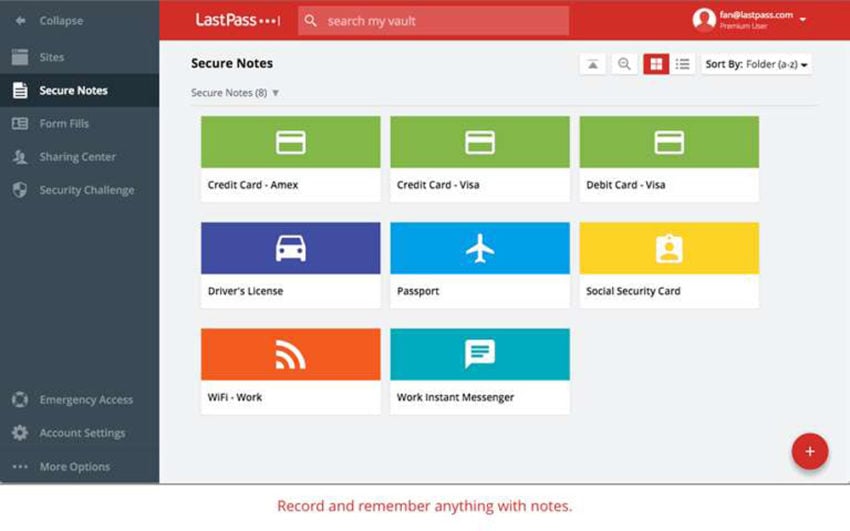 Don't keep your passwords saved in a text file or written in a notebook. Install LastPass on your Windows 10 PC.
With LastPass, you create a searchable database with all your important account information in it. This database will also sync to companion apps for iPhone and Android. Accessing this database is simple for you, just enter your master password. Encryption protects the password database you create from being used to compromise your accounts.
LastPass is free to download. That alone makes it one of the best work apps on Windows 10. A monthly $2 subscription lets you easily share passwords with other people and create an emergency contact if something should happen to you, cementing that status.
Download LastPass from the Microsoft Store
Sticky Notes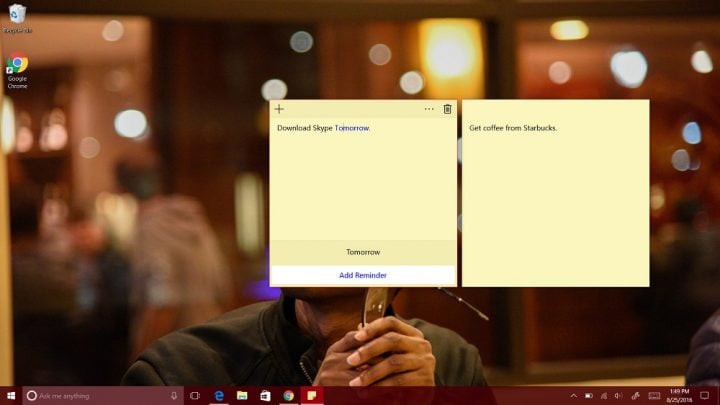 Sticky Notes is already installed on your PC. Open it and create as many digital notes as you want. The app supports digital pens and a mouse and keyboard, so it's useful no matter what set up you have. The notes stay on your screen unless you switch away from them, making them perfect for people who use more than one monitor. If you allow her to, Cortana will create links and reminders from things you write in your notes.
Read: How to Use Sticky Notes for Windows 10
Microsoft Whiteboard
For anyone that finds themselves needing to quickly iterate on great ideas, Microsoft made Whiteboard. Whiteboard is a digital canvas. You draw or paste images to the canvas and share your changes with other people in real-time. Digital tools, like a ruler and compass, make designing anything more natural than it would otherwise be on a PC.
Microsoft Whiteboard is free to download.
Download Whiteboard from the Microsoft Store
7 Best Windows 10 Hard Drives & External Storage
Seagate 2TB Barracuda Internal Hard Drive - $59.99
The Seagate 2TB Barracuda Internal Hard Drive is what you buy when you've almost filled the hard drive in your desktop PC.
It comes with 2 terabytes of storage and communicates to the rest of your PC using a SATA connection. Because it's a traditional drive and not a solid state drive, it makes a little noise as it searches for your files. The platter inside the drive spins slower than other drives, so it's not the fastest storage solution there is, but it is faster than the 5400 RPM hard drives that most low-cost desktop PCs have inside them.
You can either put this drive inside your Windows 10 PC and have it act as a second pool of storage or remove the original drive and replace it with this one. In both cases, it's a good idea to have a service like Geek Squad or Staples Easy Tech handle it if you've never added a drive before.

Buy the Seagate 2TB Barracuda Internal Hard Drive from Amazon for $59.99