Detroit Become Human Release Date, Story & Details
The Detroit Become Human release is one of 2018's most exciting game launches. This new title will have great graphics, a dynamic story and new mechanics that could change single-player games forever. That's why you need to know all about it.
Artificial intelligence has finally spawned androids that do humanity's bidding in Detroit Become Human. Humans use these androids for everything. They are Detroit's detectives, maids and its physical labor force. That's why everyone panics when they start thinking for themselves.
Quantic Dream and Sony have confirmed the Detroit Become Human release date is coming sometime in 2018. Here is everything else we know about the upcoming PlayStation exclusive.
Read: Best New PS4 Games Coming in 2018
When is the Detroit Become Human Release Date?
We don't know when the Detroit Become Human release date is. Sony hasn't narrowed down the game's launch date yet. That said, we do know its launch window. Sony has said that the game will launch in the first or second quarter of 2018, so expect the Detroit Become Human release date to arrive before July.
Detroit Become Human Pre-Orders
We don't have an official release date for the game, but pre-orders have already started. If the open-world game seems like something you would play, you can buy the game early from [easyazon_link identifier="B01GW8XTXS" locale="US" tag="gbm-ea-20″]Amazon[/easyazon_link], GameStop, Best Buy and the PlayStation Store. Buy the game from the PlayStation Store to get a custom theme for your console.
A standard Detroit Become Human pre-order costs $59.99. Sony hasn't announced enhanced editions of the game with DLC and collectibles yet.
Read: 29 PS4 Tips & Tricks
Detroit Become Human Deals
Two stores have a great way for you to save money on Detroit Become Human. That's despite not offering any specific Detroit Become Human deals.
Amazon Prime subscribers pay $47.99 when they buy a copy of the game ahead of launch. As an Amazon Prime subscription costs $99.99 a year, don't buy a membership just for the Detroit Become Human release. Do take advantage of the deal if you already Prime.
Best Buy's Gamers Club Unlocked is another excellent way to create your own Detroit Become Human deal. The game costs $47.99 with a membership. You get two years of discounts for $29.99.
Watch the Detroit Become Human Demo
A Detroit Become Human demo from 2017's PlayStation Experience highlights the game's mechanics. Instead of showing a trailer, attendees got to watch someone play the game.
The game's decision engine is a big part of that Detroit Become Human demo. In the game, the choices you make heavily impact the story. The demo shows a player deciding not to save fish from a broken tank. Even something that small can alter your game significantly. You can rewind the story if you regret a decision.
The demo also gives detailed looks at the goals screen Quantic Dreams is calling the Mind Palace and how one of the game's main character's analyzes evidence. The more clues you find, the easier a story mission is, according to the developer.
Detroit Become Human has three main characters. Connor investigates rogue androids in the Detroit Become Human demo. Kara, another main character, has just discovered her own free will. Markus is the final main character and the most dangerous. He wants to free all androids. Whether all or just one of these character's lives to the end of the game depends on you and your actions.
A trailer at the end of the Detroit Become Human demo showcases how big an impact the rewind feature can have on the story. In the trailer, Kara chooses not to intervene and save a child from her abusive father. Then it shows how things could have been different if Kara had acted instead of watched. The kid lives in the second playthrough and her abusive father dies instead.
Is Detroit Become Human Coming to PC?
The latest trailers and details have lots of gamers asking if Detroit Become Human is coming to PC. For now, the news isn't good.
The Detroit Become Human release is exclusive to PS4. Don't expect the game to come to Windows PCs, and don't buy an Xbox One if you want to play this game. You need a PS4 or PS4 Pro.
At some point, Sony may add Detroit Become Human to its PlayStation Now subscription service. If that happens, you could play it on a PC since that service has a PC client. That may not happen for years.
Read: PlayStation Now Subscriptions: 5 Things You Need to Know
Detroit Become Human Trailers
These are the Detroit Become Human trailers Sony and Quantic Dream have released so far. Expect more to arrive closer to the game's release this spring.
Detroit Become Human for the PS4 Pro
The Detroit Become Human release will work on the PS4 Pro, but it's not clear if you can expect 4K graphics and HDR.
Gamers assume that Detroit Become Human will fully support the PS4 Pro because it is a PlayStation exclusive. However, PlayStation.com says the game has 1080p graphics. 4K graphics are four times as sharp as 1080p graphics when you have a 4K television. That's why this is important.
Read: PS4 Pro: Everything You Need to Know
The site doesn't mention anything about HDR color contrast either. Short for high dynamic range, HDR uses a wider batch of colors to make games look more life-like. Every PS4 has enhanced color support, but you need a compatible television to take advantage of it.
When to Expect Detroit Become Human Reviews
Everyone is excited for Detroit Become Human reviews to arrive, but don't expect them for a long time. Gaming websites usually publish their reviews a few days before a game's launch. This gives buyers enough time to place or cancel their existing pre-orders.
Even when they do arrive, remember to read them in context. Detroit Become Human is a huge game with unique paths to take. Expect differences in their experience and your experience.
When We Will Get More Detroit Become Human News
With Detroit Become Human still set for a release this spring, expect more news about the title to arrive soon.
These details could include enhanced edition reveals and console bundles. Most high-profile games launch with at least a collector's version full of trinkets for you to remember the game by. Detroit Become Human doesn't have any yet. The company could also announce a Detroit Become Human PS4 bundle like the packages included in Gotta Be Mobile's Best PS4 Deals guide. These bundles save gamers $60 if they are upgrading from the PS3.
Quantic Dreams and Sony could also share DLC plans for after the game's release too. Today, they've only confirmed the game's launch. We don't know if DLC packs or a season pass will add new content to the game later.
Finally, we're still waiting for hard news about the Detroit Become Human release date. Expect Sony to reveal that very soon to boost pre-orders and hype.
8 Best New PS4 Games Coming in 2018
MLB The Show 18 - March 27th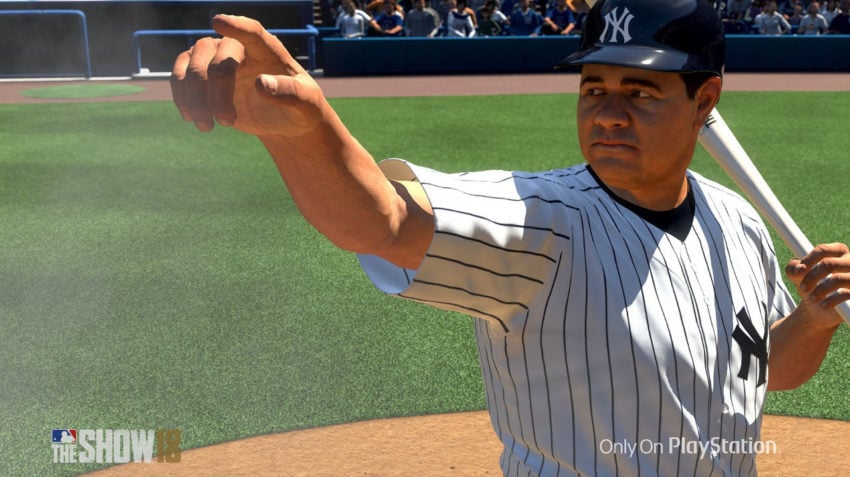 MLB The Show 18 arrives on March 27th with RPG upgrades, legends and upgraded modes for PS4 and PS4 Pro.

Sony has updated the hit baseball game with tons of new features. The Road to the Show, The Shows' single-player experience, has an expanded progression system that better simulates how real players learn and grow over time. You set short term and long term goals for your custom character. The progress you made in MLB The Show 17's Road to the Show Mode and Franchise Mode carries over to this new game.

Retro Mode, Critical Situation, Quick Counts and 3-Inning games mean you can jump into your favorite gameplay without playing a full-length game, which is great for busy gamers.


Read: MLB The Show 18 Release Date, Details & Features


And, when you grow tired of MLB's updated roster of current players, you can substitute Babe Ruth and other legends from baseball's past.

If you pre-order MLB The Show 18, you get access to the game on March 23rd. That's four days earlier than other players.

As an Amazon Associate I earn from qualifying purchases.