Forza 7 Release Date, Features & Details
The Forza 7 release date is a month before Microsoft launches its new Xbox One X. Even still, it's more important than almost any other game the company will release this year for the console.
Officially titled Forza Motorsport 7, the game is a racing simulation. There's plenty of new things in Forza 7. It's an official Enhanced for Xbox One X game. Gamers get full 4K visuals and smooth 60 frames per second video with an Xbox One X and a compatible TV. New spectating modes let gamers share what they see with people not racing. The game has new leagues to compete in, and gamers can finally customize their drivers with gear.
The Forza 7 release date arrives this October. Here's everything else we know about the exclusive Xbox game.
Read: Watch 4K Forza 7 Gameplay at 60 FPS to See What the Xbox One Can Do  
Forza 7 Release Date, Features & Details
Forza 7 Release Date
Forza 7 is an Xbox Play Anywhere Title
Forza 7 is an Enhanced for Xbox One X Title
Forza 7 Features & Changes
Forza 7 Pre-Orders
Forza 7 Cars
Forza 7 Release Date
The Forza 7 release date is October 3rd, but only for the standard edition of the game. Gamers that buy Forza 7 Ultimate Edition get their physical copies on September 29th. The digital Ultimate Edition unlocks on September 29th too.

Forza 7 is an Xbox Play Anywhere Title
Forza 7 is an Xbox Play Anywhere title. Buying a digital copy unlocks a Windows version and a console version for as little as $59.99.
Xbox Play Anywhere games also sync saves between Xbox One consoles and Windows PCs. Any DLC that gamers purchases work on both systems also. In some cases, gamers on Xbox One can play with gamers on PC over Xbox Live. We don't know if that cross-platform play is in Forza 7.
Forza 7 is an Enhanced for Xbox One X Title
For the best visuals, Forza 7 buyers need an Xbox One X. The console has a new processor, RAM and GPU that allow developers to use every pixel on a 4K display. Xbox One X launches on November 7th.
Turn 10 Studios, Forza 7's developer, says that the game will run at 4K resolution and 60 frames per second with HDR. It's also promising very smooth movement at 60 frames per second. Frames per second measures how many times the console refreshes what's on your television. The higher the amount, the more life-like things look. HDR stands for High-Dynamic Range. HDR enhances color contrast. Forza is one of only two Xbox exclusive games that will have full Xbox One X Enhanced support this fall.
 Read: Watch 4K Forza 7 Gameplay at 60 FPS to See What the One X Can Do
Extra purchases aren't necessary to enjoy the game. Forza 7 works on high-definition televisions that don't have HDR. Xbox One and Xbox One S owners can play the game. Gamers on those consoles only miss out on the improved visuals.
Forza 7 Features & Changes
Forza's classic features are in Forza 7. Gamers can still customize these cars with parts and paint jobs. Dynamic Weather limits visibility and makes any high-speed race dangerous. ForzaVista lets gamers inspect the inside and outside of their cars. Drivatars let players race against their friends when they aren't online.
Forza 7 has new customization options for cars. In addition to body paint, body kits let racers determine how aerodynamic their car is. New wheel options give gamers a chance to spruce up their car's stock look. Many of these options were in Forza Horizon 3, however, they are new to the Motorsport franchise.
Dozens of smaller features fill out the game. Players now decide what gear their racer is wearing. Turn 10 has added Mixer live-streaming to the title. Forza 7 has more than 700 different cars and 30 different locations, according to Turn 10. There's also the 4K support for Xbox One X and HDR support for both Xbox One X and Xbox One S.
Forza 7 Pre-Orders & Editions
Physical Forza 7 pre-orders are available at Best Buy, Amazon and GameStop today. The Xbox Store has digital pre-orders available too.
There are just two versions of the game to choose from. Pre-ordering either version gets gamers two pieces of gear to customize their in-game character.
Forza 7 Standard Edition
Forza 7 Standard Edition gets shoppers just the game for $59.99. It's available on disc and through the Xbox Store.
Forza 7 Ultimate Edition
Forza 7 Ultimate Edition costs $99.99. It comes with the game's Car Pass, a Day One Car Pack and a Forza VIP Membership. The Car Pass unlocks sets of new cars for months after the game's launch. VIP Membership gets gamers exclusive cars, access to online events and gifts.

Forza 7 Cars
Forza 7 will have more than 700 cars, according to Turn 10. This line-up is made up of domestics and imports, all with customization options.
Highlights include the 2016 Honda Civic Type R, 2017 Acura NSX, 1950 Alfa Romeo 158, 1967 Volkswagen Karmann Ghia, 1953 Chevrolet Corvette, 1967 Ferrari Spa 330 P4, 2011 Lamborghini Sesto Elemento and the  2014 Porsche 918 Spider.
8 Best Free Xbox Games: January 2018
Warframe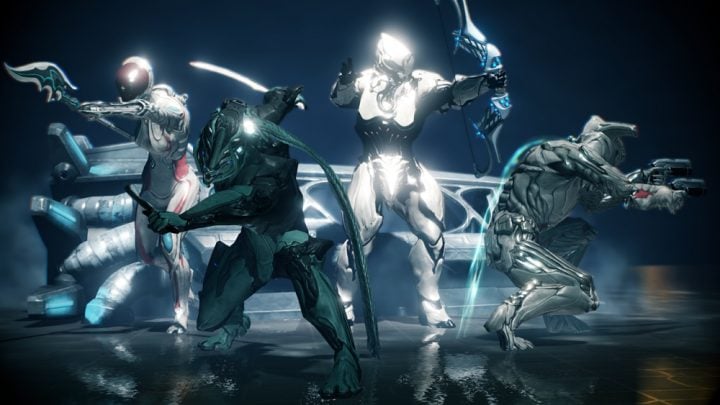 Many free-to-play games revolve around strategy or civilization building. Warframe is one of the free Xbox games that you can download now that doesn't. It's a third-person shooter.
The Tenno have just awoken after centuries of sleeping in stasis. Warframe takes its name from the suits that the Tenno use to do battle with the game's other races. There's the Greiner, who are clones of humans. The Corpus belong to a technology company with lots of robotic innovation at their disposal. Sentients consist of an alien race that's back to do battle.
Warframe features both player-vs-player combat and a single player experience.


As an Amazon Associate I earn from qualifying purchases.