Forza 7 Demo Release Date Details & Features
Forza 7 launches on October 3rd, but fans of the realistic racing simulation don't have to wait until then to play. This September's Forza 7 Demo release gives many gamers limited access to some of the title's features.
Forza 7 has 30 tracks, more than 700 cars and some new features that make the game more realistic. Driver gear finally lets players customize their in-game avatar as much as they do their ride. Also, driving conditions change without warning thanks to the new dynamic weather system.
That there's a Forza 7 Demo at all underscores just how important the game is to Xbox One in 2017. Forza 7 is the only high-profile exclusive Xbox One game launching this year. Crackdown 3, 2017's other exclusive game, is delayed until 2018. The Xbox One X's November 7th launch makes Forza 7 even more important. Because it's the only exclusive game, it's the only exclusive title that will support 4K visuals and high-frame rates on the new $499 console. There are a lot of Xbox One X enhanced games on the way, but they are also coming to the PS4 Pro.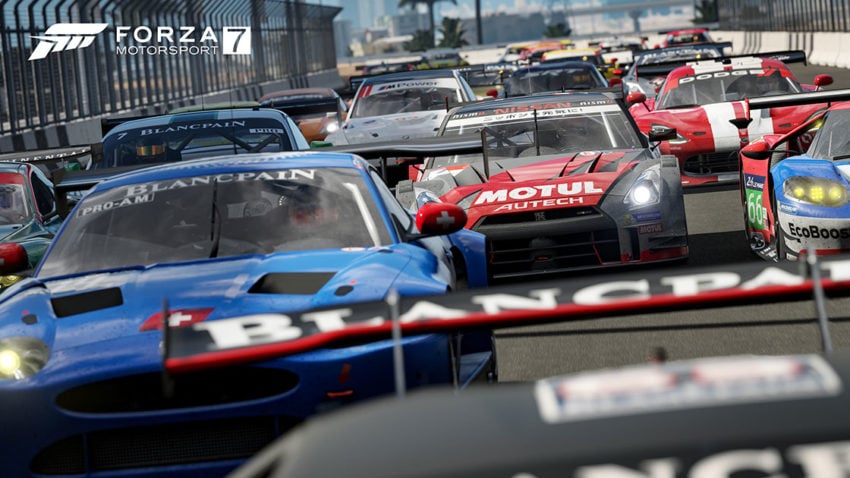 Read: Watch Forza 7 Gameplay at 60 FPS to See What the One X Can Do
Here's everything that you need to know about the Forza 7 Demo release.
Forza 7 Demo Release Date & Time
The Forza 7 Demo release date is September 19th. On that day, you can install the demo from the Xbox Store to your Xbox One or Xbox One S. The Forza 7 Demo is coming to Windows PCs too; it's an Xbox Play Anywhere game. If you buy the final game digitally, you get both the PC and Xbox One version. Windows PC and Xbox One S users get enhanced color contrast and upscaled 4K visuals.
Read: Forza 7 Pre-Orders: Which Edition to Buy
Unfortunately, Microsoft has only provided the date for the download's release, not the exact time. Because of that, it's hard to say when gamers can expect the Forza 7 Demo to appear in the Microsoft Store. Typically, the store updates at Midnight Pacific Time because Microsoft's headquarters in Seattle, Washington. That's 3 AM Eastern Standard Time. It's also possible that Microsoft will wait until 9 AM Pacific Time on release day to post the demo. This would put the release time at 12 PM on Eastern Standard Time on September 19th.
How to Get the Forza 7 Demo
Because it's a small taste of the final game, you don't need to do anything special to download the Forza 7 Demo. If your Xbox One is connected to Xbox Live and you have a solid internet connection, you can download the files that you need. Don't confuse the Forza 7 Demo with the early access that gamers who buy the Forza 7 Ultimate Edition get beginning September 29th.
You will need an Xbox Live Gold subscription to play the Forza 7 multiplayer with other games. However, it's not required to download the demo and test the tracks on your own.
Read: Is Xbox Live Gold Worth Buying?
What's in the Forza 7 Demo
Forza 7 will have 30 tracks and 700 different cars, but you shouldn't expect most of them in the Forza 7 Demo release. The download will let you test the title's new features, but limit your access to all the vehicles and features that the final game offers.
Read: Forza 7: 5 Reasons to Buy
We know that the demo will unlock three of the final game's experiences. Turn 10, the game's developer, confirmed that in an Xbox Wire blog post announcing the demo. Confirmed cars include the Porsche 911 GT2 RS, Mercedes-Benz Tankpool truck and the Nissan GT-R LM. Players can try these new vehicles on race tracks in Germany, Italy and Dubai. All tracks will have their dynamic weather system on, complete with rain and thunderstorms.
Finally, the Windows PC Forza 7 Demo will have performance toggles so that you can tune the PC version of the game to work well on your hardware. Use these options to decide if the experience you get on your PC is worth purchasing the final game if you haven't already.
It does not seem as if your Forza 7 Demo racing times will transfer to the final game. As it is more of a feature test than an early access to all the game's mechanics, this makes sense.
Forza 7: 6 Reasons to Buy
Forza 7 Looks Stunning
Your reasons for buying Forza 7 should start with the game's looks. After all, Forza 7 is all about realistic racing and the game's graphics are a big part of that realism. If what you see on the screen doesn't look like you're really racing, you won't feel like you're really racing.
Forza 7 has 4K visuals on the Xbox One X and Windows 10 PCs. Because of that, everything you see on the screen is more detailed on a 4K television or monitor. Xbox One and Xbox One S owners get slight visual upgrades too, just not to the degree Xbox One X gamers and PC gamers get.
Xbox One S owners with a HDR and 4K TV will notice the game's wider color contrast. That's because of its High-Dynamic Range support.
Finally, Microsoft has unchained the game's frame rate on the Xbox One X and Windows 10. The company is guaranteeing 60 frames per second on the Xbox One X, which should translate to very smooth visuals. The PC version's frame rate depends on how robust the hardware inside your computer is.