How to Clean and Format Storage in Windows 10
Storage is essential to everything that you do in Windows 10. That's why you need to know how to clean and format storage on your PC. Without these skills, you can't troubleshoot issues with your SD Cards, MicroSD Cards, USB flash drives and external hard drives.
Windows 10 comes with a few tools to help you fix storage problems. DiskPart is a command-line tool for users that have severe issues with storage. The operating system also includes a Format tool in Windows Explorer and a Disk Management utility that gives you a granular look at everything that's happening on your Windows 10 PC.
Read: 20 Windows 10 Tips from a Fanatic
Here's how to use these tools to clean and format your SD card, flash drive or hard drive to get it working with Windows 10 again.
Formatting Storage in Windows 10 with Windows Explorer
File Explorer is the easiest way to format storage and it's always readily available.
Connect the USB storage device you're trying to troubleshoot. Make sure you hear the default connection sound that Windows 10 makes when it detects a new device. If you don't hear that chime, it's possible that your USB storage device's issues are because the storage device is dead or dying.
Go to the Desktop and tap or click on the Start button in the bottom-left corner of your display to open the Start Menu.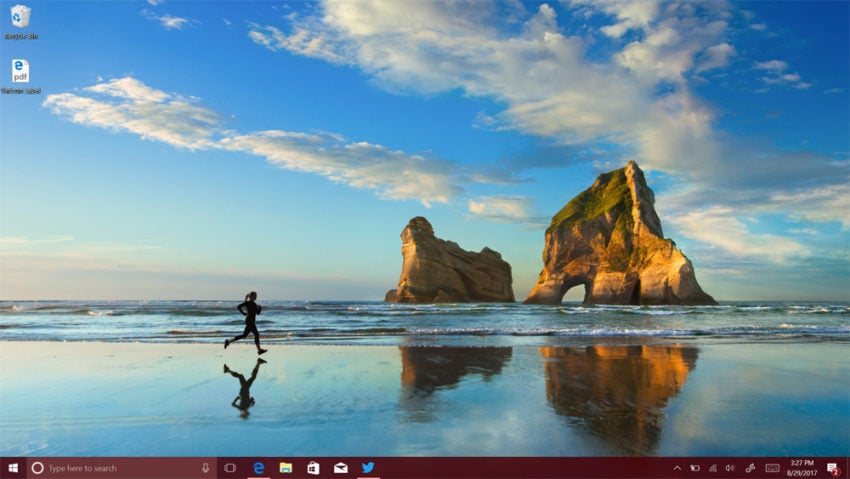 Type This PC into the search bar. Press Enter on your keyboard or use your mouse to click on the results in the window.
Now look for the drive you're trying to connect in the Devices an Drives area. If you only see a drive labeled Windows, check your USB drive's connection again. If you still don't see it, try one of the other methods in this tutorial.
If you do see your external storage, right-click on the drive and select Format.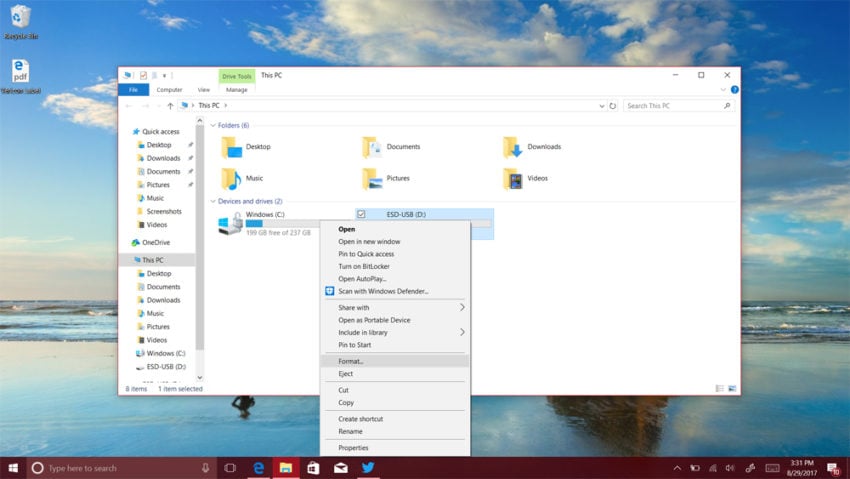 Now use the Format tool to format your USB drive. Use the File System drop-down to decide your external storage's file system type. Fat32 is compatible with most devices, so it's a good idea to use it. Windows 10 also supports NTFS and requires it for some features. The field at the button of the Format utility lets you change what your storage device is called.
Read: How to Back Up Files in Windows 10
Formatting and Cleaning Storage in Windows 10 with Disk Manager
The Disk Management tool provides an on-high look at all the storage your Windows 10 PC can detect. Like the File Explorer tool, it can see any storage evidence that's connected to your PC. It can also detect storage devices that the File Explorer is having trouble accessing.
Use your mouse to click on the Start button in the bottom-left corner to open the Start menu.
Click the search bar and type Disk Manager. Hit Enter on your Windows PC's keyboard. You can also use your mouse to click on Create and Format Hard Disk Partitions in the search results.
Welcome to the Disk Management tool. Again, this tool can see things with external storage that Windows Explorer has issues seeing. Formatting a drive that Windows Explorer can't see with this tool solves most storage detection issues. You can do that by right-clicking on the troublesome drive in the diagram and selecting Format.
Partitioning your device creates a Volume that your Windows 10 PC can see. For example, our hard drive has two volumes. Only one of those volumes is visible to Windows because of the partition. Deleting a Volume removes everything from it. You can create Volumes as large as the total amount of storage you have on your device.
Read: How to Search Windows 10
Formatting and Cleaning Storage in Windows 10 with DiskPart
The most powerful tool Windows 10 has for dealing with Disk Issues is called the DiskPart Tool. Unlike the rest of Windows, it has a text interface, so it's not the friendliest of tools to use if you don't know exactly what you're doing.
Connect your USB drive.
Press the Windows button on your keyboard and do a search for "Command Prompt." Right-click on the result and click Run as Administrator.
Type diskpart and hit Enter.
Type list disk and hit Enter.
At this point, you need to look for the storage device that you'd like to troubleshoot in the list of devices you get from the tool. Note the amount of available storage each device has to be sure you are accessing the right one. Removable storage — like flash drives — usually have the smallest disk size in the DiskPart.
Type select disk and enter the name of the drive. For example, we've typed select disk 1.
Type clean and press Enter.
Type create partition primary and press Enter.
Type select partition 1 and press Enter.
Type active and press Enter.
Type format fs=NTFS label=Temporary. Wait for the partitioning and formatting to complete.
Type assign letter=X. You can use whatever drive letter you'd like, but be sure that another drive isn't using that same letter. For example, you can't assign the device C because that's usually your main drive's letter.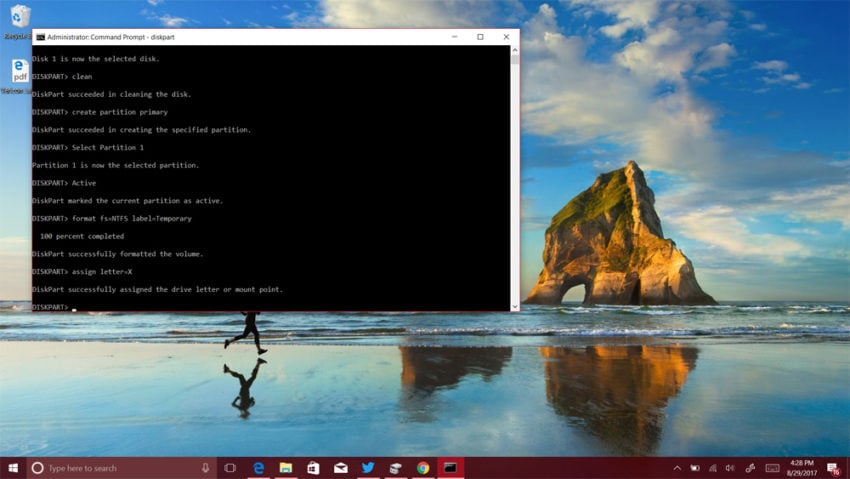 Now type exit and press Enter.
10 Best Surface Pro Alternatives in 2020
ThinkPad X1 Tablet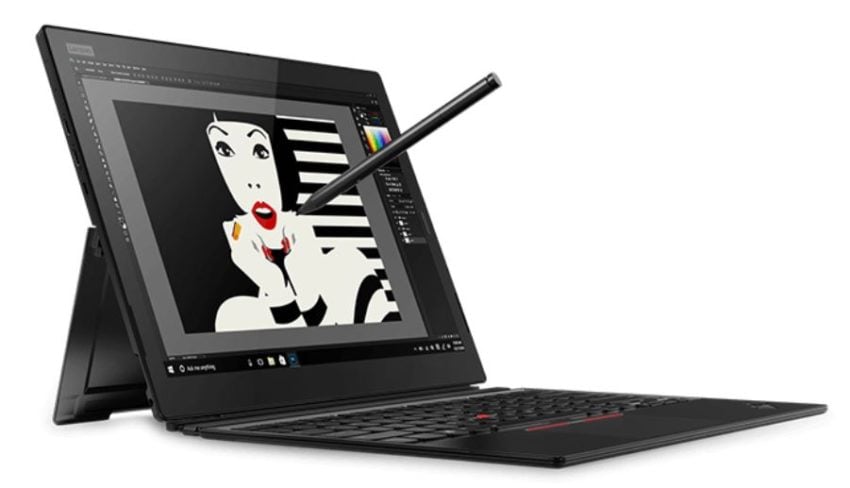 The ThinkPad X1 Tablet offers a lot of great features: a durable shell, an amazing display and Amazon's Alexa personal assistant.

The ThinkPad X1 Tablet has a 13-inch display. And, despite its good looks, the device has passed 12 military torture tests to ensure it can survive dust storms, cold temperatures, drops and spills. Finally, If you don't find Microsoft's Cortana personal assistant useful, the ThinkPad X1 Tablet has the same Alexa personal assistant your Echo smart speakers do. A Surface Pro won't survive a drop or spilled liquid and Cortana isn't as useful as Alexa is.


Read: ThinkPad X1 Carbon, X1 Yoga and X1 Tablet Have Stunning Display and Alexa


The third-generation ThinkPad X1 Tablet has powerful processors, plenty of RAM and other options. Models come with up to an 8th generation Intel Core i7 processor and 16GB of RAM. You won't get stuck waiting for web pages to load or your photo editor to process your touch-ups. If you don't like passwords, use the IR camera on the front of the ThinkPad X1 Tablet to sign into Windows. This 2-in-1 also has a fingerprint reader.

The ThinkPad X1 Tablet's screen detects 4,096 different levels of pressure from its digital pen. Besides that, it's a really detailed display. Windows, your videos and everything else you do on it looks crisp and detailed. Again, it's three times as sharp as an HD display.

Like other Surface Pro 4 alternatives, this Windows 2-in-1 connects to its included keyboard cover using a special slot on its bottom edge. It has Thunderbolt 3 ports for fast data transfers, a MicroSD card reader and a headset jack. With LTE connectivity, you can add the ThinkPad X1 Tablet to your smartphone data plan. You can't do that with a Surface Pro 4.