Lenovo ThinkSmart Hub 500 Makes Collaborating Easier
The Lenovo ThinkSmart Hub 500 could make connecting offices for important conference calls and managing presentations much easier for businesses in 2018.
The ThinkSmart Hub 500 is an all-new all-in-one solution for audio conferencing and managing meetings. Lenovo announced the new device at Microsoft Ignite, a conference that focuses on how the software that Microsoft makes and the hardware that its partners produce allow large companies to work more efficiently. It works with Office 365's Skype for Business and Skype Room Systems, two services designed to make collaboration easier. ThinkSmart Hubs' Windows 10 IoT Enterprise operating system a secure offshoot of the Windows 10. Like the ThinkSmart Hub 500 itself, Windows 10 IoT lets workers focus on the task at hand instead of managing yet another PC. Lenovo didn't reveal the device's price at the event.
Read: Microsoft Office 365 for Business: What You Need to Know
The ThinkSmart Hub 500 is the only conference room system that companies need to collaborate wherever workers are. The device has an 11.6-inch touchscreen display that swivels in the direction of the meeting's leader. This display rests on a stand that doubles as a 360-degree speaker, a 360-degree microphone and a call connectivity indicator. The device looks the same as the ThinkPad laptops, desktops and tablets that large businesses already issue to employees, so it blends into any office's existing decor.
With the ThinkSmart Hub 500 at the center of any conference room, businesses could get back hours in productivity that their employees waste each week setting up for conference calls, video conferencing and collaboration sessions.
Read: Lenovo Miix 520 & Yoga 920 Jolt Windows 10 Back to Life
The ThinkSmart Hub 500 isn't the first smart device from Lenovo. The company revealed the SmartAssistant speaker for Amazon's Alexa personal assistant in January 2017. Also, the Lenovo Home Assistant Pack turns the company's Android tablets into a solid Amazon Echo Show alternative.
10 Best Surface Pro Alternatives in 2020
ThinkPad X1 Tablet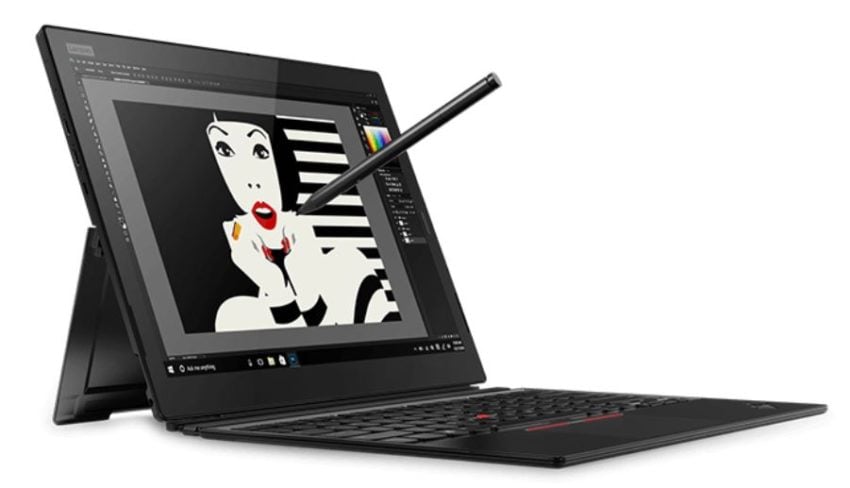 The ThinkPad X1 Tablet offers a lot of great features: a durable shell, an amazing display and Amazon's Alexa personal assistant.

The ThinkPad X1 Tablet has a 13-inch display. And, despite its good looks, the device has passed 12 military torture tests to ensure it can survive dust storms, cold temperatures, drops and spills. Finally, If you don't find Microsoft's Cortana personal assistant useful, the ThinkPad X1 Tablet has the same Alexa personal assistant your Echo smart speakers do. A Surface Pro won't survive a drop or spilled liquid and Cortana isn't as useful as Alexa is.


Read: ThinkPad X1 Carbon, X1 Yoga and X1 Tablet Have Stunning Display and Alexa


The third-generation ThinkPad X1 Tablet has powerful processors, plenty of RAM and other options. Models come with up to an 8th generation Intel Core i7 processor and 16GB of RAM. You won't get stuck waiting for web pages to load or your photo editor to process your touch-ups. If you don't like passwords, use the IR camera on the front of the ThinkPad X1 Tablet to sign into Windows. This 2-in-1 also has a fingerprint reader.

The ThinkPad X1 Tablet's screen detects 4,096 different levels of pressure from its digital pen. Besides that, it's a really detailed display. Windows, your videos and everything else you do on it looks crisp and detailed. Again, it's three times as sharp as an HD display.

Like other Surface Pro 4 alternatives, this Windows 2-in-1 connects to its included keyboard cover using a special slot on its bottom edge. It has Thunderbolt 3 ports for fast data transfers, a MicroSD card reader and a headset jack. With LTE connectivity, you can add the ThinkPad X1 Tablet to your smartphone data plan. You can't do that with a Surface Pro 4.


Read: 7 Best Windows 10 Hard Drives & External Storage

This article may contain affiliate links. Click here for more details.