Common macOS High Sierra Beta Problems & How to Fix Them
macOS High Sierra beta problems are frustrating MacBook, MacBook Air, MacBook Pro and iMac users as they test out the latest software. If you run into issues, you can try the fixes listed below before downgrading to macOS Sierra.
The developer beta and public macOS High Sierra beta let users try out fun new macOS High Sierra features, but it comes with bugs and problems that are common in pre-release software.
Users testing the macOS High Sierra beta are complaining about battery life, performance problems, WiFi issues, installation problems and much more.
At this stage in the macOS High Sierra beta, you may need to downgrade to fix some problems, but before you do that, check out these fixes for common beta problems. The problems are one reason not to install the macOS High Sierra beta.
Here are the most common macOS High Sierra beta problems and how to fix them when they ruin your day.
How to Fix macOS High Sierra Beta Installation Problems
There are not a lot of macOS High Sierra beta installation problems, but there are two that you need to know about.
The first one is when the macOS High Sierras beta profile installer fails to complete. Our first several attempts ended early when the installer hung up on the last part. We had to force close the installer and then restart the MacBook before it completed. If this happens to you, restart your MacBook and try again, if it keeps happening, download the installer again.
Another issue we've seen is that the macOS High Sierra beta will not install on a Mac that has Server software on the primary disk. To fix this, remove the Server.app from the Applications folder, reboot and then install the beta.
Make sure you complete this list before you install the macOS High Sierra beta.
How to Fix macOS High Sierra Beta WiFi Problems
After you upgrade to the macOS High Sierra beta, you should check the WiFI performance and make sure it is working. We haven't run into major problems, but we did have issues connecting to our personal hotspot on the iPhone.
To fix issues connecting to a personal hotspot on the beta, on your Mac turn WiFi off and then back on. On your Mac click on WiFi and then on turn off. Wait 30 seconds before you turn it back on.
Turn your hotspot off then on in the iPhone settings. Go to Settings -> Personal Hotspot -> Off then back on. You may also need to restart either device or turn Airplane mode on and then off on your iPhone.
To fix normal macOS High Sierra beta WiFi problems you can try turning WiFi off then back on and restarting the computer. It's also a good idea to try forgetting the WiFi network and then reconnect.
We're looking for more fixes, including details on resetting WiFi settings on a Mac with macOS High Sierra.
How to Fix macOS High Sierra Beta Battery Life Problems
We aren't seeing massive macOS High Sierra battery life problems, at least not widespread. If you do run into issues there are some things you can try.
If there is a new beta update, install that since it will fix a number of beta problems as Apple marches towards a release this fall.
Right after you update your MacBook to macOS High Sierra battery life will be awful as processes finish and setup completes. Wait a while then come back and restart your Mac. That may fix initial macOS High Sierra beta battery issues.
Next, try turning down your screen brightness, and updating all of your apps. These are common culprits for bad battery life.
If possible use Safari instead of Chrome or Firefox while using the beta. You can hold your mouse above the battery indicator to see what apps are using a lot of battery. Close these apps to get better battery life. Sometimes even restarting the app will help.
How to Fix macOS High Sierra Beta App Problems
There are many macOS High Sierra beta app problems. You can fix some of them, but with others, you will need to wait for an app update or search for a beta version of the app.
There are Microsoft Office macOS High Sierra beta problems for some users. If you use Office for Mac 2011, do not upgrade to macOS High Sierra unless you plan to upgrade to Office for Mac 2016. While there is no official support for the beta, if you upgrade to Office 15.35, you will have better support.
You can check to see if the developer of your favorite apps has a beta that works with macOS High Sierra. Developers use this time to prepare apps for the new software and may allow you to sign up to be a beta tester there so that your apps work on the beta.
Here is a list of apps that don't work on the macOS High Sierra beta and apps that do work. You can check the thread for fixes, tips on the beta and other advice on how to get your apps working on the beta.
How to Fix macOS High Sierra Beta Bluetooth Problems
You may run into some macOS High Sierra beta Bluetooth problems. the best thing to do if this happens is to power cycle the Bluetooth device. We've had to do this with our Magic TrackPad and We've had to put AirPods in the case and take them back out to get a good connection.
When in doubt, turn off Bluetooth on your Mac and then back on or restart your Mac to solve the problem.
If you are using a third-party module, you may be out of luck, but that should be a minority of users.
How to Fix macOS High Sierra Beta Performance Problems
If your Mac is slow right after installing the macOS High Sierra beta, you simply need to wait for processes to complete.
When your Mac is still slow after a day, you should try restarting your Mac and updating your apps. You can use the Activity Monitor to see if there is an app using a lot of memory or processor power. If it does this after restarting the app, you may need to find an alternative for the duration of the beta.
While running beta software, you will want to restart your Mac more often. This small step can help solve a lot of macOS High Sierra beta performance problems.
How to Fix macOS High Sierra Beta Problems When All Else Fails
If nothing else fixes your macOS High Sierra beta problems, you will need to downgrade or wait out the next beta update.
To downgrade, you can simply restore to a Time Machine Backup that you made before installing the macOS High Sierra beta.
You need to backup, boot into recovery mode, delete the macOS High Sierra beta partition and then install macOS Sierra. Once that is done, you can restore your Time Machine Backup. We'll share a full guide shortly.
14 New macOS High Sierra Features Worth Upgrading For
Upgrade for Messages in iCloud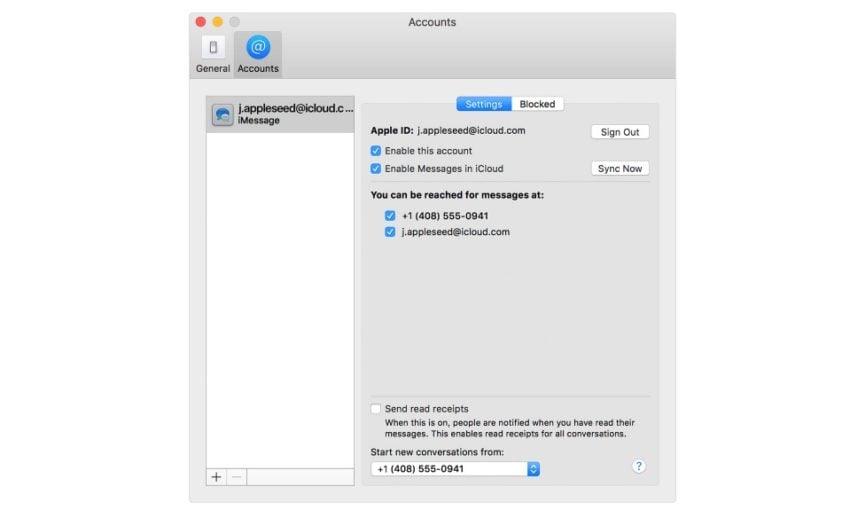 With macOS 10.13.5 your Mac can now sync messages from your iPhone and iPad even better than it could before. The new Messages in iCloud is in iOS 11.4 and macOS 10.13.5 and it can help save space on your iPhone and Mac as well as make sure your messages are always in sync.
With Messages in iCloud turned on across all of your Apple devices any changes you make in a conversation will sync to the other devices. This will remove parts of the conversation you delete, or even a whole thread when you delete it.
You This will also move all of your attachments to iCloud, which means you need less space on your Mac and iPhone. You'll need iCloud and you need two-factor authentication on your Apple ID.

As an Amazon Associate I earn from qualifying purchases.