New iPhone 8 Photos Show Off New Design
What will the iPhone 8 look like? As the iPhone 8 release date draws near and iOS 11 shows off some of the new features that you will use on your iPhone this year, we're seeing new iPhone 8 photos of dummy units that reveal the potential new iPhone 8 design.
In what is the best look at the iPhone 8 design and size, a new leak shows off multiple photos that match up with iPhone 8 rumors including a glass back, smaller bezels and on-screen Touch ID.
Keep in mind that this is a dummy unit, which means it is a rough look at the iPhone 8 that a case manufacturer or some other company is using to prepare for the iPhone 8 release date. It is unlikely that the unit in these photos was ever in Apple's possession, but is instead used to test the fit of iPhone 8 cases.
This particular set of iPhone 8 photos comes from OnLeaks, a reputable leaker who shares several images of an iPhone 8 dummy unit that is not powered on but does give us a good idea of what the iPhone 8 might look like.
In this first image, you see the front of an iPhone 8. This is a very clean front with no home button visible. The edges curve off the side, but there is no indication that the screen also curves off the edges. This design includes an area at the top for cameras and other sensors. It is possible that there is a virtual home button included and an on screen Touch ID sensor as rumors suggest, but there is no evidence that this is there in a dummy unit.
On the back of the iPhone 8 dummy unit, we see a glass design, that looks a lot like the Jet Black iPhone 7. There is an Apple Logo and a dual camera system that is turned on the side compared to the iPhone 7 Plus camera setup. There are no regulatory markings and there is no iPhone logo at the bottom of the back. This is consistent with an iPhone 8 dummy unit designed to test the fit of cases. Notably, there is no Touch ID sensor on the back. If sources used to make this dummy unit thought Apple would place a Touch ID sensor on the back, they would be planning for an opening there already.
OnLeaks tweets a photo teasing other iPhone 8 images, but has yet to share them. The camera bump and the Apple logo are prominent, to allow cases to have the proper opening around the lens and to have an opening over the Apple logo.
We're already seeing companies in China ramp up iPhone 8 case production with the ability to order large quantities of iPhone 8 cases. This option includes a clear iPhone 8 case that looks like it would fit this dummy unit, at least the with cutouts in the proper locations.
We expect an iPhone 8 release date in September or near there with an Apple Event likely in early September to announce the new iPhone and other devices as well as share the iOS 11 release date.
iPhone 8: 5 Reasons to Wait & 4 Reasons Not To
Wait If You Want the Best iPhone Software Support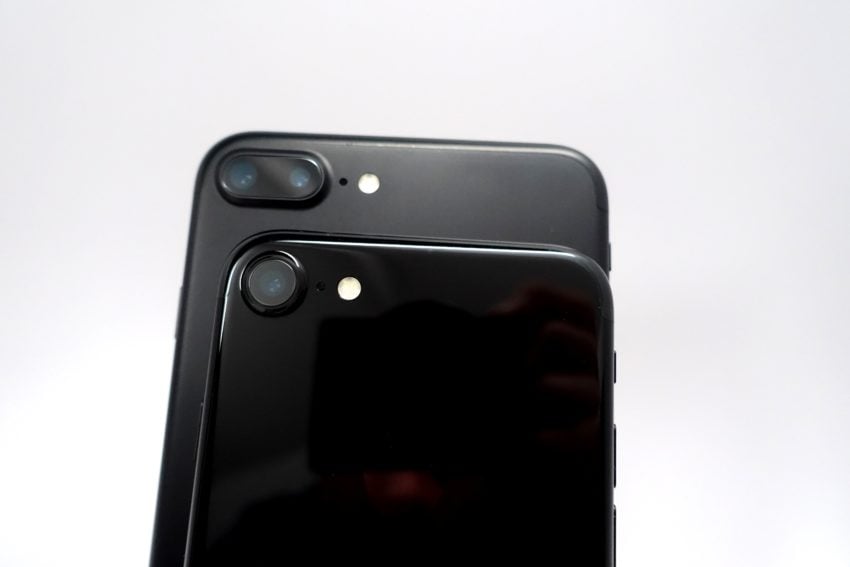 If you want the best iPhone software support money can buy in 2017, you'll want to hold out for the iPhone 8.
If you're the type of person that upgrades your phone once every three years (or so), it makes sense to wait for the iPhone 8.
Apple probably won't confirm this on stage but this year's iPhone model will likely get at least four years of software support. That means four years of bug fix updates, milestone upgrades, new operating systems, and security patches.
While it might be tempting to go with a cheaper option like the iPhone 5 or iPhone 6, their software support will be coming to an end much sooner. The iPhone 5 won't get upgraded to Apple's iOS 11 update this fall and the iPhone 5s will likely lose support next year.
The iPhone 8's hardware will also ensure that the device gets all of the new features coming in the iOS 11 update and beyond.
If you love getting all of the latest features and bug fixes and value your device's security, you probably want to wait for the iPhone 8 release.
It'll feature the most robust version of iOS 11 and it'll be well-protected with security patches and bug fixes for years to come.