6 Reasons to Wait for the Pixel 5 & 4 Reasons Not To
You probably have your sights on Google's Pixel 4 XL or even Samsung's big new Galaxy S20, but a lot of you might be better off waiting for the Pixel 5 or Pixel 5 XL later this year for several different reasons.
The Pixel 4 is a good phone and the company even released an affordable Pixel 3a and 3a XL in 2019. If you're looking for a new phone they're all great choices.
However, with marginal changes from last year and some big concerns about battery life, waiting a little while for the next generation of Pixel is a good idea. So, if the current lineup of fancy phones with in-display cameras or big bezels fail to catch your attention, aren't enough of an upgrade or cost too much for you, here are a few reasons why you should wait for the Pixel 5, or why maybe you shouldn't.
Pixel 5 Rumors & Speculation (2020)
Obviously, we don't know anything about the Pixel 5 yet, mainly because the Pixel 4 is still fairly new and Google's next major phone is still several months away. And while Google isn't talking about anything yet, the company did just confirm the Pixel 5 is real, in the hands of developers, and likely being tested along with Android 11.  Manufacturers are typically an entire device cycle, if not more, ahead of the current model. This means they're already working on the Pixel 4a and Pixel 5 which will come out after the summer.
Now that Pixel 4 is a few months old we can expect to start seeing at least one or two small Pixel 5 rumors in the coming weeks and months. So far, the leaks are still few and far between, but we did just hear the Pixel 5 might not be as big of an upgrade as many expect. The report claims Google wants to offer a great mid to high-end phone, rather than a premium $1,000 device, in an effort to get more people to buy one. And honestly, after seeing the $1,300 Galaxy S20 Ultra price tag, Google could be on to something here.
Google continues to make huge strides with each upgrade, and every phone is far and away much better than the previous generation. Whether that's a better screen, more capable cameras, more cameras, or extra features like wireless charging and water-resistance. Not to mention all the software features that make Google phones so capable. If they can do that here in 2020 without a huge price tag, it'll be a successful phone that a lot of people will enjoy.
Honestly, you should probably wait for the Pixel 4a in April or May. If you want the best of what Google has to offer, wait for the Pixel 5 in October of 2020. That said, we're hoping this new leak means the Pixel 5 will get released earlier this year.
We're expecting a pretty big upgrade with the Pixel 5 compared to previous models. Google will have to keep up with the impressive OnePlus 8, the Galaxy S20, and a new 2020 iPhone that might have no notch at all and be 100% screen on the front. Plus, they took a lot of negative press with the 4, so we expect the Pixel 5 to be a bounce-back release. That said, a few early leaks suggest the 5 might be more of the same, which would be a huge letdown.
Basically, Google can't keep sitting on the sidelines with its 6.3-inch screen, big forehead for the cameras or face unlock, and small internal battery cells. They'll have to really step up their game, and we think they will.
Hopefully the Pixel 5 looks something like what you see above, which is what we thought Google would deliver with the Pixel 4. From everything we've seen so far, the Pixel 4 isn't doing very well, and it'll make Google go big this time around to deliver an amazing Pixel 5.
We're still several months away from pinpointing new features or seeing any major leaks, and the phone likely won't debut until September or October 2020. If Google can continue to improve everything as it has over the last few years, get more carriers on board and add 5G, the Pixel 5 might be the phone to buy this year. Plus, they can just call it the Pixel 5G. Here are the best reasons to wait for the Pixel 5, and why you might want to skip waiting and buy something today.
Wait For A Better Pixel 5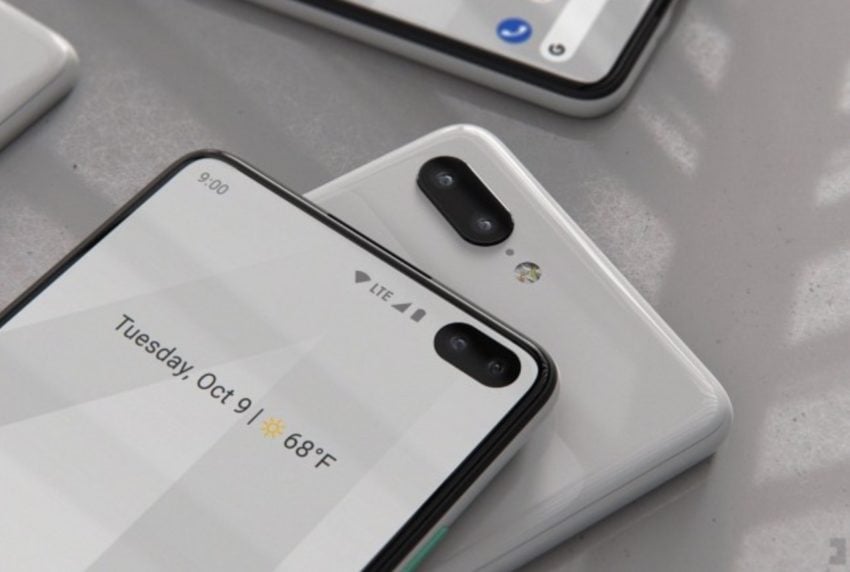 Google is still kinda new to the world of making hardware and phones. We're on the 4th Pixel, while Samsung and Apple are on 11 and 12th generation smartphones and beyond. And yes, if you include Nexus phones Google's past 10, but Nexus phones weren't made by Google.
Each year Google has made big improvements to the hardware, display, software and more. That will continue this year. Basically, wait for a bigger, better, faster Pixel 5 and Pixel 5 XL.
The Pixel 4/4XL are the most powerful smartphone we've ever seen from Google. The device offers excellent performance, a big vibrant display with 90 Hz, and two high-end cameras paired with some of the best software camera and AI features around.
Google's Pixel 4 XL is good enough for almost everyone, even with that huge forehead, but some of you might want to stick around for what's next. That's what I'm doing. Waiting for a device with more storage, triple rear cameras, and battery life that isn't awful.
Expect the company to make significant upgrades that follow the path of Samsung, Apple, OnePlus and more.
You can expect an even bigger screen with hopefully no notch. It might have a hole in the screen for the camera, similar to Samsung's Galaxy S10 and S20, but by late 2020 we're hoping they can hide the camera UNDER the screen.
We'll get a new processor with improved performance and gaming, better battery life, Android 11, and three great rear cameras.
And hey, maybe they'll finally put a bigger screen and a battery over 4,000 mAh in the XL.

As an Amazon Associate I earn from qualifying purchases.