15 Common Galaxy S7 Problems & How to Fix Them
The Samsung Galaxy S7 and Galaxy S7 Edge are two great phones but they're not perfect. In fact, as the phones start to age we're starting to see more and more Galaxy S7 problems emerge. With that in mind, below we'll look at some common Galaxy S7 problems and offer tips on how to fix them. Including fixes or new bugs after the Android 8.0 Oreo update.
While some owners are likely still dealing with problems after the Galaxy Android Oreo update, a lot improved. Before we begin, if you're having any major issues you should read up on our Galaxy S7 warranty information.
Read: 45 Samsung Galaxy S7 Tips & Tricks
If you're still experiencing problems after the latest summer 2018 patch, we're here to help. Our list covers some of the most common Galaxy S7 problems including weird battery drain, WiFi complaints, SD card issues, camera failures or glitches, and other performance issues.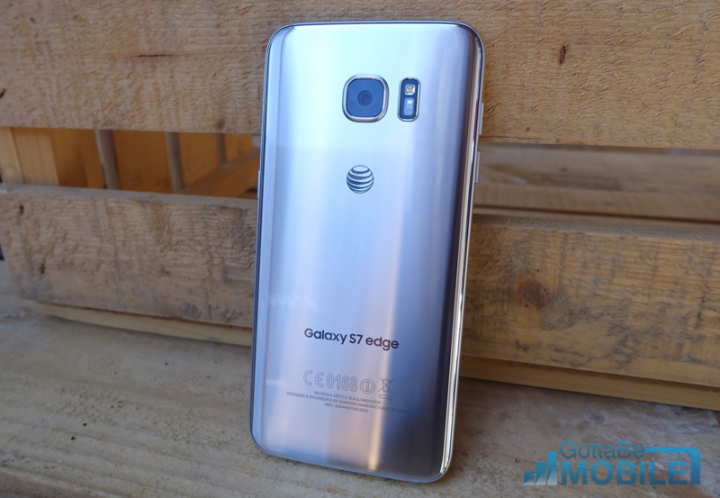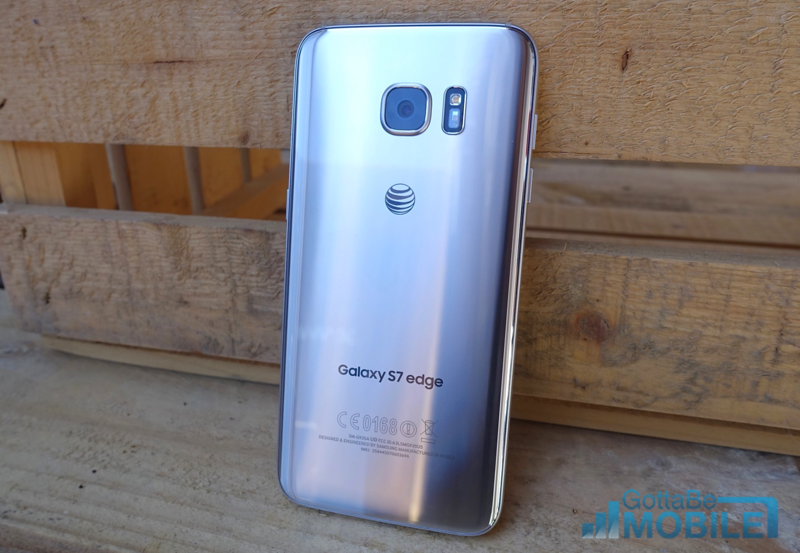 Galaxy S7 Android 8.0 Oreo Update
Before we start talking about problems and fixes, we want to mention Oreo. Samsung recently started the Galaxy S7 Android 8 Oreo update in May of 2018, and by now almost everyone has it. As we push towards the fall of 2018 your S7 or S7 Edge will run better than ever with this new software.
The Galaxy S7 Oreo update delivers a slew of exciting new features, adds improvements to performance, battery life, picture-in-picture mode and much more. Samsung also addressed several problems you're likely facing. So hang in there if you didn't get it yet, and keep reading below.
How to Fix Galaxy S7 Problems
While many Galaxy S7 and Galaxy S7 Edge owners are reporting an excellent experience, ourselves included in our Galaxy S7 Edge review, some are facing a lot of little frustrating problems. There is a big list of complaints at the Verizon forum, as well as a lot of helpful tips. Those issues continued to grow now that the phone is over two years old.
Read: How to Fix Bad Samsung Galaxy S7 Battery Life
There are a lot of reports going around that the Galaxy S7 or Edge is randomly freezing, especially after the update to Oreo. This is something we're seeing more and more as the phone starts to show its age. We'll address that and more in our categories below.
Galaxy S7 WiFi Problems
Countless reports are confirming Galaxy S7 and Galaxy S7 WiFi problems, including Gmail sync issues over WiFi. Owners have mentioned slow WiFi performance, drops, or speeds so slow they can't even load a website or Facebook unless they turn off WiFi.
At one point you couldn't use WiFi if Bluetooth was on, but Samsung quickly fixed that back in 2017. However, since Android 7 Nougat, WiFi has continued to frustrate owners.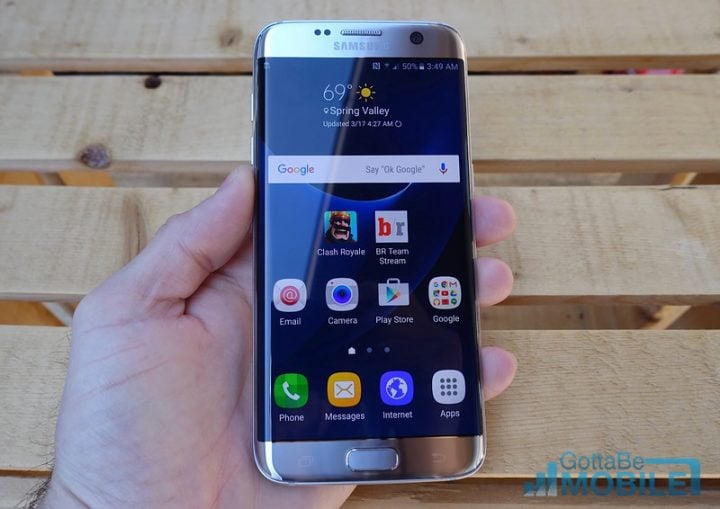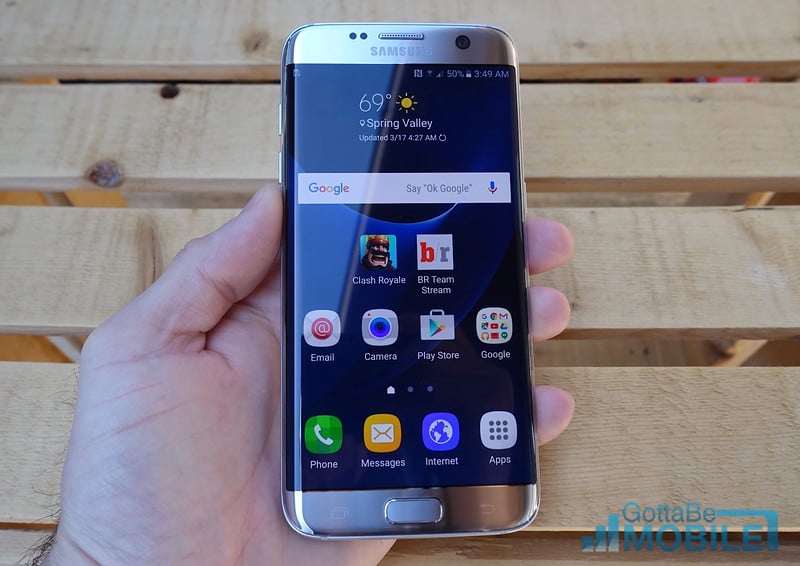 Read: Top 10 Galaxy S7 Edge Settings to Change
If you're experiencing Galaxy S7 WiFi problems it's always a good idea to reset any home routers or modem. Find your wireless router and turn it off for over 10 seconds, then back on.
However, the main thing you should do is reconnect your phone to any WiFi connections. Head to Settings > connections > WiFi and forget your wireless network. Then reconnect, put in the password, and connectivity should improve. After a few years of using a phone and several updates sometimes all you need is a fresh start.
Slow Performance (Briefing)
Out of the box, the Galaxy S7 and Galaxy S7 Edge have something called "Briefing" when you swipe left on the home screen. This is a news app that curates info from multiple news sources all to one place. And now there's Samsung Bixby on top of Briefing. The two really slow down performance on phones. No matter what software you have on your Galaxy S7, you'll benefit from disabling the Briefing app and home screen.
In fact, Briefing is one of the biggest reasons your Galaxy S7 is slow. Well, that or you're running out of space. Here's how to free up space on your Galaxy S7 to fix slow performance. Then, disable Briefing with our steps below.
Long-press on a blank spot on the home screen (which lets you change wallpapers and add widgets) and swipe over to the left — the Briefing page. Now, just swipe the switch at the top to OFF. This entire area of the phone will disappear and you'll have an area to add icons, apps, and widgets to it.
Galaxy S7 (S7 Edge) Bluetooth Problems
Another issue is with Bluetooth on the S7 or S7 Edge. Connection problems with car audio or stereo systems, Android Auto not connecting right, and even some 3rd party accessories.
This happens on occasion with most devices and you can quickly fix it by rebooting the phone. Or, try repairing your phone with the Bluetooth device. So, unpair and repair any device trying to use Bluetooth, as that could fix it. And if any "permissions" appear during this process make sure it's set to allow. Owners can also head into permission controls in settings and make sure they didn't deny access to certain apps.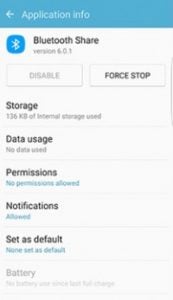 However, another option that typically has shown to fix Bluetooth problems is by doing a little trick. Owners can pull down the notification bar and hit the gear-shaped settings button up top. Then in settings head to Applications > Application Manager > More and find an app called Bluetooth Share as shown above. Hitting "Force Stop" or clearing the cache then turning Bluetooth off and back on again typically solves any remaining problems.
Read: Android 8.0 vs Android 7.0 Walkthrough: What's New
Google continues to have problems with Bluetooth on Android. However, they promised most of the small Bluetooth stability issues were finally fixed for good on Oreo. Basically, Android 8.0 Oreo will save the day.
How to Fix Galaxy S7 GPS Problems
We've seen quite a few reports about Galaxy S7 GPS problems. Whether you're trying to use Google Maps and Navigation or play Pokémon GO, we're here to help. Try these three things.
Head to Settings > Privacy and safety > Location and make sure that your Locating method is "High Accuracy". (Basically GPS, WiFi & Mobile Networks)
 Try choosing GPS only if you're really having issues, then reboot your phone
Download, install and run the free GPS Status & Toolbox app to see if fixes your problem
If these don't work it's possible you're dealing with a hardware problem. If so, your phone is likely out of the warranty period by now. If that's the case we're not sure how to proceed. Try taking it to ubreakifix for a repair.
Galaxy S7 App Tray
Another problem or inconvenience is how the application tray works. Apps aren't in order, and newly installed apps get added to the back of the list, which is frustrating.
Hit the bottom right icon to open the application tray, then tap the "A-Z" button near the top, and hit save. This will now list apps alphabetically, the way it should have from the beginning, and make finding apps easier.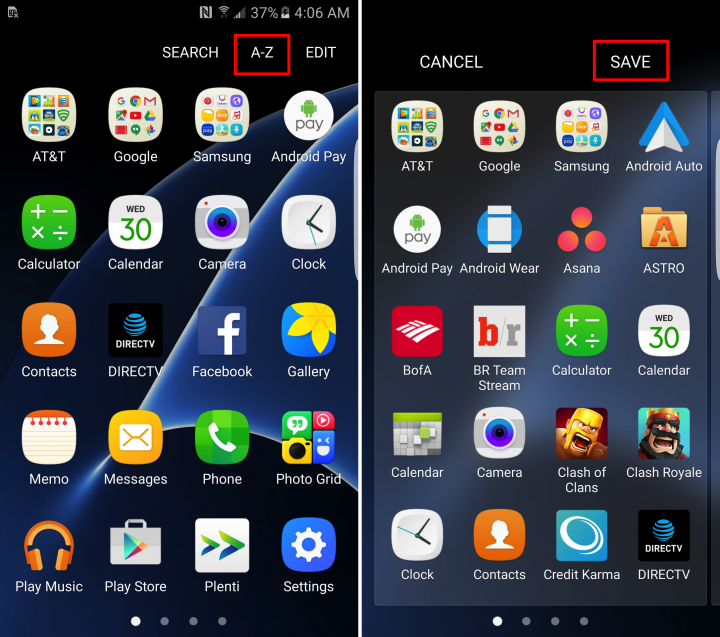 However, once a user installs a new app it goes to the back of the list, not in the A-Z order location. So you'll have to hit A-Z and save once again. Frustrating, we know. Another option is to download a new "Launcher" from the Google Play Store, which often changes the look and feel of an Android device, including the application tray.
Our favorite is the Google Now Launcher which makes it similar to a stock Pixel phone made by Google. Or something like NOVA Launcher is a great choice as well. It's customizable, and the app tray won't act funny. Or for the latest, try the Pixel Launcher from the Pixel 2 XL.
Galaxy S7 Camera Failure
"Warning: Camera Failed" is a notification we're hearing a few users are having problems with at times. This could be due to a wide array of things, and we have some potential fixes.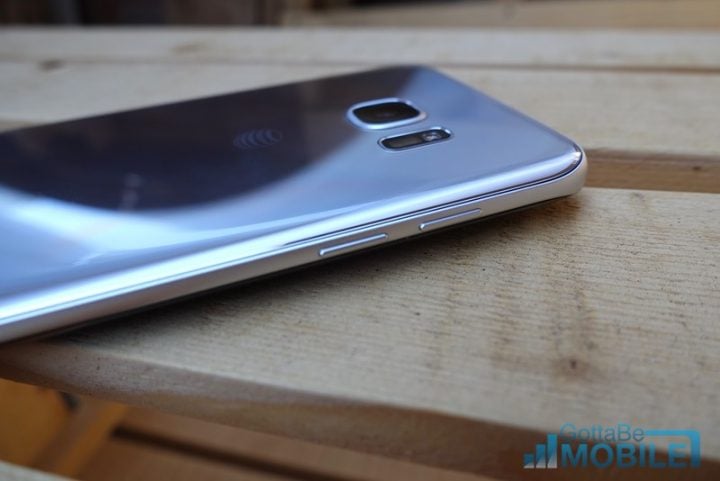 We're hearing Samsung's own "Smart Stay" feature causes this problem. Smart Stay keeps the screen on when you're looking at it, but it's interfering with the camera somehow too.
Head to Settings > Display > and turn off Smart Stay, and then try the camera again. If it still doesn't work reboot the phone, or do a hard reset by holding down power and the home button for 7 seconds. Also, try heading into Settings > app manager > and force stopping the camera application as well.
Galaxy S7 Freezing & Unresponsive Problems
Are you having problems where the Galaxy S7 is freezing or becoming completely unresponsive? We're seeing a lot of reports about that with Oreo for the S9 or Note 8 too. If so, you're not alone. Huge threads at the official Samsung community forum are reporting a similar experience. We're hearing this happens the most in the contacts app or dialer while trying to make a phone call. Sadly, we don't have any complete fix that will prevent your phone from freezing. We're seeing a similar issue on the Galaxy S9. Something that changed in Oreo is likely the problem.
However, we can help you fix it when it happens. If your S7 is frozen or unresponsive press and hold both the power and volume down buttons at the same time, and hold them down for 7-8 seconds. The phone will turn off, reboot, and start fresh. Here is more information for those in need.
Galaxy S7 MicroSD Problems & Fixes
If you added a microSD to your Galaxy S7 to expand storage, you might run into a problem or two. On Nougat and Android 8.0 Oreo we're seeing reports of microSD card corruption after updates, or the phone doesn't recognize it at all.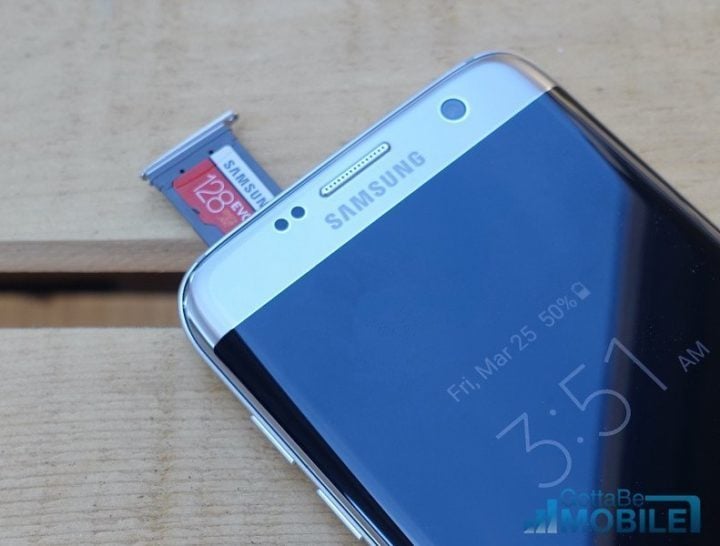 Don't worry, because you can probably still retrieve what's on the card, and it's probably not ruined either. Try turning your phone off and back on, to see if it works. We also recommend heading to Settings > Storage > Unmount to safely remove it from your device (the proper way).
Reboot your phone after you unmount and remove the SD card, then put it back in. Typically the phone and operating system will properly scan it, find the SD card, and accept all the files. As a last resort you can put it in a computer or MAC to see if you can see, find, or recover the files. If so, back up everything and "format" the card. Now put it back in and it should work just fine. Also, here's how to move apps to the SD card to free up space.
Wet Speaker Galaxy S7 Problem
Samsung's Galaxy S7 and Galaxy S7 Edge are IP68 dust and water-resistant. Not waterproof. This means it can handle 5ft or more underwater for over 30 minutes and come out working fine. This is without any flaps covering ports, or the speaker. The speaker doesn't work right until it is completely dry.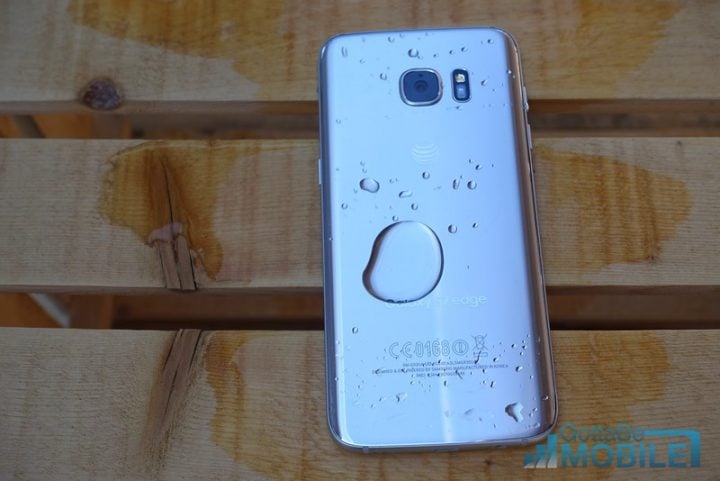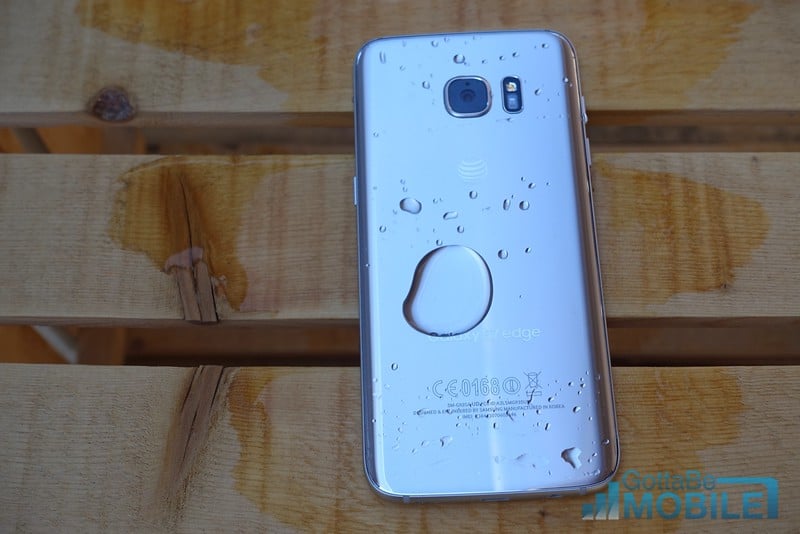 For the most part, the phone will continue to work perfectly, but the speaker and a few other things need to actually dry out when they get wet. Samsung is using a coating on the inside, as well as surface tension where without a lot of movement the water simply won't go in the speaker, but it can. There is a screen behind the aluminum to stop most water, but not all.
Let the Galaxy S7 or S7 Edge dry out, shake it to get any water that could be in the speaker, or tap it against your hand. Once it's dry, the speaker should sound the same mediocre quality it was before it got wet.
Disable Always-On Display
It isn't really a problem, but some users absolutely hate the "Always-On Display" where the screen never turns off. In reality, about 90% of it is off, and Samsung's only lighting up the pixels it needs to display the always-on information. Like the clock, date, time, battery and other things. It's nice, but moves a lot (to prevent burn-in or ghosting) and is distracting.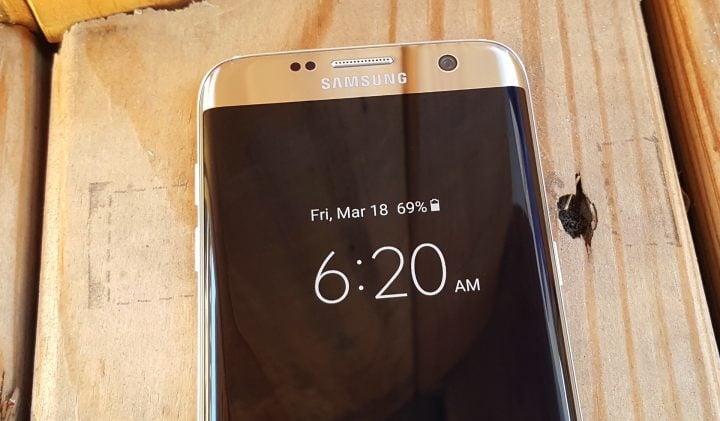 Simply disable the always on display feature by heading into Settings > Display > Always On Display > and Turn it off. More details are available here.
Don't forget to keep the Always On Display up to date. Owners can head into settings > display > always on display > and tap "About Always On Display" and then select "Update". Recent updates introduced new features like 3rd party text support, background images that move, and more control over the screen with tons of extra options and customization.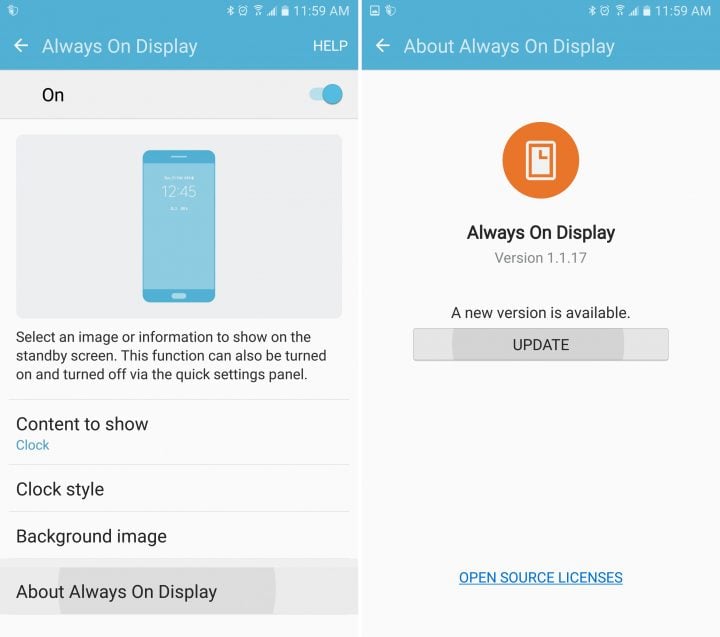 If you notice the always-on display moving a little bit here and there, that's by design. This prevents burn-in by making sure the screen isn't always on in the same spot 24/7.
Another update added sleep times where we can set the AOD to turn off at night, that way it isn't a distraction. Perfect for those who like the feature but don't want it on 24/7.
Galaxy S7 Getting Hot
These phones have beautiful displays with powerful processors and lots of storage. They can get hot while gaming, and especially while doing intensive things like navigation or using the Gear VR headset. It's perfectly fine, so don't be alarmed.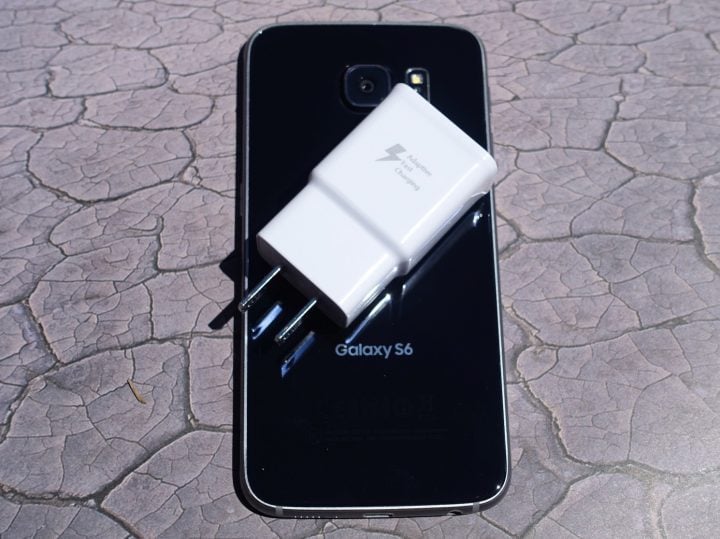 Also, we're hearing a lot of complaints about it getting hot while charging. Samsung uses a fast-charging technology so your battery tops off faster, but things might get a little warm. It's nothing to worry about.
However, Galaxy S7 owners who don't like it can head to Settings > Battery > and turn off the "Fast Cable Charging" which is Quick Charge 2.0 or Samsung Adaptive Fast Charging. This means the phone won't charge from 0-50% in about 25-30 minutes and will take over 2 hours to recharge, but it won't get as hot and may preserve the life of the battery.
Galaxy S7 Slow Charging Problems (or Wireless Charging)
On the flip-side, I've received multiple complaints from owners that are saying the Galaxy S7 is NOT charging fast. One user even said it takes twice as long to recharge as it did when he first bought it back in March of 2016. And while yes, some batteries will degrade over time, he actually disabled the setting mentioned above, by accident.
In the battery settings menu don't accidentally uncheck "Fast Cable Charging" or the Galaxy S7 and S7 Edge will go back to old slow charging speeds. If your phone is charging slow, check that before buying a new cable and wall adapter.
Galaxy S7 Keyboard Problems
Are you experiencing problems with the Galaxy S7 keyboard? You're not alone. People complain about slow performance, lag, crashes, autocorrect issues and more. If so, we recommend going to Settings > Apps > Keyboard > Force Stop. You can try clearing the cache and data for the keyboard too, but that might erase your dictionary of saved words.
Read: How to Change the Galaxy S7 Keyboard
If you're having frustrating keyboard problems follow this guide for some help. Or, use the link above to change your keyboard to something better like Gboard or SwiftKey.
Galaxy S7 Reboot
Of course, some users may have other small problems here and there. Like screen glitches or rotation, lag, app crashes, or other minor things that can often be solved by a simple reboot. Actually, a quick reboot fixes most problems I'm asked about daily.
You can easily reboot the phone by long-pressing the power button, and then hit "restart". It will quickly turn off and restart back to working order. This will likely solve any small problem you're experiencing.
Read: How to Reset a Frozen Galaxy S7 and Galaxy S7 Edge
Also, above is another method to do a hard reset. This is helpful for a frozen or unresponsive Galaxy S7, or just a simple way to hard reset the phone. Press and hold the power button and home button, together, for 7-8 seconds until the Galaxy S7 vibrates and reboots.
Galaxy S7 Factory Data Reset
Last but not least is a factory data reset. This is the last resort, as it will erase all user data, apps, messages, and content from the phone. This typically fixes any major issues, software problems and more, and reverts the phone to stock out of the box software. We recommend doing this after the Oreo update late this year just to give your phone a fresh start.
Just know that if you do this, it will erase everything on your phone. Backup all data using many of the tools available, then follow the steps below to reset and start fresh. A great method is Samsung SmartSwitch, or the backup solution found in settings using a Samsung account.
Start by going to Settings > Backup & reset > Factory data reset > and Reset Device. This will take a few minutes, load the Android screen and flash the stock software, then reboot to the setup screen as a new device. Like it was the day you opened the box. Now, restore everything, and try using the phone again.
The Galaxy S7 and S7 Edge have been available for over two years. You've received several updates, installed or deleted tons of apps, and taken lots of photos. Eventually, things start to slow down. That's why a factory reset can give you a fresh start.
Galaxy S7 Android Oreo Problems & Fixes
The update to Android 8.0 Oreo for the Galaxy S7 is a big one full of exciting changes and features. However, it added to the frustration for some or introduced new problems on its own. We've put together a detailed Galaxy S7 Oreo problems guide for anyone dealing with issues. Give that a try if our list here isn't cutting it.
Other Details
Updates have either fixed problems, or you've learned to deal with them. You shouldn't have to though, and hopefully, our tips are helpful. If you're experiencing a big problem or mechanical failure contact Samsung for further support. We also recommend browsing the XDA Developer Samsung forums for tips and help with problems or AndroidCentral's forums. These are two helpful resources worth looking over.
We don't expect a Galaxy S7 Android P update, and Oreo is likely the last stop. So, hopefully, you can fix any remaining issues. While you're here, check out our collection of the best Galaxy S7 cases in the slideshow below.
20 Best Samsung Galaxy S7 Cases
Galaxy S7 S-View Flip Cover (Clear)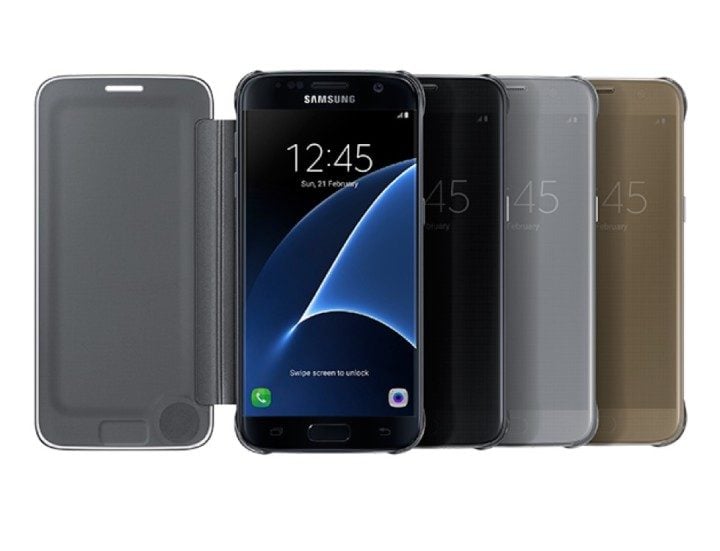 First up is a fan-favorite, the official Samsung S-View flip case. For the S7 Samsung actually has three different S-View Flip cover cases. There's the traditional flip cover with a window like previous years, then a completely clear one and an LED flip case. Our favorite is the clear case. This offers a full view of the entire screen, not just the small cutout like previous years.
This case gives you quick access to information on the screen, even when the case is shut. It's at-a-glance information, and it's one of Samsung's most popular cases. You can even answer a call or take a photo without opening the front. This one also has a new notification bar (while the case is closed) allowing users access to more than just missed calls or texts.
Buy it Now for $59.99 in three colors

As an Amazon Associate I earn from qualifying purchases.