Destiny 2 DLC Release: What to Expect
Destiny 2's included multiplayer maps and story are exciting, but hardcore fans are ready for Destiny 2 DLC.
For dedicated fans of a new game, the story content and new multiplayer maps that developers add to their games are just as important as the base game itself. The Destiny 2 DLC line-up consists of two major expansions and some character add-ons. Everyone can buy the larger expansion packs, but PS4 owners will get access to some character upgrades and maps that gamers on Microsoft's Xbox One console don't get. In turn, Xbox One X owners can expect 4K graphics from the game soon.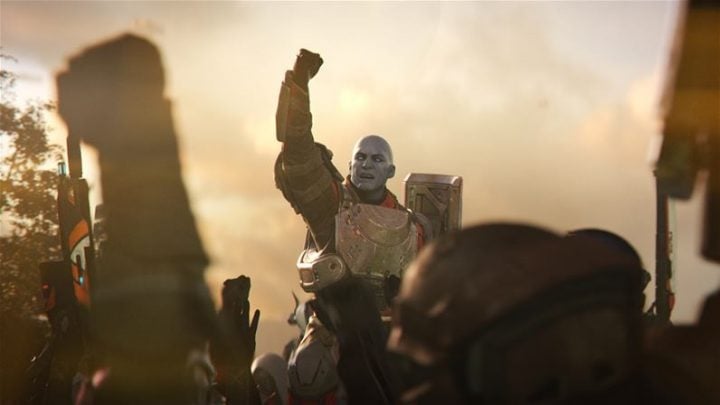 Here's everything that you need to know about the pieces of Destiny 2 DLC we know are coming or have already launched.
Destiny 2 DLC
Destiny 2 Expansion 1 and Expansion 2
What Comes with the Destiny 2 Expansion Pass?
Exclusive Destiny 2 DLC for PS4 Players
4K Xbox One and PS4 Update
When We'll Hear More About Destiny 2 DLC
Read: 5 New Destiny 2 Features Worth Upgrading For 
Destiny 2 DLC & Expansions
We already know the name of Destiny 2 Expansion 1. It's called Curse of Osiris, and it arrives on Xbox One, PS4 and Windows PCs on December 5th. Reportedly, it introduces a new social zone on Mercury and some story-related content.
Bungie hasn't confirmed what the second expansion of the game will contain. Don't expect to hear about it until well past the holiday season.
The easiest way to get Destiny 2 DLC is the Destiny 2 Expansion Pass. Revealed with Destiny 2 pre-orders, the expansion pass unlocks two major updates for the Xbox One, PS4 and PC game. It costs $34.99, $5 more than gamers expected it to before release.
What Comes with the Destiny 2 Expansion Pass?
Destiny 2 includes a cinematic single-player story, Strikes for cooperative play with friends, and Crucible multiplayer. Expect the Destiny 2 DLC expansions to add cool things to each of these modes.
According to Activision's description at GameStop, "The Destiny 2 Expansion Pass grants access to both Expansion 1 and Expansion 2, offering brand new story missions, cooperative activities, competitive multiplayer and a wealth of new weapons, armor, and gear."
Read: Destiny 2 for PC Release Date & Details 
We don't know what's in the second expansion, but we're learning more about Destiny 2 Expansion 1. Citing sources with knowledge of Bungie's plans, Kotaku says that players will venture to Mercury to save Osiris from Vex, an alien robot in the expansion's story. Those same sources believe the update will add a patrol zone on Mercury and a new Lighthouse social space.
Exclusive Destiny 2 DLC for PS4 Players
A marketing deal kept some Destiny gear and missions exclusive to the PS3 and PS4. That same deal will keep some Destiny 2 DLC from launching on Xbox One or Windows PCs for a year.
Exclusive Destiny 2 DLC for PS4 players includes the Lake of Shadows. It's a Strike mission that you can play with your friends and other online gamers. Players with a PS4 also receive the City Apex ship and the Borealis exotic weapon. Exotic weapons have devastating powers and are incredibly hard to get. Finally, there's Retribution, an exclusive multiplayer map for the game's competitive multiplayer experience.
Be sure to consider these exclusive pieces of Destiny 2 DLC when you decide which version of Destiny 2 you should buy. You may regret your purchase if you don't, and you will have a long time to think about your mistake. The terms of this deal lock these pieces of add-on content to the PS4 until Fall 2018
Xbox One and PS4 Pro 4K Update
In addition to new story missions and multiplayer experiences, expect an Xbox One and PS4 Pro 4K update on December 5th, according to Bungie.
This free update will enhance the colors and graphics of Destiny 2 depending on which system you have. All PS4 owners, Xbox One S owners and Xbox One X owners will get better color contrast, but only if the television they play their games on supports HDR.
4K visuals are also console and television dependent. PS4 Pro consoles will adjust the game's enhanced graphics based on how much is going on on-screen. Sometimes the game will have 4K visuals and sometimes it will lower its own resolution to make sure the game runs smoothly. Xbox One X owners can expect 4K visuals at 30 frames per second at all times.
Destiny 2 on PC already supports 4K graphics.
Read: Xbox One X vs PS4 Pro: Which is Better for 4K Gaming? 
When We'll Hear More About Destiny 2 DLC
You can count on Bungie and Activision talking a lot about Curse of Osiris this December. They need to build as much hype for the expansion pass as possible.
As for the Destiny 2 Expansion 2 news, don't expect the two companies to talk much about that piece of DLC until February or March. By then, we should also have a clearer picture of what updates are coming to the game once the season pass ends.
4 Reasons Not to Pre-Order Destiny 2 & 4 Reasons You Should
Pre-Order to Get Early Access to the Destiny 2 Beta
Gamers that place a Destiny 2 pre-order won't spend hours downloading the files they need for the Destiny 2 Beta. They will get time with the game before it's opened to the public.
The Destiny 2 Beta opens to PC players on on August 28th for anyone that pre-orders a PC copy of the game. The open beta starts on August 29th, and everyone will attempt to play the game then.
Open betas come with hiccups, and gamers create long loading times by trying to play at the same time. It also takes a long time to download the necessary files through the Blizzard Battle.net software.


As an Amazon Associate I earn from qualifying purchases.