49 Fallout 4 Mods We Want for PS4 & Xbox One
The Fallout 4 Creation Kit is here and Fallout 4 mods are starting to show up on Bethesda's official marketplace. Today we want to highlight a few that we hope make it to the Xbox One and PlayStation 4 in the months ahead.
Fallout 4 is going to get a whole lot bigger in 2016 thanks to DLC and official mods. The Automatron, Wasteland Workshop, and Far Harbor DLCs are out and some users now have access to official Fallout 4 mods via the Creation Kit and the new Fallout 4 1.5 update.
In April, Bethesda finally confirmed the release of its Creation Kit for PC. Anyone with a PC or Xbox One can now download an executable file and create a mod for Fallout 4.
As of right now, Fallout 4 mods are limited to the PC and Xbox One but they will be coming to PlayStation 4 in June after a beta.
As we push deeper into the year, developers will be working to bring an array of Fallout 4 mods to PC and console.
The official Fallout 4 mod marketplace already has over 1000 mods (a few of our favorites including Everyone's Best Friend, Full Dialogue, Looks Mirror and Campsite are already there) but we expect thousands more to emerge in the days, weeks, months, and perhaps years ahead.
Today we want to go over the Fallout 4 PC mods that we want for the Xbox One and PS4. Think of it as a wish list. There are a ton of Fallout 4 mods out there but this growing list showcases the ones I'm hopeful for.
The list includes simple mods like changes to the looks of map but it also includes mods that have the potential to change the way you and I play the game.
Chem Redux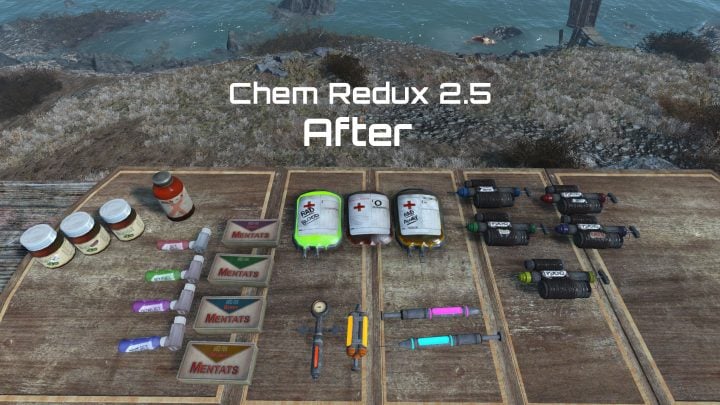 Chem Redux is an extremely popular Fallout 4 mod for PC that changes the look of the chems your character consumes on a regular basis.
Bethesda's vanilla chems look great but I'm enjoying this developer's take on stimpacks, Buffout, Psycho, and more. The new skins look like they belong in the game.
It's an excellent mod and one that would look and feel great on the PlayStation 4 and Xbox One. Here's to hoping it gets ported at some point down the road.
For more, take a look at the video below.

This article may contain affiliate links. Click here for more details.