How to Fix Poor iPhone 8 Performance
The iPhone 8 and iPhone 8 Plus come with the latest and greatest hardware, but that doesn't mean they're immune to performance issues.
We continue to see complaints about hardware and software problems plaguing iPhone 8 and iPhone 8 Plus users around the world. Some of these problems are tiny bugs others, like performance problems, are hindering people's day-to-day use.
If your iPhone 8 or iPhone 8 Plus starts to lag, freeze, lockup, or randomly reboot, there's no need to panic. There's a very good chance you'll be able to iron out the issue in a few minutes.
This guide will show you how to fix iPhone 8 and iPhone 8 Plus performance issues. These solutions have worked for us in the past and they'll help you maintain a speedy iPhone 8 or iPhone 8 Plus in the future.
Restart Your iPhone 8
If your iPhone 8 or iPhone 8 Plus starts to exhibit lag the first thing we recommend is a quick restart. You can do this by holding down the power button and shutting the phone off or you can perform a hard reset.
This will only take you a few seconds but there's a chance it'll straighten out the issues you're facing on your device. This is the first thing to try.
Keep An Eye On Your Storage
If you previously owned an iPhone and brought a backup over to your new iPhone 8 or iPhone 8 Plus, it might be a good idea to do some cleanup.
If you've brought a ton of apps/data over to your iPhone 8 the device's storage might be cluttered. This clutter can slow down your phone so you'll want to get a handle on the items you're storing on your device.
Checking your iPhone 8's storage is easy. Head into your Settings and tap on iPhone Storage. There, you'll get a detailed look at what's taking up space on your phone. Delete what you don't need.
iOS 12, the software that powers the iPhone 8, will also give you recommendations and some of you might want to take its advice.
If you didn't restore from a backup you'll want to keep a close eye on the apps and files you download on your new iPhone. This will help keep your device fresh and fast.
Update Your iPhone 8
If you're running an older version of iOS, think about upgrading to the latest update.
You can check for a new version of iOS 12 via your Settings. Go to Settings > Software update. If you're feeling leery, read reviews before downloading.
Update Your Apps
If your apps are starting to give you problems make sure you're updated with the latest bug fixes.
Developers are rolling out iOS 12 support updates and these could help (or hurt) fix whatever it is you're dealing with on your iPhone 8.
Before you download an update to your iPhone 8 go into the App Store and read reviews from fellow iPhone 8 users. If the reviews of the latest version are mostly good consider installing the update.
Kill Auto Downloads
Automatic updates are useful if you're terrible about keeping your apps up-to-date. While useful, automatic downloads also cause your phone to work and could slow it down.
If you're perfectly fine with checking the App Store and manually updating your apps,  try disabling Automatic Downloads on your iPhone 8 or iPhone 8 Plus.
To do this go into your Settings app > iTunes & App Store. Once there, you'll want to toggle Updates, located in the Automatic Downloads section, off. If you can manage, toggle the other options off as well.
Clear Browser Cookies & Data
Regularly clearing your browser's cookies and data will free up memory and could help speed up your iPhone 8.
If you frequently use Safari, head into your Settings > Safari > and scroll down to where it says Clear History and Website Data. Tap it.
Tapping this button will remove your browsing history, cookies, and other data from Safari. History will also be cleared from any devices signed into your iCloud account. If you're ready for that, tap Clear History and Data again.
If you're a Google Chrome user, you'll want to head into the app and tap the three vertical circles in the top right corner.
On the next screen, tap Settings > Privacy > Clear Browsing Data. You can now select what you wish to delete. If you're noticing serious lag, you might want to start from scratch.
If that's the case, select them all and then click Clear Browsing Data.
Reduce Animations
Animations make your iPhone 8's software look pretty but you might try limiting them in an effort to improve your device's performance.
If your animations start to get choppy or your iPhone slow, go into the Settings app > General > Accessibility and toggle Reduce Motion on.
You'll also want to reduce transparency and blur effects. To do this, head into Settings > General > Accessibility > tap Increase Contrast and then tap the toggle to turn on the Reduce Transparency function.
Stop Background Refresh
When Background App Refresh is enabled, your iPhone 8 will continuously work to keep your apps updated with fresh data. If you don't want or need your apps working in the background try turning this feature off. It could help your phone's performance.
To get this done head into Settings > General > Background App Refresh and toggle Background Refresh off. This will kill the feature.
You can also go down your list of apps one-by-one and make selections on a case-by-case basis. This is going to be tedious but it's the only way to go if you want some apps to refresh data in the background.
Disable Widgets
Widgets are useful but they'll make your phone work when they're active. If you don't use widgets, try turning them off.
When you're on your iPhone 8's home screen, swipe to the right to see your Widgets. Scroll all the way to bottom of the list and tap on Edit.
On the next screen you'll probably see a list of services and apps. These are your active and inactive widgets. To disable a widget on your device, tap the red circle with the white line and tap Remove.
You can remove as many Widgets as you want and you can always turn them back on if you don't notice any improvement to your iPhone 8's performance.
Start Fresh
If you can't or don't want to take your device into an Apple Store, you might want to go the nuclear route.
Factory resetting your iPhone 8 or iPhone 8 Plus will wipe the device clean but it could improve the device's all-around performance.
Before you reset your iPhone 8 to its factory defaults, make sure your data is properly backed up via iTunes or Apple's iCloud service. That way, if you don't see an improvement, you can easily restore.
Once you've got everything backed up properly, head into Settings > Reset > Erase All Content and Settings to get the process started.
4 Reasons Not to Install iOS 14.6 & 11 Reasons You Should
Install iOS 14.6 for Better Security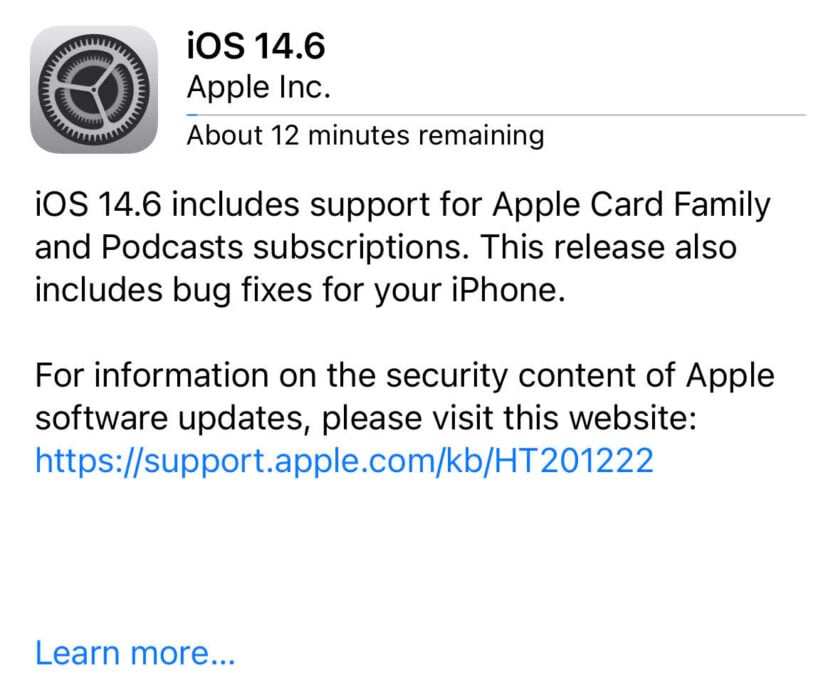 If security is important to you, think about installing iOS 14.6 right away.
iOS 14.6 brings 38 important security patches to the iPhone. If you're curious about the particulars, you can read about them right here.
If you skipped iOS 14.5.1, you get the update's two security patches on board. You can read about them over on Apple's website. Both are related to WebKit.
If you missed iOS 14.5 you'll get its patches with your upgrade. You can read more about those changes over on Apple's website.
iOS 14.5 also brought Apple's new App Tracking Transparency which lets you control which apps are allowed to track your activity across other companies' apps and websites for ads or sharing with data brokers.
If you skipped iOS 14.4.2, you get its security patch with iOS 14.6. You can learn more about that patch over on Apple's website as well.
If you missed iOS 14.4.1, you get its patch with your upgrade to iOS 14.6. You can read about that patch right here.
If you skipped iOS 14.4, you get the update's patches with your upgrade. You can learn more about iOS 14.4's security patches right here.
If you skipped iOS 14.3 you'll get its nine security updates with your upgrade. You can read more about them on its security site.
iOS 14.3 also included a new privacy information section on App Store pages that includes a developer-reported summary of the app's privacy practices.
If you skipped iOS 14.2, your iOS 14.6 update includes 24 additional security patches. You can learn more about the patches on Apple's security website.
If you're still running iOS 13, iOS 14.6 includes iOS 14.0's security updates.
iOS 14.0 brought 11 new security patches to the iPhone. If you're interested in the exact nature of these improvements, you can read about them over on Apple's website.
In addition to those patches, iOS 14 comes with some security and privacy upgrades including improvements to Home/HomeKit and Safari.
For instance in Safari, you can now tap the Privacy Report button to better understand how websites handle your privacy.
With iOS 14 on board you can now get information on the App Store that will help you understand the privacy practices of apps before you download them.
There is also a new recording indicator that will appear at the top of your screen whenever an app is using your microphone or camera. You can see if an app has used them recently in Control Center.
Researchers also discovered that Apple brought a new "BlastDoor" sandbox security system to iOS 14. The system is meant to prevent attacks from occurring via the Messages app.
You can read more about "BlastDoor" right here.

This article may contain affiliate links. Click here for more details.