How to Turn Off Windows 10 Cortana 
Microsoft brought Cortana to laptops, desktops and tablets when it released Windows 10. Since then, the personal assistant and rival to Amazon's Alexa and Apple's Siri has polarized users. Some love Cortana. Other people want to know how to turn off Windows 10 Cortana quickly. You will learn how to do that in this tutorial. 
If you're new to Windows 10, you may want to try the personal assistant before you turn it off. Many of Windows 10's features depend on it. Cortana delivers messages to your PC from your Android smartphone. It's Cortana that handles voice search in Windows 10 and allows you to set reminders. Cortana also lives in Microsoft Edge. She provides shopping tips there. Turning off Windows 10 Cortana disables all these features.  
Read: 10 Cortana Tips for Windows 10 & Xbox Users  
Here's how to turn off Windows 10 Cortana. Use these methods to disable the personal assistant and never activate it on your PC again.  
Turn Off Windows 10 Cortana During Set Up
You get your first opportunity to turn off Windows 10 Cortana when you set up your PC. That's because the Windows 10 Anniversary Update asks you if you'd like to turn the feature off. You're taken back to this screen when you reset your PC because of a virus or bug. If you haven't set up your PC yet, look for this option as you begin to configure your device.
Disabling Windows 10 Cortana
Microsoft removed the ability to turn off Windows 10 Cortana from within Windows with the Windows 10 Anniversary Update. Luckily, you can hide the personal assistant and delete any information she already has. Microsoft recommends removing access to Cortana instead of using other hacks because the registry editor and other tools can make Windows 10 unstable.  
Remove Your Personal Data from Cortana
Cortana assists you by connecting to the services you use and gathering information about you. Once you've decided to turn it off, start by removing access to the data it has already collected.  
Click on the Taskbar search area.  
Now click on the Settings cog symbol in the Cortana pop-up.  
Click on the Change What Cortana Knows About Me in the Cloud message at the top of the pop-up window. 
Now scroll to the bottom of the window and click on the Clear button. Confirm your decision and all your personal information should disappear from Microsoft's servers.  
Take Away Cortana's Access
Next, you need to take away the personal assistant's ability to gather new information. You can do this by turning off all the access options that she has.  
Go back to the Cortana pop-up window by clicking on the Taskbar search.
Click on the Settings cog symbol again. 
Flip all these settings to Off.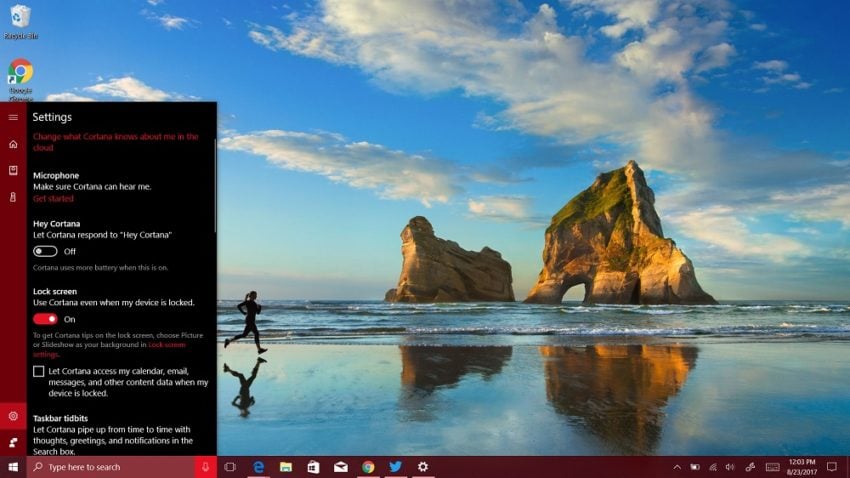 Click the Notebook on the left of the Cortana pop-up.  
Click Permissions in the list.  
Switch all these settings to Off too.  
Turn Off Speech, Inking and Typing
The last thing that you need to do is turn off the speech services that allow Cortana to work. Press the Windows Key on your keyboard.  
Open the Settings app by clicking on the cog in the bottom-left corner of the Start Menu. 
Use the search box at the top of the Settings app to find Speech, Inking & Typing. Click on it in your search results. 
Click on the Turn Off Speech Services and Typing Suggestions button in the window. This will disable your PC's ability to send your voice searches to Microsoft's servers. Cortana can't perform voice searches with it off.  
Remove the Windows 10 Cortana Search Bar
Finally, remove the Cortana search box from your Taskbar. This will keep you and the other people who use your PC from instinctively using the personal assistant for searches.  
Right-click on the Cortana search box in the Taskbar.
Hover over the Cortana option in the right-click menu and click Hidden.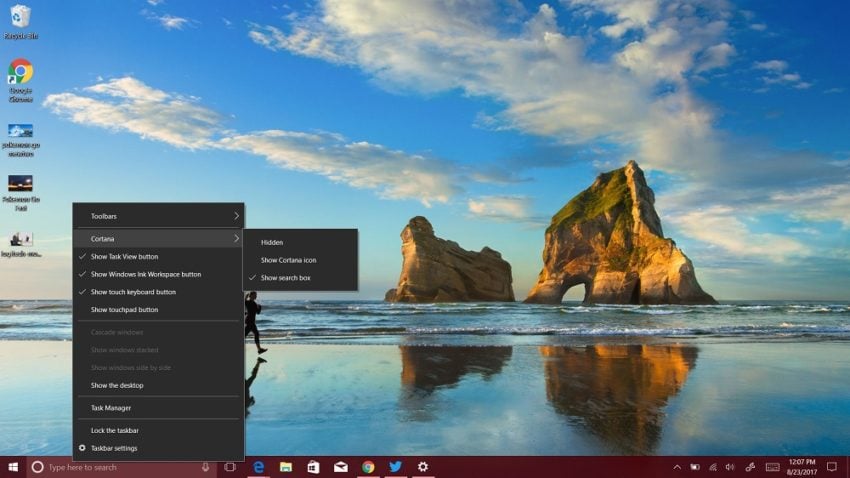 That's everything that you need to do to turn off Windows 10 Cortana. If this is your only Windows 10 PC, you're finished. From this point on, the personal assistant should never bother you again.  
If this isn't your only Windows 10 PC, your work is just beginning. You must repeat this process on any other computers that you use daily. That's because only the information Cortana gathers syncs between devices. The personal assistant's settings don't. If you've installed Cortana for iPhone or Android, be sure to remove it from your smartphone too. 
Read: 10 iPhone Apps for the Best Windows 10 Experience  
10 Best Surface Pro Alternatives in 2020
ThinkPad X1 Tablet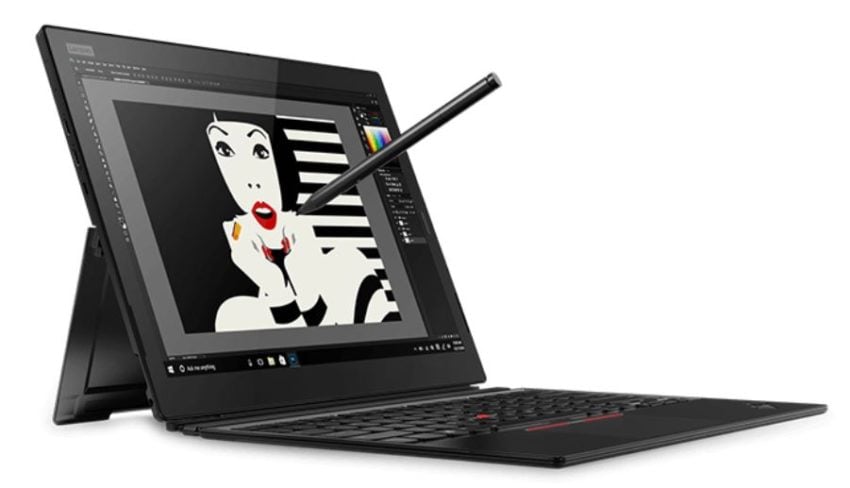 The ThinkPad X1 Tablet offers a lot of great features: a durable shell, an amazing display and Amazon's Alexa personal assistant.

The ThinkPad X1 Tablet has a 13-inch display. And, despite its good looks, the device has passed 12 military torture tests to ensure it can survive dust storms, cold temperatures, drops and spills. Finally, If you don't find Microsoft's Cortana personal assistant useful, the ThinkPad X1 Tablet has the same Alexa personal assistant your Echo smart speakers do. A Surface Pro won't survive a drop or spilled liquid and Cortana isn't as useful as Alexa is.


Read: ThinkPad X1 Carbon, X1 Yoga and X1 Tablet Have Stunning Display and Alexa


The third-generation ThinkPad X1 Tablet has powerful processors, plenty of RAM and other options. Models come with up to an 8th generation Intel Core i7 processor and 16GB of RAM. You won't get stuck waiting for web pages to load or your photo editor to process your touch-ups. If you don't like passwords, use the IR camera on the front of the ThinkPad X1 Tablet to sign into Windows. This 2-in-1 also has a fingerprint reader.

The ThinkPad X1 Tablet's screen detects 4,096 different levels of pressure from its digital pen. Besides that, it's a really detailed display. Windows, your videos and everything else you do on it looks crisp and detailed. Again, it's three times as sharp as an HD display.

Like other Surface Pro 4 alternatives, this Windows 2-in-1 connects to its included keyboard cover using a special slot on its bottom edge. It has Thunderbolt 3 ports for fast data transfers, a MicroSD card reader and a headset jack. With LTE connectivity, you can add the ThinkPad X1 Tablet to your smartphone data plan. You can't do that with a Surface Pro 4.